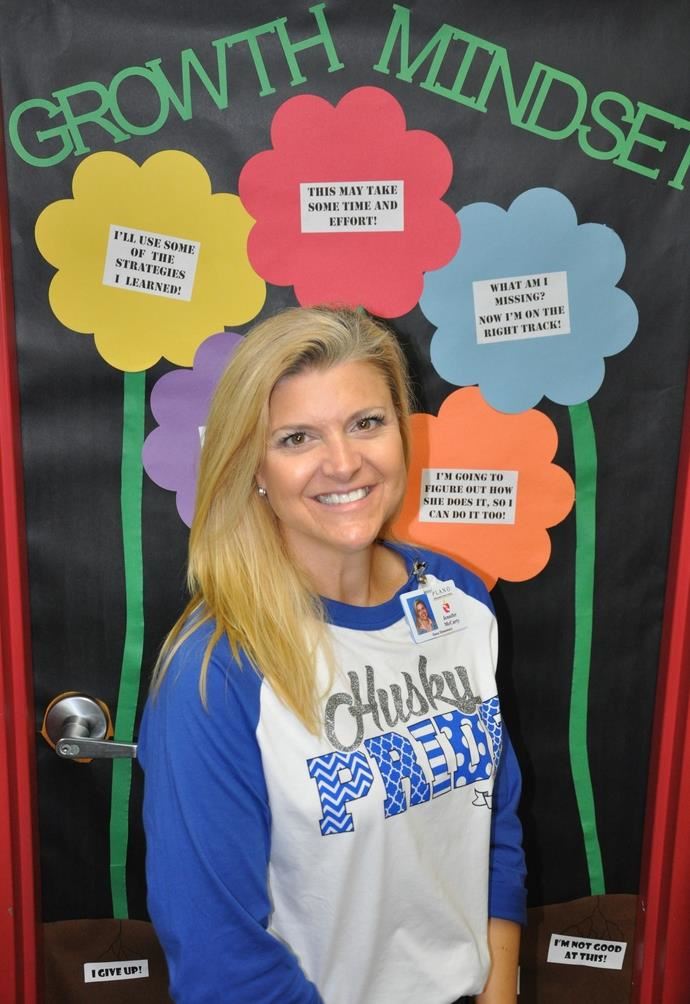 Phone: 469-752-1672
Email:
Degrees and Certifications:
Degrees: B.S.- Elementary Education - TWU M.Ed.- Curriculum and Instruction - UNT Certificates: Generalist EC-6 Elementary Self-Contained 1-8 Reading 1-8 Gifted and Talented - Texas Endorsement English as a Second Language
Mrs.

Jennifer McCarty

I am extremely delighted to be a member of the Haun community where "We Love, Laugh, and Learn Together." I was fortunate to have grown up in Plano, attending Wells, Schimelpfenig, Shepton, and Plano Senior High School, receiving an exemplary education from the best school district in Texas! In 1996, I graduated from TWU with a Bachelor of Science degree in Elementary Education, and in 2004, earned a Master's degree in Curriculum and Instruction from UNT. I have been teaching in Plano ISD for over 20 years and looking forward to many more wonderful years. It is my belief that when students are provided opportunities to think critically, take risks, and collaborate with one another in a positive, supportive learning environment, the possibilities are endless! As a PACE teacher, it is my passion to guide students in becoming innovative, independent thinkers and problem solvers of the future. Being a lifelong learner myself, I look forward to a school year filled with inquiries and exciting discoveries together.

Office Hours: 2:45-3:45 - Please feel free to email any time or request a scheduled phone call time outside of my office hours.

For more information, please visit the Haun PACE website: www.Tinyurl.com/haun-pace
What is PACE?


PACE provides services for academically gifted and talented students in grades K-12 who have demonstrated the need for advanced, differentiated instruction. Plano I.S.D. conducts open, rolling referral, meaning that any student may be referred at any time during the school year. Students may be referred for the gifted program (PACE) by teachers, parents, principals, counselors, or by the students themselves. Students that are referred by the referral deadline will be tested during a specified testing window and assessed at their home campus during the regular school day.

Referral packets need to be completed and returned to the gifted specialist at your child's school no later than the deadline listed below to be tested the current school year. Referrals received after the posted deadline will be held for the next assessment cycle. These referral documents, along with additional information regarding the PACE program, are available at the PISD website.
PACE Schedule

Kindergarten

Services begin in January

1st grade

Tuesdays with Mrs. McCarty (11:00-11:45) & (1:15-2:30)

2nd grade

Group A (James' students) : Tuesdays with Ms. Davis (11:00-12:00) & (1:30-2:30)

Group B (Nelson's students): Wednesdays with Ms. Davis (11:00-12:00) & (1: 30-2:30)

3rd grade

Group A (McCarter's students) - Mondays with Mrs. McCarty (12:45-2:45)

Group B (Ashby & Stiles' students) - Thursdays with Mrs. McCarty (12:45-2:45)

Group C (Pierpont's students) - Fridays with Mrs. McCarty (12:45-2:45)

4th grade

Group A (Graves & Shinneman's students) - Mondays with Mrs. McCarty (8:00-11:00)

Group B (Pena's students) - Thursdays with Mrs. McCarty (8:00-11:00)

Group C (Green & Kneafsey's students) - Fridays with Mrs. McCarty (8:00-11:00)

5th grade

Group A (Cramer's students) - Tuesdays with Mrs. McCarty (7:45-10:45)

Group B (Cramer's students) - Tuesdays with Ms. Davis (7:45-10:45)

Group C (Hootsell, Freeman & Pyle's students) - Wednesdays with Mrs. McCarty (7:45-10:45)

Group D (Podniek's students) - Wednesdays with Ms. Davis (7:45-10:45)