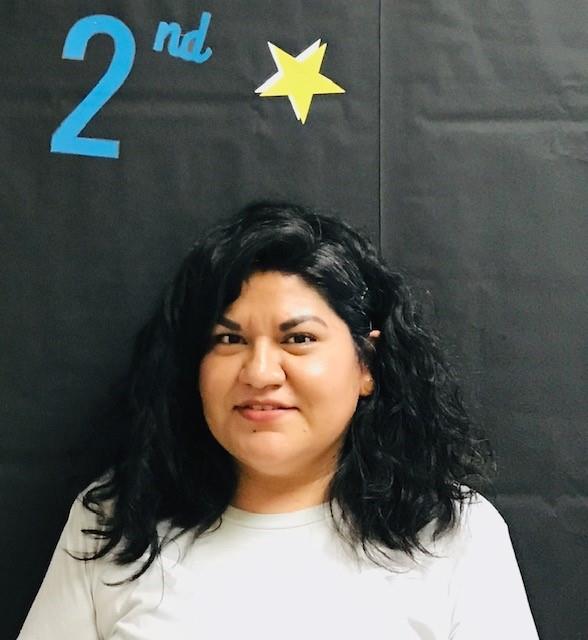 Phone: 469-752-2666
Email:
Degrees and Certifications:
Ms.

Alejandra Castañeda

Este es mi sexto año como maestra bilingüe. Originalmente asistí a la universidad para diseño de páginas web e incluso recibí mi titulación del Colegio Comunitario Richland antes de cambiar mi carrera a educación. Creo firmemente en el programa bilingüe y estoy tan orgullosa de tomar parte en ayudar a nuestros estudiantes en perfeccionar su primer idioma.

Nací en Durango, México pero he vivido en el área de DFW desde los cinco años. Asistí a la escuela primero en Dallas y después en Garland. Ahora vivo en Plano con mi sobrina de 20 años, quien asiste al Colegio Comunitario de Collin.

Estoy tan emocionada de unirme a la familia de Mendenhall. Espero tengamos un año escolar fenomenal!

This is my sixth year teaching bilingual. I originally attended college for webpage design and even received my associates degree from Richland Community College before switching my major to education. I believe strongly in the bilingual program and am so proud to be a part in helping our students perfect their first language.

I was born in Durango, Mexico but have been living in the DFW area since I was five years old. I attended schools in Dallas and Garland. I now live in Plano with my 20-year-old niece, who's attending Collin Community College.

I am so excited to be a part of the Mendenhall family. I hope we have a phenomenal year!
Second Grade Schedule ~ 2019-2020

7:30-7:45

Anuncions - Announcements

7:45-8:00

Community Circle

8:00-8:45

Ciencia / Estudios Sociales
Science / Social Studies

8:45-9:10

Lectura - Reading

9:10 – 10:15

Grupos de Lectura
Reading Rotations

10:15-10:45

Escritura - Writing

10:45-11:20

Especiales - Specials

11:20-12:15

Grupos de Intervencion
Intervention Groups

12:15-12:45

Recreo - Recess

12:45-1:15

Almuerzo - Lunch

1:15-1:30

Matematicas - Math

1:30 – 2:20

Grupos de Matematicas
Math Rotations

2:20-2:45

Despedida - Dismissal