October 20, 2017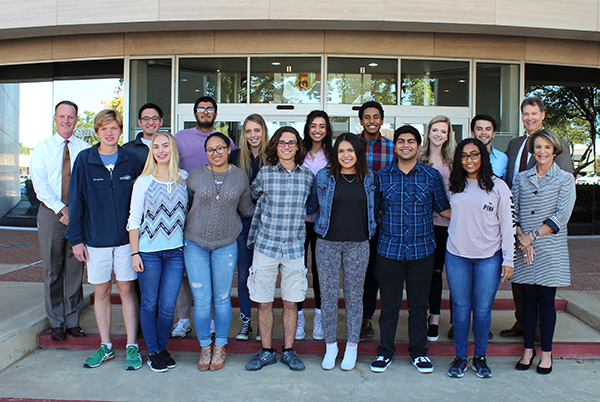 Plano ISD Superintendent of Schools Dr. Brian Binggeli seeks advice on an ongoing basis from many school and community groups, including students. The elite team of fourteen high school juniors and seniors who comprise the Superintendent's Student Advisory Committee meet monthly with the superintendent and cabinet members to share issues of importance to students and the school district. The students who serve on the superintendent's committee attend each of the district's three senior high schools and the Academy High School. They are selected by their school principals to serve as student advisors to the superintendent and his leadership team.

Read more about each student's leadership activities, community service, favorite subject and hobbies.



Pictured above are

: Front row: Mark Mueller (Plano); Katka Durcanska (Academy High School); Opal McElroy (Plano); Max Smith (Plano East); Andrea Martinez (Plano East); Rishi Malhotra (Plano West); Sarah Mulatu (Plano West) and Assistant Superintendent for Campus Services Susan Modisette

and back row: Assistant Superintendent for District Services Dr. Kary Cooper; Darian Payma (Academy High School); Pankaj Israni (Plano); Mia Fimiani (Plano); Sara Porsa (Plano East); Brian Wright (Plano East); Grace McCreary (Plano West); Ruben Salinas (Plano West); and Superintendent of Schools Dr. Brian Binggeli.
October 18

On October 17 from a pool of 1,860 projects submitted this year for the Siemens Competition in Math, Science & Technology the nation's premier research competition for high school students, the Siemens Foundation announced the group of 491 semifinalists. Of these 491, eleven are Plano ISD students. And on October 18, the foundation announced 101 regional finalists. Four Plano ISD students were named as regional finalists in this elite competition.


October 19, 2017

Thirty-three Plano ISD's seniors have earned top ranking as finalisits through the College Board's Class of 2018 National Hispanic Scholars Program. Yearly, the program honors about 5,000 of the nearly 250,000 Hispanic/Latino juniors who take the Preliminary SAT/National Merit Scholarship Qualifying Test. The program is an academic honor that can be included on college applications.





---
Multiple Dates Beginning in November

The Academy Programs of Plano opened in 2013 with innovative new programs offering students more pathways for learning. Each academy program provides students with more choices in not just what they learn, but how they learn—and allows Plano ISD to serve an even greater variety of student interests and needs. Want to learn more about the Academy Programs of Plano?


October 20, 2017

United Way agencies will benefit from more than $124,900 raised during the school district's United Way campaign, helping to ensure that critical services are available to individuals and families in need of assistance in North Texas. Once again the district exceeded its goal, thanks to the generosity of our Plano ISD employees.





---
The 2018-19 Calendar Community Input Survey Is Open Until November 1: Plano ISD appreciates your input on the two calendar options presented to the school board in September.


---
Parent Education Nights have been scheduled (for October 26 at Vines High School Presentation Room and November 7 at the Plano East Cafeteria) to provide information on keeping teens safe. All three events are identical. Time for each session is 6:30 to 7:45 p.m.


---

The Plano ISD Board of Trustees met in a work session on October 17 at 6 p.m. in the administration center board room.

The agenda with links to supporting documents is posted on BoardBook.
ITEMS FOR DISCUSSION AND ACTION
Memorandum of Understanding Perot Museum Hosts FIRST Lego League Events

Plano Regional Day School Program for the Deaf - Shared Services Arrangement

2018 Graduation Contract with the Ford Center at The Star


WORK SESSION

2017 Assessment & College Readiness Review

Social Emotional Health & Learning Update

GPA/Class Rank Advisory Committee Structure Report

2017 Professional Learning Plan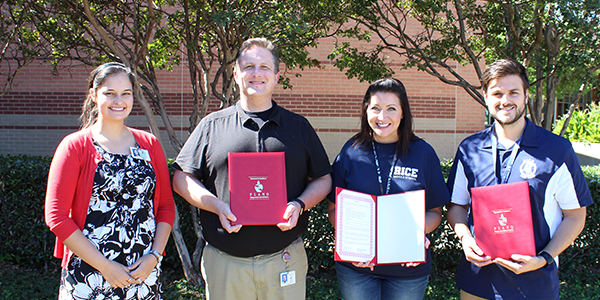 Pictured from Rice Middle School are Amber Moore (assistant band director), Jason Tucker (music department chair), Chelsea Farmer (choir director) and Joshua Reyna (assistant band director) with resolutions from the Board of Trustees presented in honor of the Rice Middle School Mark of Excellence wins from the Foundation for Music Education. Read More.
Helpful Links:
PISD.edu | Schools | Calendar | Contacts | Foundation | Menus | Parent Portal
See Plano ISD Headlines or the eNews Archive for more Plano ISD news.

2700 W. 15th Street | Plano, Texas 75075 | 469.752.8150 | askpisd@pisd.edu
To unsubscribe: Parent portal users must use your parent portal login to unsubscribe to eNews: Parent Portal.
If you are not a parent of a Plano ISD student or do not have access to parent portal use http://elist.pisd.edu to unsubscribe. copyright 2017 Plano Independent School district.