October 4, 2017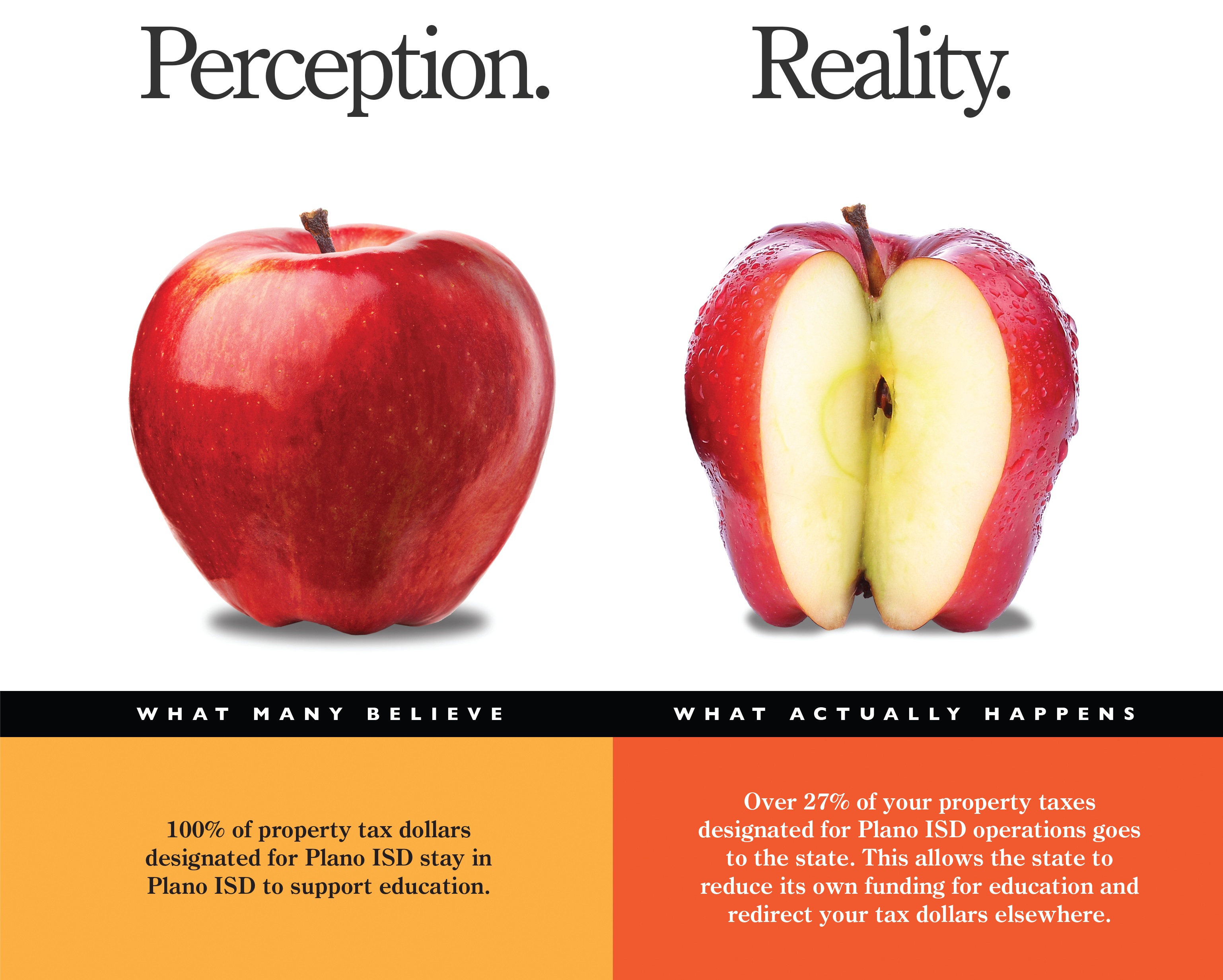 Taxparency: What You Need to Know
about Your Property Tax Dollars
Most people are surprised to discover that the state will take $151 million from Plano taxpayers this year. As school finance reform, property tax relief and transparency in taxation became top priorities leading up to the 85th legislative session, Plano ISD partnered with other districts in an effort called "Taxparency," taxparencytexas.org. Taxparency is a grass roots collaboration among several Texas school board trustees who feel property owners have the absolute right to know where and how their school taxes are being spent by their local school districts and by the state.
October 4

This highly selective exhibition includes only 30 pieces out of 60,000 portfolios from across the nation. The exhibition will travel, showing at various galleries around the country.



---
October 3

At the October 3 meeting of the Plano ISD Board of Trustees, Randy McDowell was announced as Plano ISD's new assistant superintendent for business services and will replace retiring Chief Financial Officer Steve Fortenberry.



---
October 4


Ken Hutchenrider has taken the reins as Plano ISD Education Foundation board president for the 2017-18 school year. This year will be Mr. Hutchenrider's fifth year of service on the board.



---
2018-19 Calendar Community Input Survey: Plano ISD appreciates your input on the two calendar options presented to the school board on September 5. The survey is open until November 1, 2017.


---
Parent Education Nights have been scheduled (for October 12, Plano West Library; October 26 Vines High School Presentation Room; and November 7, Plano East Cafeteria) to provide information on keeping teens safe. All three events are identical. Time for each session is 6:30 to 7:45 p.m.


---

The Plano ISD Board of Trustees met in regular session at 7:00 p.m. on Tuesday, October 3, at the Plano ISD Administration Center to hear reports and take action on the following agenda items. The agenda, with links to supporting documents, is posted on BoardBook. The next meeting of the board will be a work session on October 17 at 6 p.m. in the Administration Center board room.
STUDENT GREETERS
Greeting meeting attendees and leading the Pledge of Allegiance were scouts from Boy Scout Troops 198 and 215 and Girl Scouts from Junior Troop 6567 and Brownie Troop 4577. The students spoke with the Board of Trustees and introduced themselves and shared their years in scouting.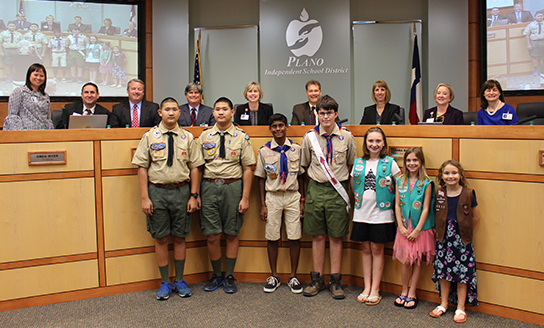 Front Row: Boy Scouts from Academy High School Troop 215 are Aaron Ho, 10th grade, Life rank; Derek Ho, 10th grade, Life rank; and from Boy Scout Troop 198 are Cyrus Sarkari, Murphy Middle School, Star rank; Zachary Peters, Reedy High School, 10th grade, Star rank; Girl Scouts from Hedgcoxe Elementary from Troop 6567 are Vivian Burton, 5th grade, Junior; Taylor Dickenson, 5th grade, Junior; and from Troop 4577: Natalie Burton, 2nd grade, Brownie.
Back Row: Trustees Angela Powell, Dr. Yoram Solomon and Greg Myer, Board Vice President David Stolle, Board President Missy Bender, Superintendent of Schools Dr. Brian Binggeli, Interim Deputy Superintendent Sara Bonser, Board Secretary Nancy Humphrey and Trustee Tammy Richards.
STUDENT RECOGNITIONS
During the meeting, students were recognized by the Board of Trustees for honors earned at the state level and above. More details about these accomplishments can be found under news headlines on the Plano ISD website.
124 National Merit Semifinalists
Science - International GENIUS Olympiad - three gold and seven silver medalists
Science - Broadcom MASTERS - six students placed in the "Top 300" in the nation
Fine Arts - Ten music programs earned "Mark of Excellence"
Fine Arts - Plano East Band awarded Earl D. Irons Program of Distinction
Fine Arts - Seven students won state awards for Fire Prevention Posters
ITEMS FOR DISCUSSION AND ACTION
Meadows Elementary - Campus Improvement/Targeted Elements Plan
Board Advisory Committee Goals for 2017-18

REPORTS

School Health Advisory Council Report
2018-19 Instructional Calendar Update
Helpful Links:
PISD.edu | Schools | Calendar | Contacts | Foundation | Menus | Parent Portal
See Plano ISD Headlines or the eNews Archive for more Plano ISD news.

2700 W. 15th Street | Plano, Texas 75075 | 469.752.8150 | askpisd@pisd.edu
To unsubscribe: Parent portal users must use your parent portal login to unsubscribe to eNews: Parent Portal.
If you are not a parent of a Plano ISD student or do not have access to parent portal use http://elist.pisd.edu to unsubscribe.
copyright 2017 Plano Independent School district.