October 27, 2017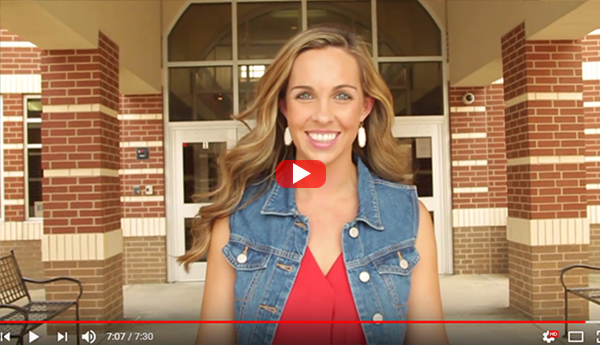 Cody McGregor is the ESL specialist at Schell Elementary School and the Plano ISD 2017 Elementary Teacher of the Year. Schell Elementary School principal Jeanne Beall says, "Cody is welcoming and engaging to every person in this building....not just because she is the Plano ISD teacher of the year, but because that is who she is." In her own words Ms. McGregor says that her passion is reading and instilling a love of reading in her students at all levels, but "The most important thing is building a relationship with my students." As someone who knew as a third grader she wanted to be a teacher, it is clear that this is where she is meant to be. And according to her principal, "her teaching makes you smile." Please view the video and Read more about Cody McGregor's teaching philosophy.

October 17-18

Forty-three Plano ISD students competed in the Texas Junior Academy of Sciences (TJAS) competition held October 17 and 18 in College Station. High school students (grades 9-12) from across the state conducted research during the school year and presented results at TJAS through both oral and written word. At this competition, of the 13 first place awards - 8 were earned by Plano ISD students. First place winners competed in a second round of competition to determine grand prize winners in the life and physical sciences. Plano ISD captured 2 grand prize awards.



October 27, 2017

Congratulations to all the participants and winners of the 2017-18 fire prevention poster contest. This contest, which includes students in grades PreK-12 is held in conjunction with fire prevention week as a way to give students an opportunity to teach the community about the importance of protecting families from fires. These winning posters will move on to the district competition and winners will be announced in March 2018.





---
October 12, 2017

A group of Plano ISD blind and visually impaired students, accompanied by certified teachers of the visually impaired and certified orientation and mobility specialists, participate in the 2017 White Cane Day Celebration at the Fort Worth Stockyards. The day is a recognition and celebration of the many achievements of people who are blind or visually impaired. T-shirt design (pictured) was created by Stephanie Mylonas a visually impaired student at Clark High School.



October 27, 2017

School of Excellence is a National PTA program that supports and celebrates partnerships between PTAs and schools to enrich the educational experience and overall well-being for all students. Earning the award for 2017-19 are Gulledge Elementary, as a first time recipient, and Huffman Elementary, who also received the honor in 2015-17.





---
Jasper Speech and Debate: Thirty-five speech and debate students represented Jasper High School on October 20-21 at the Plano West Senior High School tournament.


---
Academy Information Nights Scheduled in November for Incoming Freshmen and Parents: The Academy Programs of Plano opened in 2013 with innovative new programs offering students more pathways for learning. Each academy program provides students with more choices in not just what they learn, but how they learn—and allows Plano ISD to serve an even greater variety of student interests and needs. Want to learn more about the Academy Programs of Plano? Printable brochure with dates and locations. Accessible brochure.


---
SAFE: A Parent Information Meeting to provide information on keeping teens safe has been scheduled for November 7 from 6:30 to 7:45 p.m. at the Plano East Cafeteria. This is the final of three scheduled meetings.


---
Last Chance: The 2018-19 Calendar Community Input Survey Is Open Until November 1: Plano ISD appreciates your input on the two calendar options presented to the school board in September.


---

The

next meeting of the Plano ISD Board of Trustees is a Joint Work Session with the City of Plano scheduled for October 30 at 6:00 p.m. at Sockwell Center. The full agenda is available on

BoardBook.
PRESENTATION BY THE CITY OF PLANO
City Strategic Vision 2017-18
Great Update Rebate & Neighborhood Revitalization Update
Economic Development Update
Legacy Business Area Mobility Update
PRESENTATION BY PLANO ISD
District Strategic Planning
State of Schools Event
Pre-K Update
Adult Transition Center
Future Industries Academy
Fine Arts Center
Enrollment Update
Discussion on Next Steps for Interagency Collaboration

Pictured above with their Board resolution in honor of their programs' award of the "Mark of Excellence" by the Foundation for Music Education are Plano East Band Director Evelio Villarreal, Plano East Orchestra Directors Jeremy Pillow and Ann Smith (center) and Jasper HS Orchestra Director Matthew Moreno. Read More.
Helpful Links:
PISD.edu | Schools | Calendar | Contacts | Foundation | Menus | Parent Portal
See Plano ISD Headlines or the eNews Archive for more Plano ISD news.