November 3, 2017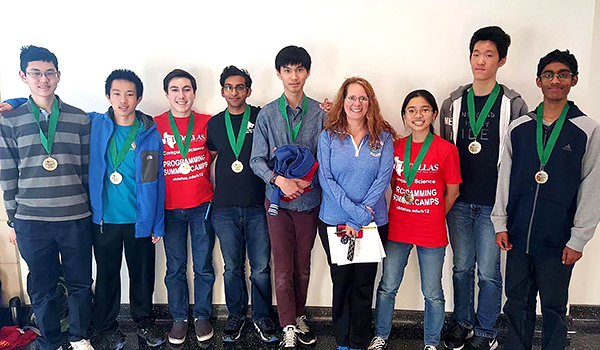 Five teams from Clark High School, six from Plano Senior High, nine from Plano East and thirteen teams from Plano West Senior High School competed on October 28 at the University of Texas at Dallas (UT Dallas) Battle of the Brains high school programming contest. The UT Dallas Computer Science Department has been conducting the statewide "Battle of the Brains" for over a decade. Competition teams have up to three students each, so nearly 100 Plano ISD students competed in the competition. Teams are ranked according to the number of problems that they successfully solve, with winners solving the most problems. Typically five or six problems at each level are provided for the teams.
At the advanced level, Plano West Senior High School teams received first and third places, and at the novice level, Plano West students earned third place.
October 17, 2017

At the October 17 Plano PTA membership meeting, campus membership totals were celebrated with some schools having already increased their membership over last year's totals or have matched last year's total membership. More information on how to join PTA is available on the Council of PTAs website or contact your child's school PTA for details. The future is our children, and they are given their best chance to succeed when their community unites as a powerful and effective voice for all children.






---
November 3, 2017

The Diversity Advisory Committee proudly announces nominations are open for the seventeenth annual Plano ISD Diversity Leadership Awards. These individual and group winners will be recognized at the Dr. Martin Luther King, Jr. Tribute to be held on January 18, 2018 at 7 p.m. at Williams High School located at 1717 17th Street in Plano. Please nominate an individual or group whose program or initiative has proven to advance and promote diversity through stronger relationships, improved communication and enhanced understanding within Plano ISD or the broader community within the past year.



October 23-27, 2017

Across the school district campuses observed National Red Ribbon Week an annual celebration during which students and staff participate in special theme days, assemblies and learning activities focused on living a healthy, drug-free lifestyle. Enjoy the photo gallery and more photos are available on the district's Facebook.





---
February 3, 2018

Benefiting the students, faculty, staff and schools of Plano ISD, SKI Plano is scheduled for February 3, 2018 at the Plano Marriott at Legacy Town Center. Come celebrate with dinner, shopping and dancing at the Plano ISD Education Foundation primary fundraising event. Visit SKIPlano.org for more information about how you can help and to purchase tickets.