November 17, 2017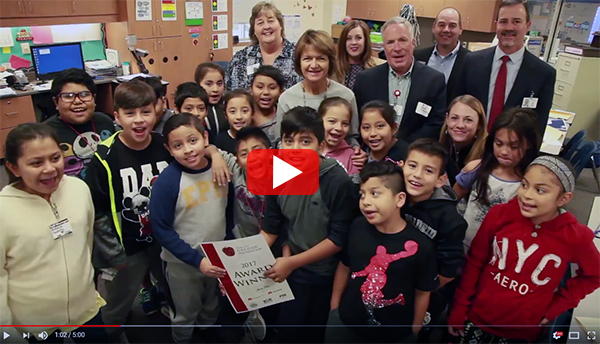 On November 9, the Education Foundations' Grants to Educators "grant patrol" delivered more than $100,000 in grants in surprise visits to teachers in their classrooms. Grants to Educators is an annual program, funded by the Education Foundation, that benefits the students of the district by awarding grant money to teachers for innovative student learning projects.
Sponsors, volunteers and donors play an important part in bringing these grants to teachers. The grant giving process actually began months ago with fundraising to support the Foundations' programs. SKI Plano is the Foundation's most important annual fundraising event. Scheduled for February 3 in 2018, the upcoming SKI Plano will benefit the 2018 grants. Kenneth Hutchenrider foundation board president said, "We are so appreciative of our business and community partners who participate in Grants to Educators as donors and volunteers. The Education Foundation and our sponsors are proud to help strengthen teaching and learning district-wide by providing resources to teachers." Grants to Educators is generously supported by sponsors: Park Place Lexus Plano, Alliance Data, Huawei, TAFF – The Andrea-Mennen Family Foundation, the Plano ISD Council of PTAs and Carole Greisdorf.
By September of this year, 270 online grant applications were completed by teachers. Judges then began the process of evaluating the applications, taking into consideration factors such as the number of students impacted, the value the grant would bring to the classroom and how the proposal would fill in gaps in current student learning.
Then on November 9, the "grant patrol," comprised of Education Foundation board members, program sponsors, district staff and parent leaders, visited the winning teachers at 44 schools. Once the grant patrol arrives at the schools, bells, whistles and noisemakers echo through the hallways as they arrive at the winning teachers' classrooms. And then the excitement really begins as teachers discover their grants were selected, and students, cheer for more learning opportunities. Students will cheer for more books to read, more math, more science, more art, more of whatever their teachers have dreamed into reality with the help of Grants to Educators. Grants range in size from one hundred to several thousands of dollars depending on the project. Keep reading for more details about all of this year's winning grants, watch the video (5 minutes) to get a taste of the spirit of Grants to Educators and explore more ways the Education Foundation supports Plano teachers and student learning in Plano ISD.

Nominations for Diversity Leadership Awards Due on December 15: The Diversity Advisory Committee proudly announces nominations are open for the seventeenth annual Plano ISD Diversity Leadership Awards. Please nominate an individual or group whose program or initiative has proven to advance and promote diversity through stronger relationships, improved communication and enhanced understanding within Plano ISD or the broader community with the past year.


---

Consider donating books to the CORE Store this holiday season:

Looking for ways to support your school community? This year's Barnes & Noble (Park and Preston) book drive recipient group is the CORE Store. Your donation will benefit the teachers and students of Plano ISD. For more information contact Marta Lilly, CORE Store supervisor at marta.lilly@pisd.edu.






---
Academy Applications Are Due on Friday, December 15 for Incoming Freshman:
Information meetings for all three academy programs have ended. For important dates and information, please see the brochure / accessible brochure.
Please note that applications to all academies for incoming freshmen are now open and close on Friday, December 15.

---

Save the Date for SKI Plano Fun

:

Benefiting the students, faculty, staff and schools of Plano ISD, SKI Plano is scheduled for February 3, 2018 at the Plano Marriott at Legacy Town Center. Come celebrate with dinner, shopping and dancing at the Education Foundation's primary fundraising event. Visit SKIPlano.org for more information about how you can help and to purchase tickets.

---

The Plano ISD Board of Trustees will meet in a work session on November 28 at the Plano ISD Administration Center board room. The agenda with links to supporting documents when available will be posted on BoardBook.
During the November 14 regular board meeting: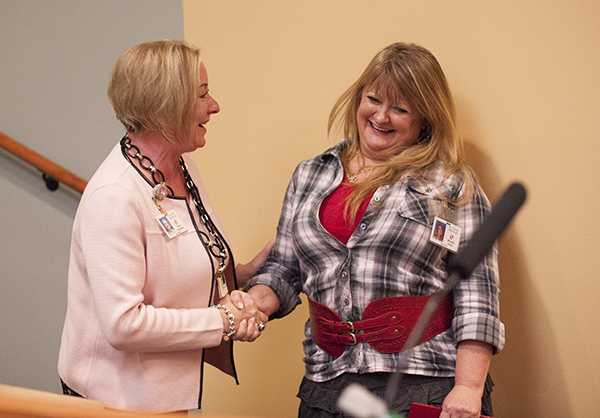 Board Secretary Nancy Humphrey presented the certificate of recognition to Rhonda Smith Plano West speech and debate teacher and TFA Hall of Fame inductee.
Members of the Plano West FFA chapter greeted board meeting attendees at the November 14 board meeting. They led the board and meeting attendees in the Texas Pledge and spoke briefly about their involvement in FFA.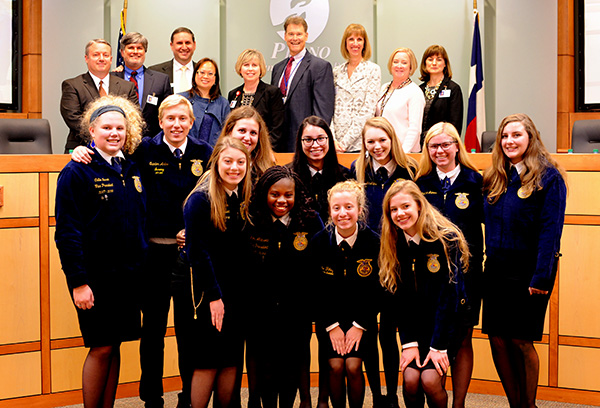 Front row: Michaela Nix, President PWSH FFA; Moni Akinsola, Reporter PWSH FFA; Blake Foley, PWSH FFA; and Paige Bruno, PWSH FFA.

Middle row: Callie Nunan, Vice President PWSH FFA; Quinton Artho, Secretary PWSH FFA; Hannah Hughes, Treasurer PWSH FFA; Rebekah Flores, PWSH FFA; Sarah Deibert, Membership Committee Chair PWSH FFA; Kat James, Social Committee Chair PWSH FFA; and Katherine Hanna, Shepton High School PWSH FFA.

Back row: Trustee Greg Myer, Board Vice President David Stolle, Trustee Dr. Yoram Solomon, Trustee Angela Powell, Board President Missy Bender, Superintendent of School Dr. Brian Binggeli, Interim Deputy Superintendent Sara Bonser, Board Secretary Nancy Humphrey and Trustee Tammy Richards.
Helpful Links:
PISD.edu | Schools | Calendar | Contacts | Foundation | Menus | Parent Portal
See Plano ISD Headlines or the eNews Archive for more Plano ISD news.