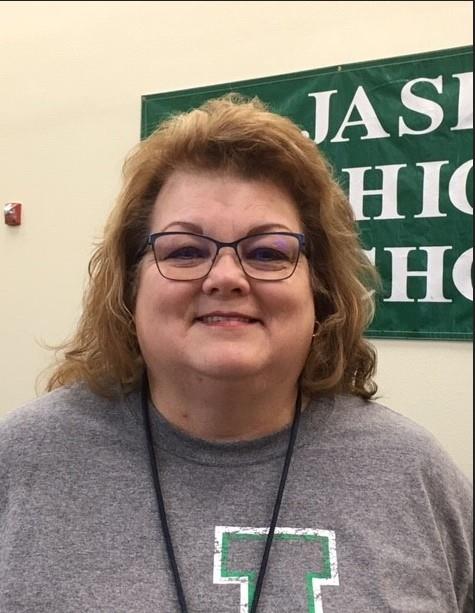 Phone: 469-752-7400 X 27441
Email:
Degrees and Certifications:
BS in Life Sciences- University of Tulsa MEd- Secondary Ed (Biology, G/T Education) University of North Texas MEd- Educational Administration, University of North Texas Texas Certifications: Principal EC-12 Biology Composite Science 9-12 Life/Earth Science Gifted and Talented Endorsement
Mrs.

Teresa Walls

2019-2020 will be my 15th year with Plano ISD, and my 34th year in the field of education. I have taught at Hendrick and Haggard Middle Schools in Plano and this will be my second year at Jasper High School. My experience also includes working in Curriculum and Instruction for two other school districts and working with pre-service STEM teachers at the University of North Texas. I'm looking forward to a fantastic school year.
Teaching Schedule

1st Biology 9:00-9:48

2nd Biology 9:53-10:46

3rd Conference 10:51-11:39

4th Biology 11:44- 12:32

Block A: 12:32- 1:04

Block B: 1:04- 1:36

5th Biology 1:41- 2:29

6th Biology A 2:34- 3:22

7th Biology 3:27- 4:15
Biology Tutoring

Monday 8:15 AM (Qazi- Room 1301)

Tuesday B Block (Park- Room 1303)

Tuesday 4:25 PM (Poovey- Room 1310)

Friday B Block (Walls- Room 1314)

Test Makeups (if absent on day of test) and Test Retakes for Biology

Thursday 8:15 AM (Qazi rm 1301)

Thursday Block Lunch (Gonzalez- Room 1301)

Thursday 4:25 PM (Walls- Room 1314)

Test retakes will always be on Thursday of the week after the original test. For example, if a student takes a test on a Wednesday, retakes will be given on Thursday of the followng week.

Students can retest for a maximum score of 80.
For a student to be eligible to retest, they must: 1) have no zeros for daily assignments leading up to the test; 2) fill out a retest form and have it signed by a parent; and 3) attend a tutorial between the original test date and the retest date. They must have a teacher signature on the retest form stating that they have attended a tutorial. Students will not be allowed to retest if they have not met these requirements.