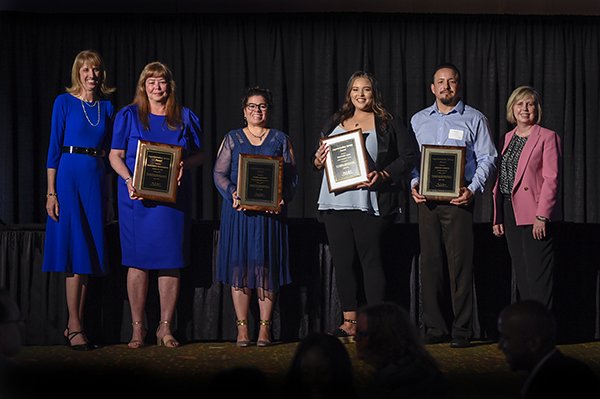 Employees gathered to celebrate milestones and say their fond farewells to retiring friends at the 54th Annual Salute to Service event held at Southfork Ranch on April 4. See event photo galleries. The event honored hundreds of employees including the nominees and winners of the 2018 Superintendent's Service Awards, retiring employees and employees who received service pins for 15, 20, 25, 30, 35 and 40 years of service to Plano schools. Four Superintendent's Service Award winners were announced: Maria Alvarez - Bilingual Special Education Teacher Assistant, Meadows Elementary School; Sergio Corona - General Maintenance III, Facility Services; Brittney Love - Paraprofessional, Charmaine Solomon Adult Transition Center; and Elizabeth Williamson - Office Manager, Student Services.



---
There is a legacy of excellence in Plano ISD, with high aspirations for all students—from pre-k, through graduation and beyond. The Plano ISD Board of Trustees adopted the 2019-2023 Strategic Plan on April 9, 2019. See the new Vision, Mission, Beliefs and the five pillars that will guide us through the next 4 years.




---
At the April 9 board meeting, the board of trustees unanimously voted to approve the facility naming committee recommendation to name the Special Education Adult Transition Center the Charmaine Solomon Adult Transition Center.




---
Plano ISD computer science students helped set a Guinness World Record for the largest Artificial Intelligence (AI) programming lesson. The lesson, hosted by Capital One during Basic TrAIning: Bot Camp included a total of 846 participants.




---
Plano ISD Food and Nutritional Services (FANS) has been recognized for Excellence in Summer Meals for the second year in a row.



---
April News on Social Media

---
Reminders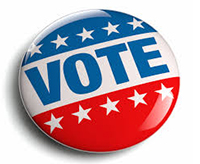 On election day, May 4, voters may vote at election day vote center locations. Voting is open from 7 a.m. to 7 p.m. on Saturday, May 4. Follow the election results on the Collin County election webpage. Note that election results are not final until canvassed. More information about the trustee election.

---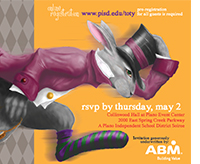 Don't be late! All attendees to the Gala must R.S.V.P. by May 2; contact your office manager to register. Seventy-three Teacher of the Year nominees have been selected by their peers at campuses across the district. These outstanding educators will be recognized at the Plano ISD Teacher of the Year Gala to be held the evening of Thursday, May 9 at Plano Centre. At the event, 10 Excellence in Teaching Awards will be presented and 2 Excellence in Teaching Awardees will be named the 2019 Elementary and Secondary Teachers of the Year.

---
Schedules are available for receptions for retiring employees and for elementary school senior reunions. It's your chance to say goodbye and good luck.

---
Join the Plano Principal Association for the 2019 Scholarship Scramble Golf Classic. Enjoy a day of golf and support Plano ISD students and teachers on Friday, June 7; shotgun start at 8 a.m. at Ridgeview Ranch Golf Club.

---
Plano ISD will be hosting a job fair on June 12 from 2 - 4 p.m. for bus drivers, bus assistants, teachers, classroom support staff, after-school activity specialists (PASAR - after school care), cafeteria specialists, cafeteria managers (food and nutritional services) and facility maintenance technicians. Candidates must complete an online application to register for the event. Each campus and department will be there with staff to speak to those interested in job opportunities. Visit the employment website for more details.

---

View the photos and a list of staff births and extensions of sympathy to employees who have lost loved ones. To protect staff privacy, this information is now located on the staff pages of the website. Click the read more link and please log in to the website with your network ID and password when prompted. To share news, please email your school or department's information to digest@pisd.edu for inclusion in the next issue of District Digest.

---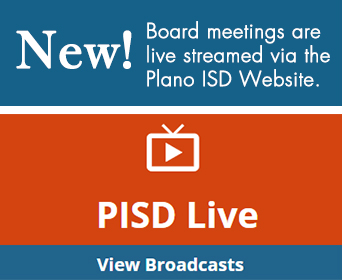 Check it out. School Board Meetings are streamed live from the Administration Center's board room. Connect to the live feed during the meeting or view the board meeting webpage for information about meetings, including calendar, agendas, approved meeting minutes and recorded meeting videos.

The Plano ISD Board of Trustees is actively making a difference during the 86th regular legislative session that began January 8, 2019. Bookmark the Board Legislative Timeline that will be updated as the session progresses. Here are a few recent activities: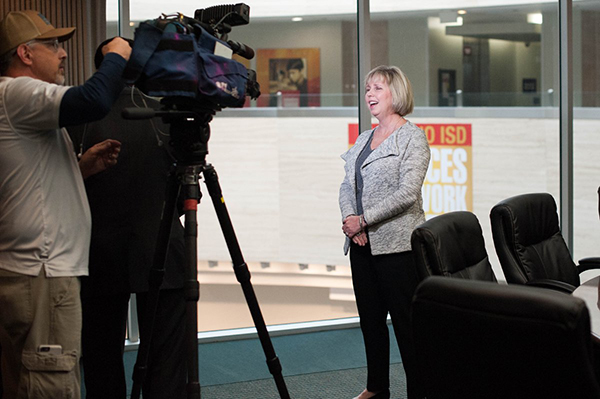 March 26-27 - Travel to Austin for Collin County Days to meet with legislators and area elected officials to learn more about the important issues facing our county.

---
---
The Plano ISD Board of Trustees met in regular session on Tuesday, April 9. The agenda with links to supporting documents is available on BoardBook. View meeting video.

RECOGNITIONS

Tagen Jamison, Shepton High School, Boys Individual UIL 6A Wrestling State Champion and Ashley Lekas, Plano West, Girls Individual UIL 6A Wrestling State Champion were honored by the Board of Trustees for their excellence in athletics. Recognition certificates were presented on the Board's behalf by Board Vice President Dr. Yoram Solomon. Read more in Headline News.

Food and Nutritional Services receives "Zero-findings" Administrative Review from the Texas Department of Agriculture. Director Cynthia Lee and her staff were honored by the Board of Trustees for their dedication to the health and wellbeing of the students of Plano ISD. Read more in Headline News.

ITEMS FOR DISCUSSION AND ACTION

Discussion and possible action on a Resolution adopting Findings of Fact and approving the Application of Texas Instruments Incorporated for a Limitation on Appraised Value on Qualified Property, pursuant to Chapter 313 of the Texas Tax Code


Discussion and possible action on an Agreement for Limitation on Appraised Value of Property for School District Maintenance and Operation Taxes, pursuant to Chapter 313 of the Texas Tax Code, with Texas Instruments Incorporated


Consider Board approval of the Facility Naming Committee recommendation regarding the Naming of the Adult Transition Center.

Consider Board approval of the 2019 - 2023 Plano Independent School District Strategic Plan vision, beliefs, mission, and pillars

REPORTS

---

---

The Plano ISD Board of Trustees met in a work session on Tuesday, April 23. The agenda with links to supporting documents is available on BoardBook.

REPORTS

---

---
Helpful Links:
PISD.edu | Schools | Calendar | Contacts | Foundation | Menus | Parent Portal
See Plano ISD Headlines or the eNews Archive for more Plano ISD news.
To unsubscribe: Parent portal users must use your parent portal login to unsubscribe to eNews: Parent Portal. If you are not a parent of a Plano ISD student or do not have access to parent portal use https://elist.pisd.edu.
Copyright 2018 Plano Independent School district
15th Street | Plano, Texas 75075 | 469.752.8150 | askpisd@pisd.edu.