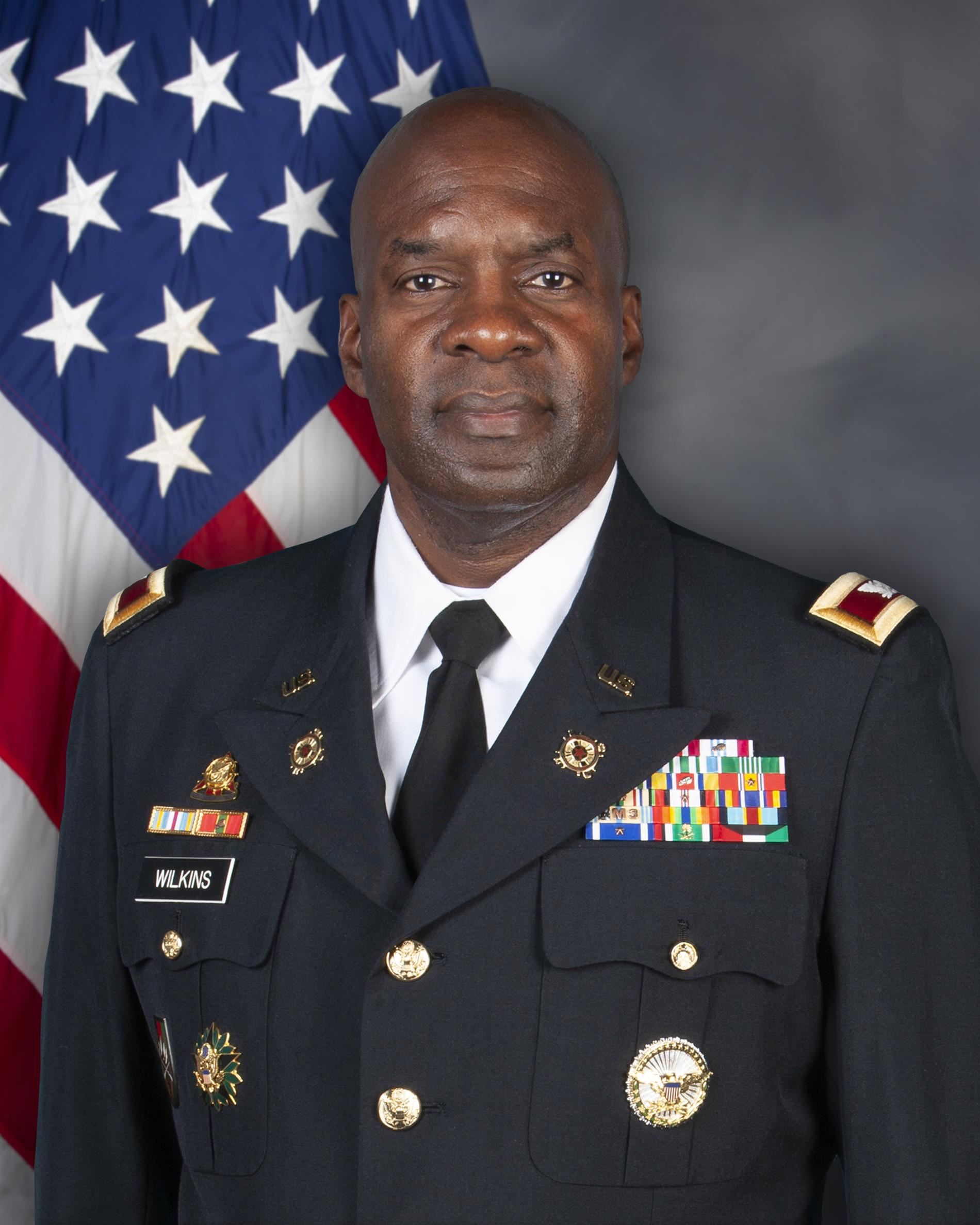 Phone: (469) 752-9385
Email:
Degrees and Certifications:
Masters of Business Administration(MBA), Touro University International (Magna Cum Laude) Bachelor of Science (BS) Finance, Northwestern State University Louisiana US Army War College - Defense Strategy Course Command and General Staff College Transportation Officer Basic and Advance Course Joint Qualified Officer Green Belt Master USATF Track and Field Coach and Official
Colonel Ronald Wilkins JROTC Senior Army Instructor (SAI)

Colonel Wilkins entered the US Army on July 28th, 1988. He has served in all three components of the Army; the Army National Guard (Traditional and AGR), Reserve Component, and Active Duty). He received his commission in May, 1989 from Northwestern State University, Louisiana, where he attended a 4yr Cross Country and Track and Field Scholarship. He is a High School All-American in Cross County, Mile and Two Mile as a 5 x State Champion in Distance events. He was part of a Conference Champion Track Team in 1985/87 as well as had individual accomplishments in the 800m, 1500m, Mile Relay, and Cross County. After college, he attended Transportation Officer Basic Course School in Fort Eustis, Virginia in 1990. Immediately after school, he deployed in support of Operation Desert Storm/Shield as a 2nd Lieutenant with the 1087th Transportation Company, Louisiana Army National Guard, as a 23-year-old Truck Platoon Leader.

Colonel Wilkins holds a Master of Business Administration from Touro University International in Business Administration and Military Management (Magna Cum Laude). He received his Bachelor of Science from Northwestern State University in May 1989 in Business Administration with a concentration in Finance. He joined the Texas National Guard in 1996, holding the highest transportation position as the Division Transportation Officer for the 36th Infantry Division. In 2004, he began his AGR career at the Army National Guard Bureau and Joint Staff, working at the 4 Star Level in multiple jobs as Program Manager in Operations, Senior Strategist for the National Guard Bureau Director, Mobilizations Chief, Branch Chief, and Assistant Chief for Domestic Operations supporting 54 States and Territories. At the Strategic Level, he worked multiple tours at the Pentagon in Headquarters Department of the Army G-3/5/7 as Budget Manager for Weapons of Mass Distruction, By Name Request to serve as the Deputy Director for Mobilizations as the Primary Secretary of Defense (SECDEF) Order Book Briefer for Robert Gates, Senior Army Director for Under Secretary of Defense for Intelligence. In May of 2011, he deployed as the Senior Army Guard Advisor for US Forces Afghanistan. From June 2018 - Oct 2019, he was the Chief of Staff to the Minister of Interior of Afghanistan, where he led and developed a Senior Staff of 128 Civilians, Contractors, Linguists, and Senior Military Officers from 12 countries. In his final job, he served as the Chief of Sustainment for III Corp at Fort Hood, Texas, where he retired Dec 2021.

Colonel Wilkins' awards and decorations include the Legion of Merit, Bronze Star, Defense Meritorious Service Medal with 2 Oak Leaf Clusters, Meritorious Service Medal, Joint Service Commendation Medal, Army Commendation Medal, Joint Service Achievement Medal, Army Reserve Component Achievement Medal w/3 Oak Leaf Clusters, National Defense Service Medal, Southwest Asia Service Medal w/2 Bronze Service Stars, Kuwait Liberation Medal-Saudi Arabia, Kuwait Liberation Medal-Kuwait, Army Overseas Service Ribbon, the NATO Service Medal, and others. He also wears the Office of the Secretary of Defense Identification Badge, Army Staff Identification Badge, 2 Joint Meritorious Unit Award, and the Army Superior Unit Award.

Colonel Wilkins is supported by his awesome wife, Marjorie, a business professional. They have two amazing young adults, and one lucky dog: Son Joshua (28), a Northwestern State University Graduate, and daughter Trinity (21), a rising junior at Midwestern State University, and Dog Shadow.
Daily Schedule for Colonel Wilkins

Period 0 - 08:00 - 0850 - Available
Period 1 - 0900 - 0949 - In-Class Training
Period 2 - 0956 - 1049 - In-Class Training
Period 3 - 1056 - 11:45 - Staff Visits
Period 4 - 11:45 - 1:30 - Lunch
Period 5 - 1:33 - 2:22 - In-Class Training
Period 6 - 2:29 - 3:19 - In-Class Training
Period 7 - 3:25 - 4:15 - In-Class Training