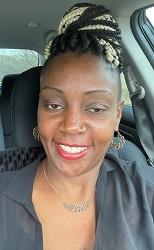 Phone: 469-752-1930
Email:
Degrees and Certifications:
Angela Edwards Mitchell - PreK Classroom Assistant

College(s): Northshore Technical Community College

Teaching History: Third year in SPED. 23 years of experience teaching in Early Childhood

Family: Married for 5 years to a gentleman that is always cutting up and keep people looking super fresh and clean Master Barber Jarrell. 3 children (Jazmin, Justin, Kevin Jr.) I call them my 3 Amigos because they are the center of my universe. one granddaughter Ja'Zyia Everything I do is to show them a better me so they can be a better them to the world we reside. I have 6 siblings that I love dearly and we are each others backbones.

Interests/Hobbies Outside of School: Like to window shop and spend tons of time with my children and family.

Why did you want to start the IB PYP at Huffman? Great opportunity to learn something exciting and different and also prepare myself to become a Pre K or Kindergarten teacher in the very near future.