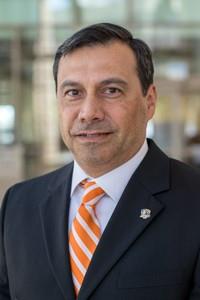 Phone: (469) 752-8600 Ext. 28668
Email:
Degrees and Certifications:
* BA Business Administration - NMSU 1992 * MBA Business Administration - NMSU 1996 * MA Dispute Resolution - SMU 2012 * Certification in Spanish K-12 - UTPB 2019
Mr.

Carlos Barocio-León

Hola,

My name is Carlos Barocio-León and I am enterning my second year as a Spanish teacher and Football/Basketball coach at McMillen High School. I have been in the coaching/education profession for over 25 years now, being this the first time I work at the high school level.

I was born and raised in Mexico City and migrated to the United States in 1988 to pursue a Bachelor's Degree in Business Computer Systems and play football for New Mexico State University in Las Cruces, New Mexico. After graduating I continued my education at the same institution and completed a Master's Degree in Business Administration.

Then, my coaching career started and took me to Monterrey, Mexico where I had the opportunity to coach the University of Nuevo Leon football team as the offensive coordinator for 3 years. My next stop was in Europe where I spent 8 years as the head football coach for four different teams in three countries (Palermo, Italy; Barcelona, Spain; Bergamo, Italy; and Innsbruck Austria).

In 2004 I returned to Mexico and spent 1 year coaching for the Monterrey Tec - Campus Toluca Rams. In 2005 I had the opportunity to come back to the United States and joined the staff of Texas College in Tyler, Texas for 3 years. In 2008. I migrated to the Dallas area and joined the football coaching staff of Southern Methodist University. I spent 7 years working for SMU in different capacities (Offensive Graduate Assistant, Quality Control Coordinator, Special Teams Coordinator). During my tenure at SMU I was able to further my education a bit more and in 2012 I completed a Master's Degree in Dispute Resolution.

My last stop before joining McMillen High School was at the University of Texas of the Permian Basin in Odessa, Texas where I had the opportunity to be a member of the inagural football coaching staff, building a football program from scratch. I spent four years there before moving to Plano, Texas where I currently reside.

I have been married to my lovely wife Maria del Carmen Moises, who is also a high school teacher, for 22 years and we live in Plano with out three Chihuahua dogs (Duque, Schatzy and Kekko).
TUTORIAL SCHEDULE

Every day during Advisory time.

11.50 to 12.50