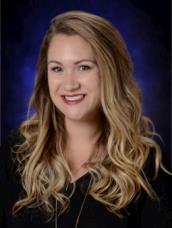 Phone: 469-752-2416
Email:
Degrees and Certifications:
Mrs.

Lauren Dunlap

My name is Lauren Dunlap and I am so excited to be a part of the Meadows family as a school counselor.

A school counselor works with students and their parents in a variety of ways. Each service I provide is designed to help children live up to their fullest potential. Among the services I provide are:
Individual school counseling
Small group counseling/guidance
Large group guidance
School-wide programs
Parent/teacher consultation
Coordination of community services/resources
Each week I will teach guidance lessons, which cover topics like social skills, character-building, peer pressure, decision-making, friendship, conflict resolution, study skills, safety and drug awareness. Individual and group sessions can be provided on a referral basis from teachers, parents or the students themselves. I am also here to help children who are facing certain difficulties at school or at home. Issues at school may include conflicts with teachers or friends, anxiety about schoolwork, or anything else that may distract your child from learning. Family disruptions such as the birth of a sibling, an illness, death, or divorce also may affect your child's ability to perform in school. If your child is experiencing anything that I can help with, please do not hesitate to let me know. My goal is to help children have a happy and successful academic experience while growing socially and emotionally.
I look forward to working with you and your family!
Mi nombre es Lauren Dunlap y estoy muy emocionado de ser parte de la familia Meadows como consejera escolar.
Una consejera escolar trabaja con los estudiantes y sus padres de diversas formas. Cada servicio que proporciono está diseñado para ayudar a los niños a alcanzar su máximo potencial. Entre los servicios que brindo están:
Orientación escolar individual
Asesoramiento / orientación en grupos pequeños
Orientación para grupos grandes
Programas para toda la escuela
Consulta de padres / maestros
Coordinación de servicios / recursos comunitarios
Cada semana daré lecciones de orientación, que cubren temas como habilidades sociales, desarrollo del carácter, presión de los compañeros, toma de decisiones, amistad, resolución de conflictos, habilidades de estudio, seguridad y conciencia sobre las drogas. Las sesiones individuales y grupales se pueden proporcionar sobre la base de una referencia de los maestros, padres o los propios estudiantes. También estoy aquí para ayudar a los niños que enfrentan ciertas dificultades en la escuela o en casa. Los problemas en la escuela pueden incluir conflictos con maestros o amigos, ansiedad por el trabajo escolar o cualquier otra cosa que pueda distraer a su hijo/hija del aprendizaje. Las interrupciones familiares, como el nacimiento de un hermano, una enfermedad, la muerte o el divorcio, también pueden afectar la capacidad de su hijo/hija para desempeñarse en la escuela. Si su hijo/hija está experimentando algo en lo que pueda ayudar, no dude en hacérmelo saber. Mi objetivo es ayudar a los niños a tener una experiencia académica feliz y exitosa mientras crecen social y emocionalmente.
¡Espero trabajar con usted y su familia!