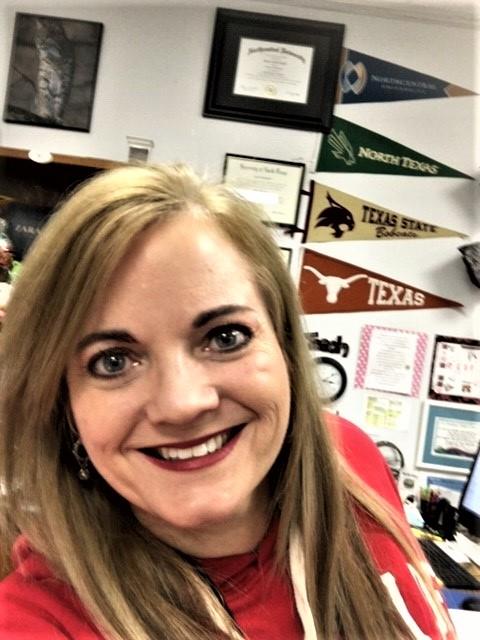 Phone: 469-752-9300 x39333 (voice mail)
Email:
Degrees and Certifications:
*B.A. English UT Austin '92 *Teacher Certification Texas State '93 *M.A. Secondary Education UNT '98 *Ed.D. Doctor of Education Organizational Leadership Northcentral University AZ '18
Dr.

Aimée Noelle Ratliff

I grew up in Plano, Texas and attended Shepard Elementary, Wilson Middle, Vines High, and Plano Senior High Schools. My mother was a teacher and counselor in PISD and spent her last 20+ years as a counselor at Clark High School. My father was an orthopedic surgeon and was the Plano East team doctor for many years. I went to The University of Texas at Austin to earn a bachelor's degree in English, Texas State for Secondary Teacher Certification, The University of North Texas in Denton for a master's degree in Secondary Education, and Northcentral University in Arizona for a doctorate in Organizational Leadership.

In 1993-1994, I began teaching mid year at Vines High School where I taught 9th and 10th grade English. It has been an honor to teach with so many of the teachers who inspired me and believed in me. Wildcats are all so interconnected, and I thrive on that connectedness. After two and half years at Vines High School, my friends in the English Department at Plano Senior High encouraged me to come teach juniors and seniors. I have been at PSHS since 1996 teaching various levels of English, being Honors English IV team lead for a few years, writing curriculum, sponsoring and teaching Peer Assistance and Leadership, and ultimately falling in love with Advancement Via Individual Determination (AVID). AVID has been a gift. I couldn't ask for a better co-coordinator, Jackie Dillon. We have a nurturing team of AVID coordinators across PISD, and I am so proud to be a part of the PLANO AVID FAMILY. I have been teaching AVID for 13 years at Plano Senior. In addition to AVID, I love learning and reminiscing in Intro to Radio & Television (5th year). We learn a little history of both mediums and have fun with exploring, creating, listening and watching.

This school year I am thrilled to guide my AVID seniors through the postsecondary education application process and assist them in applying for scholarships and financial aid as well as fine-tuning their reading, writing, organization, collaboration, and leadership skills. This is the most rewarding year in the AVID program, and I look forward to all of their successes. I endeavor to cultivate relationships with all my students so that I can provide them with opportunity knowledge that is relevant to their aspirations so that they have the agency now and later to follow their hearts and pursue their dreams.
Tutorial Schedule
Advancement Via Individual Determination (AVID) students have tutorials DURING the AVID Elective Class on Tuesdays and Thursdays every week with few exceptions. Students may also schedule a conference/appointment to meet with me for tutorials as needed.
Teacher Schedule
1st period: AVID Conference

2nd period: Intro to Radio TV

3rd period: AVID IV

4th period: AVID IV

5th period: AVID IV

6th period: AVID IV

7th period: Conference