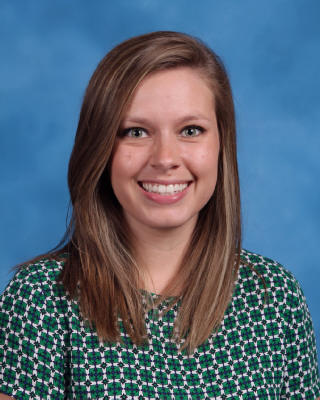 Phone: 469-752-7653
Email:
Degrees and Certifications:
Bachelor's of Science in Mathematics
Mrs.

Lauren Holloway

I was born and raised in Austin, TX. I am a graduate of Stephen F. Austin State University with a major in mathematics. This is my sixth year teaching at Shepton High School. I currently teach Algebra 1 and Calculus BC. In the past I have taught Algebra 1, Honors Algebra 1, Geometry, Algebra 2, Honors Algebra 2, Honors Pre-Calculus, and AP Calculus BC. My calculus teacher in high school is who made me want to teach math. I am a firm believer that everyone can be not just be good at math, but excel at it!

I am the Department Head for Mathematics. I highly encourage you to monitor your student's grades closely and have them come to tutorials as soon as you notice them struggling. In order to attend morning tutorials, each student needs a signed note from the parent/teacher to be able to come to a classroom before 8:45AM. All subjects post important documents on their Google Classroom. This will include calendars, homework keys, etc. You can be added to the Google Classroom as a guardian if you would like. If a student is absent on the day they have a math test we host a test make up session in room D213 every Wednesday at 8:00AM-8:48AM or after school from 4:20PM-5:08PM. This gives the student a full 48 class period to make up their test in secure testing environment. If the student is late to either the morning or afternoon test make up session they may be turned away in order to be sure they are alloted the correct amount of time. As always if you have a question, comment or concern you may email me at lauren.holloway@pisd.edu, please include your student's name, your name, and a brief description of what you would like to discuss. You may also call me at 469-752-7653, please note that if you are calling during school hours I am most likely in class or a meeting. I will return your phone call as soon as possible.

I am looking forward to this year! Teamwork makes the dream work.
Google Classroom Codes:

Algebra 1: 3qw4sd

Geometry: coming soon

Honors Geometry: coming soon

Algebra 2: m7s4uzq

Honors Algebra 2: eiped2a

Honors Pre Calculus: coming soon

AP Calculus BC: qy2nmom
Algebra 2 Tutorials will be Tuesday from 8:15AM-8:45AM or by appointment.
Honors Pre-Calculus Tutorials will be held Mon 4:15PM- 4:45PM or by appointment
AP Calculus BC Tutorials will be held Mon 4:15PM- 4:45PM or by appointment