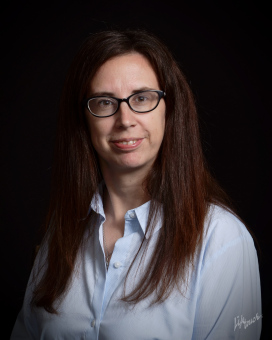 Phone: 469-752-8543
Email:
Degrees and Certifications:
Masters of Library and Information Sciences (December 2019)
Mrs.

Mary Herrera

Mary Herrera is a 7th grade English and Special Education teacher.

I love to read, of course. I read mostly epic fantasy, hard and soft science fiction, a bit of historical fiction, and more. I write fantasy and science fiction stories in my spare time, which is rare. But I have one short story professionally published which you can read for free here: https://youthimagination.org/ Issue 71 "Desperate Trolls Call for Desperate Measures." I write under the pen name Kathryn Fletcher.

I also enjoy spending time with my family. I am married and have a nine-year-old boy who is in first grade. He is very active and creative.

I just finished my Master of Library Science degree last year.

I grew up in Plano schools and graduated from Plano East in 1995. I went through Memorial, Bowman, Williams, and Plano East.
Purpose Statement
Purpose Statement

My purpose as a teacher of English is to teach students to be self-sufficient life-long learners, to recognize their potential, to use their resources, to communicate effectively, to develop a growth mindset, to understand that reading and writing is an important life skill and to help them achieve the potential in these areas.
Tutorials and Office Hours
To access the PPt with more information is HERE.

Office Hours will be available during asynchronous times to help for those who need it.

Office Hours and Tutorials will all be through the Tutorial Google Meets Link

Office Hours

Monday 8/17 - 9:00-10:30 & 2:00-3:30

Tuesday 8/18 - 2:00-3:30

Wednesday 8/19 - 9:00-10:30

Thursday 8/20 - 2:00-3:30

Friday 8/21 - 9:00-10:30

See Mrs. Herrera's Tutorial Google Classroom for further information about future Office Hours.
Class Information
Here is the 1st day information:

https://docs.google.com/presentation/d/1LgcdYMhkgMUXJGWog-hwjBJ_V-z5CVeCWf7YwsnEtQc/edit?usp=sharing

Herrera & Bargmann's Google Classroom Code

1st period- mhoktr3

2nd period- wsw36fj

Herrera & Mackey's Google Classroom Code

3rd period- (I don't have this one yet.)

Go to the 4th period Meet link and I'll give you the code for it tomorrow.)

4th period- oxhvuqf

Herrera & Schuler's Google Classroom Code

6th period- g5hyuuf

7th period- fqx7cm2

Join the Classroom, then click on the Google Meets link at the top of the Classroom page.

English Mrs. Herrera Tutorial Classroom

Tutorials will begin on 8/18/20