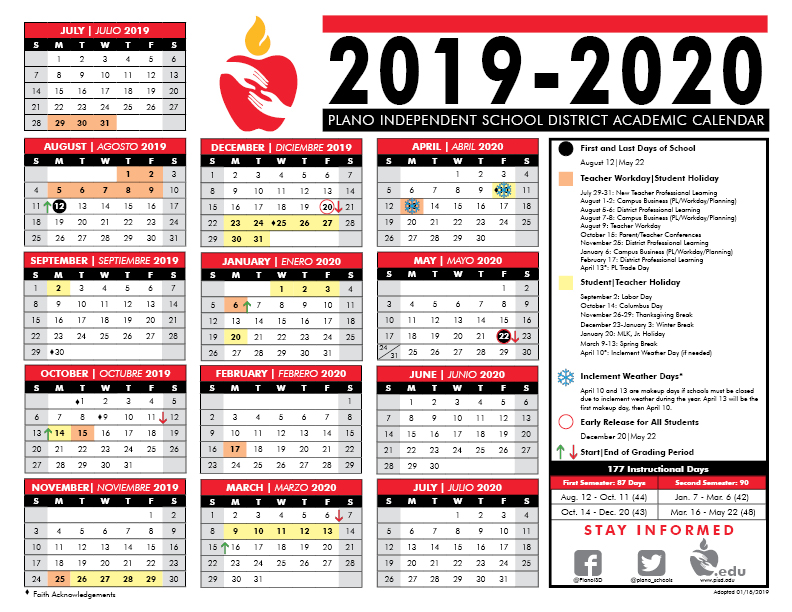 Board of Trustees Adopts 2019-2020 Academic Calendar
At the January 15 board meeting, the Plano ISD Board of Trustees adopted Draft A as the 2019-20 academic calendar based on feedback from the community and input from administration. The calendar features a start date of August 12, with the last day of school of May 22 which falls prior to Memorial Day. The adopted calendar, along with frequently asked questions are available on the website.

---

Jason Tucker, director of bands and music department chair at Rice Middle School, is named as one of 25 National Music Educator of the Year semifinalists announced by Music & Arts in December.



---

Computer science education week was observed December 3-9. Along with other activities, many Plano ISD schools hosted an "Hour of Code" in grades kindergarten to 12 to inspire students to take an interest in computer science and to increase understanding of the critical role of computing in all careers.



---

Three administrative appointments were approved by the Board of Trustees during December and January. Financial services welcomed Executive Director Elaine Cogburn and Budget and Compliance Director Sherra McGaha. Head Start welcomes its new Director Dr. Denise Lohmiller.



---

This year's theme is "I Am Plano ISD." The preshow begins at 6:30 p.m. and the program begins at 7 p.m. Showcasing student artwork, live performances and the Diversity Leadership Awards and more.



---

Tickets are still available for dinner, shopping and dancing! SKI Plano is the Education Foundations' largest fundraiser helping to raise funds to support Plano ISD staff, students and programs for your classroom and your school. If you were awarded one of this year's 122 funded Grants for Educators, SKI Plano helped make that grant possible. If you enjoyed shopping for free at the CORE Store or had students who received camp scholarships, that is SKI Plano "Supporting Kids In" Plano.



---

Many of us have a banking app to make banking easier, and we can't live without it. Now Plano ISD has an app that will make your work life a little easier. Download it and log on with your network ID and password! Login gives you access to personalized information. Encourage your students and parents to download the app to access grades, assignments, attendance and more with login. Time management and access to information just got easier. Available on the App Store and Google Play.



---
Please forward information on how to volunteer to be a judge to interested friends or colleagues or sign up yourself. Sign up is on line. Please email questions to Karen Shepherd the secondary science coordinator at karen.shepherd@pisd.edu.




---

So many great things are happening in Plano ISD as we work to educate Plano ISD children, and we have the photos to prove it. The district has a new Instagram account. If you have photos to share or questions, please contact our Social Media and Community Engagement Specialist Taylor Phillips at taylor.phillips@pisd.edu. We are sharing district social posts on Facebook, Twitter, YouTube and now on Instagram.


---

Find out how the Teacher Retirement System of Texas (TRS) works by attending an informative seminar on Saturday, March 2. This TRS/TRTA seminar will help you work through the maze of rules, procedures, deadlines and more. You and your guest are cordially invited to attend this special informative event at Sockwell Center, located at 6301 Chapel Hill Blvd. in Plano. Registration is from 8 to 8:30 a.m. and the seminar is scheduled from 8:30 a.m. to 12:30 p.m. The seminar includes presentations by representatives from the Teacher Retirement System of Texas (TRS) and the Association Member Benefits Advisors (AMBA). To attend, please R.S.V.P. to Kathy Barrett at kawbarrett@gmail.com and include your name, home email address, district where employed and name of guest(s). This seminar is sponsored by the Plano Retired Teachers Association.
---
Parents who wish to learn more about social emotional learning are invited to a series of workshops to help them support SEL competencies and skills. Remaining workshops are scheduled from 6-7:30 p.m. and include:
January 31 - Social Awareness, Memorial Elementary
March 21 - Relationship Skills, Vines High School
May 1 - Responsible Decision-Making, Frankford Middle School

---
Plano ISD will host a teacher job fair on March 30 from 9 - 11 a.m. Candidates must complete an online application and register for the event. Elementary and secondary campuses in the district will be there with staff to speak to those interested in teaching and other professional opportunities. Visit the employment website and read more for more details.

---
Please share with families whose children qualify for free or reduced-price meal benefits who have not completed a Federal meal application for 2018-19, applications can be filled out anytime during the school year. Households can go online to fill out an online application or paper applications are available at schools. Please allow 10 business days for processing.

---

View the photos and a list of staff weddings, births and extensions of sympathy to employees who have lost loved ones. To protect staff privacy, this information is now located on the staff pages of the website. Click the read more link and please log in to the website with your network ID and password when prompted

. To share news, please email your school or department's information to digest@pisd.edu for inclusion in the next issue of District Digest.


---

The Plano ISD Board of Trustees is prepared to make a difference during the 86th regular legislative session that began on January 8. Bookmark the Board Legislative Timeline that will be continually updated as the session progresses.
Here are a few recent activities:
---
The Plano ISD Board of Trustees met on Tuesday, December 11. The agenda with links to supporting documents is available on BoardBook. Link to full meeting video.

RECOGNITIONS

The Board presented Ashlyn Hillyard, Plano Senior High School, with a certificate of recognition for her UIL 6A Girls Cross Country State Championship. Board Vice President Dr. Yoram Solomon presented the certificate on the Board's behalf. Also pictured (left) is Plano Senior High Girls Cross Country/Track and Field Head Coach Amy Dehdari.

Vice President of the Leadership TASB (Texas Association of School Boards) Alumni Executive Board Ty Jones presented Plano ISD Trustee Tammy Richards with her Leadership TASB Alumni Association membership certificate. Trustee Richards earned Master Trustee status in 2018. Master Trustee is the highest designation recognized by TASB.

REPORTS

2019 - 2020 Instructional Calendar Update

ITEM FOR DISCUSSION AND ACTION

---

The Plano ISD Board of Trustees met on Tuesday, January 15. The agenda with links to supporting documents is available on BoardBook. Link to full meeting video.

SCHOOL BOARD RECOGNITION MONTH

As tokens of appreciation for their dedication and willingness to serve Plano ISD children, terrariums were created by Plano West floral design students for each trustee, and a sweet treat was provided to the Board from McCall Elementary. A recognition packet from the Texas Association of School Boards was presented to trustees by Superintendent Sara Bonser recognizing the Board for "Standing Up 4 Texas Public Schools."

PUBLIC HEARING

REPORTS

ITEMS FOR DISCUSSION AND ACTION

---

Next Board Meeting: February 5


---
Helpful Links:
PISD.edu | Schools | Calendar | Contacts | Foundation | Menus | Parent Portal
See Plano ISD Headlines or the eNews Archive for more Plano ISD news.
To unsubscribe: Parent portal users must use your parent portal login to unsubscribe to eNews: Parent Portal. If you are not a parent of a Plano ISD student or do not have access to parent portal use https://elist.pisd.edu.
Copyright 2018 Plano Independent School district
15th Street | Plano, Texas 75075 | 469.752.8150 | askpisd@pisd.edu.