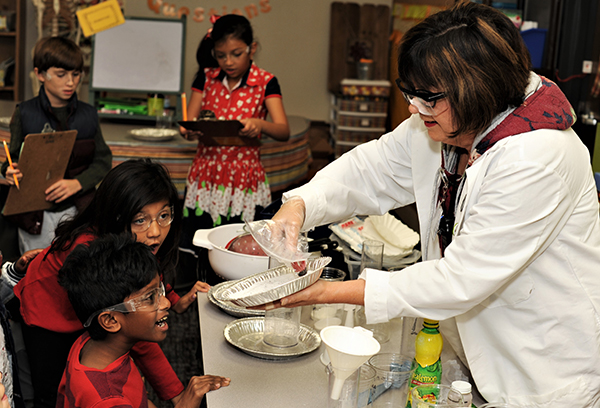 Celene Rosen, third grade teacher at Barksdale Elementary, has been named a Texas finalist for the Presidential Awards for Excellence in Mathematics and Science Teaching (PAEMST). The 2018 awards recognize kindergarten through sixth grade mathematics and science teachers whose innovative methods bring teaching to life in the classroom. The National Science Foundation administers PAEMST on the behalf of the White House Office of Science and Technology Policy. PAEMST are the highest recognition a mathematics or science teacher may receive for exemplary teaching in the United States.
View photo gallery of Celene in her classroom; read referral letters and excerpts from her application.




---
Stay Connected - Download the Plano ISD Mobile App

The app is a powerful tool for staff, parents and students. Sign in to the app to access all the features. Get personalized newsfeeds for your school, student grades and attendance, access school staff contacts, receive important alerts and view calendar information. The app is available from Google Play or the App Store.


---
On behalf of the U.S. Department of State's Bureau of Educational and Cultural Affairs (ECA) and World Learning, Suzana Spina, Director for Early Childhood, has been recommended by the Peer Review Panel for placement on the Fulbright Specialist Roster for a tenure of three years. As a candidate, Suzana is eligible to be matched with projects designed by host institution in over 150 countries.




---
Pauline Sinnamon Plano East Senior High French teacher and Daphne Warren Plano Senior High German teacher were named as two of the five TFLA Excellence in Teaching award winners.




---
On October 27 at the Plano Community Forum's 37th Anniversary Awards Gala, Mitchell Elementary's Fifth Grade Team Leader and 2018 Plano ISD Elementary Teacher of the Year Dr. Keishon Ireland was the honored 2018 Educator Award Recipient. Keishon is a proud role model for youth working to inspire students to be their best.




---
At the Collin County LULAC (League of United Latin American Citizens) 24th Annual Avance con Educacion Scholarship Banquet, Armstrong Middle School Spanish Teacher Soumeya Lehachi was honored as the 2018 Educator of the Year. Soumeya was nominated by Collin County LULAC President Emelia Ahmed and by Armstrong Middle School Principal Melissa Blank.



---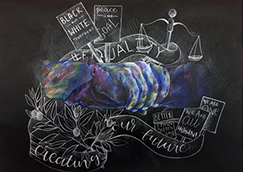 The Diversity Advisory Committee is proud to announce that nominations are open for the annual Diversity Leadership Awards. Please nominate an individual or group whose program or initiative has proven to advance and promote diversity through stronger relationships, improved communication and enhanced understanding within Plano ISD or the broader community within the past year. Nomination deadline is December 14 at 5 p.m. Read More.

---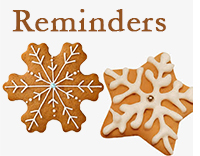 Each year as the holidays approach, Plano ISD receives many questions regarding seasonal celebrations. To accommodate these inquiries, the district offers the following reminders regarding holiday commemorations. Plano ISD observes three party dates when the district can provide foods (treats/snacks) of minimal nutritional value. Read More.
---


The next parent engagement session is November 8 from 6-7:30 p.m. at Wyatt Elementary located at 8900 Coit Road, Plano. All sessions are also available in Spanish. Future topics are Social Awareness (January 31), Relationship Skills (March 21) and Responsible Decision-Making (May 1). Locations vary; please see the schedule for details. Read More.
---

View the list of staff weddings, births and extensions of sympathy to employees who have lost loved ones. To protect staff privacy, this information is now located on the staff pages of the website. Click the read more link and please login to the website with your network ID and password when prompted

. To share news, please email your school or department's information to digest@pisd.edu for inclusion in the next issue of District Digest. Read More.

---


The Plano ISD Board of Trustees is actively preparing to make a difference during the 86th regular legislative session that begins on January 8, 2019. Bookmark the Board Legislative Timeline that will be continually updated as the session progresses, and see the Board's 2019 Legislative Priorities. Read More.
---
The Plano ISD Board of Trustees met on Tuesday, November 6 at the Plano ISD Administration Center. The agenda with links to supporting documents is available on BoardBook.
RECOGNITIONS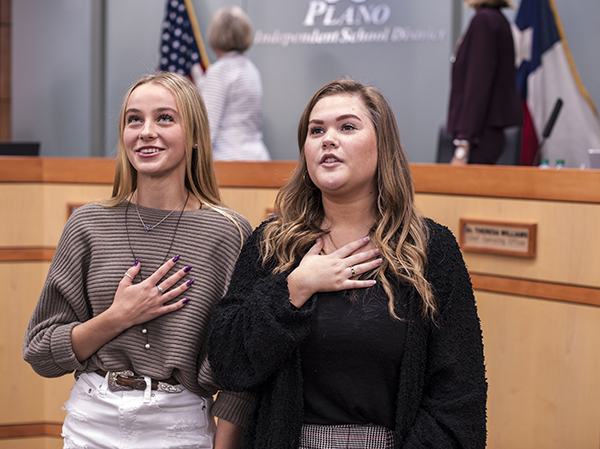 Plano West CTE Floral Design students Carley Nelson (grand prize winner - left) and Carena Fay (third place) were recognized at the Board meeting for their Floral Design awards at the East Texas State Fair, their teacher is Cristen Graf. These two seniors lead the Pledge of Allegiance at the meeting. More student achievements were celebrated via a PowerPoint: National Merit Commended Students and National Hispanic Recognition Scholars, as well as science award winners from the Texas Junior Academy of Science and Broadcom Masters "Top 300."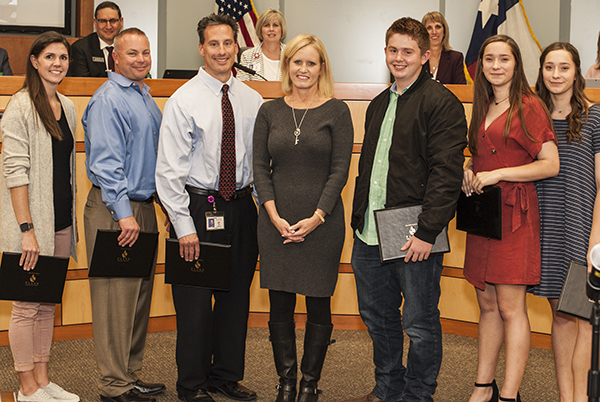 Certificates of Appreciation from the Board of Trustees were presented to students and staff who stepped up when an adult volunteer, Julie Coon (center), collapsed in the Plano Senior High parking lot. These staff and students were a quick thinking, fast acting team using CPR and an AED (automated external defibrillator) prior to the arrival of EMTs to restore heart function. Honored for their knowledge, skills and meritorious action are Jacquelynn Foley, Plano Senior High Athletic Trainer; Tom Kailey, Clark HS coach; Timothy Sullivan, Clark HS health science teacher; and Clark HS 10th graders - Levi Helms, Christy Winkler and Riley Winkler. These students were the first to notice that help was needed and used training received in classes, taught by Timothy Sullivan, to seek help.
REPORTS
ITEMS FOR DISCUSSION AND ACTION
Consider Board approval of the 2018 - 2019 District Based Improvement Committee Plan

---
REPORTS
Member Reports on the Texas Association of School Administrators (TASA)/Texas Association of School Boards (TASB) Convention Sessions
Helpful Links:
PISD.edu
| Schools | Calendar | Contacts | Foundation | Menus
See Plano ISD Headlines for more district news.
Have News to Share?
To submit notable notes about yourself or fellow employees or to submit a news feature to District Digest please email digest@pisd.edu or call 469-753-8030. Photos are a welcome addition to the news; please share photos via Google or email your photos at the highest resolution available to digest@pisd.edu. See photo tips on the Plano ISD website publicity request page.
Copyright 2018 | Plano Independent School District
2700 W. 15th Street | Plano, Texas 75075 | 469.752.8150 | askpisd@pisd.edu