Plano ISD Staff Newsletter | Volume 45, Number 7 |April 16, 2018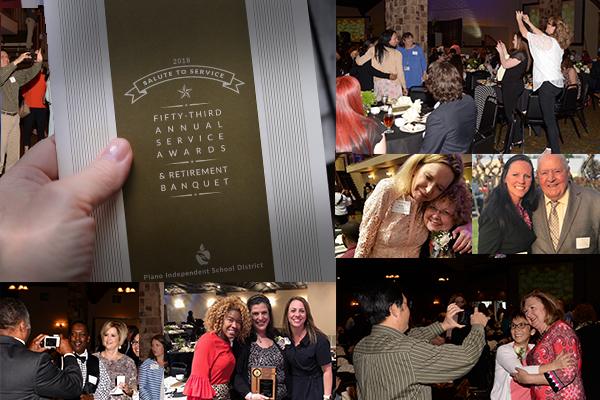 More than a few photos were snapped at the 53rd Annual Salute to Service event on April 5 as employees gathered to celebrate milestones and say a fond farewell to retiring friends. See event photo galleries. The event honored the nominees for the 2018 Superintendent's Service Awards, retiring employees and employees who received service pins for 15, 20, 25, 30, 35 and 40 years of service to Plano schools. Highlights of the event included a standing ovation for Steve Thomas Beverly Elementary School PE teacher who is retiring after 51 years in public education, as well as the much anticipated announcement of the four Superintendent's Service Award winners: Kendal Corder, Plano Senior High special education paraprofessional; Lynne Crawford, Clark High School ISS paraprofessional; Silvia Garcia, Meadows Elementary parent liaison; and Christine Platt, Shepton High School office manager.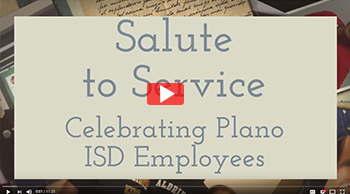 Service Pin Recipient Montage (11 min., 24 sec.)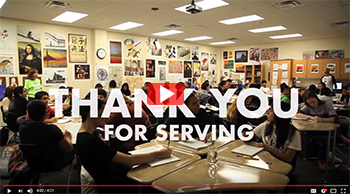 Thank You for Serving (4 min., 21 sec.)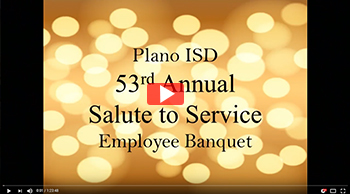 Service Awards and Retirement Banquet (1 hour, 23 min.)
Find out more about and see photos of the four 2018 SSA winners.




---
Named as the 2018 Texas Association of Basketball Coaches (TABC) Girls Basketball Coach of the Year as well as the Dallas Morning News Coach of the Year, Rodney Belcher of Plano Senior High was also honored with a certificate of recognition from the Plano ISD Board of Trustees at the April 10 meeting.





---
The award presentation was made at the Dallas Regional robotics competition in recognition of her dedication to mentoring students, recruiting volunteers, organizing events and countless hours of work benefiting FIRST Robotics. Ms. Bates was also honored with a certificate of recognition from the Plano ISD Board of Trustees on April 10.





---
The following administrative appointments as recommended by Superintendent of Schools Sara Bonser were approved by the board of trustees: Staci Antelo, director for district health services; Megan Schuler, director for benefits and risk management; Bill McLaughlin, executive director for secondary campus services; and Jill Stoker, executive director for elementary campus services.



---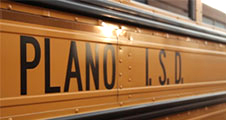 On April 7, Plano ISD bus drivers won first and second places in the Special Needs Division at the Regional School Bus Road-eo Safety Competition. Read More.
---

View the list of staff weddings, births and extensions of sympathy to employees who have lost loved ones. Email your school or department's information to digest@pisd.edu for inclusion in the next issue of District Digest.
Read More.

---

The Plano ISD Board of Trustees met on Tuesday, April 10 at the Plano ISD Administration Center. The agenda with links to supporting documents is available on BoardBook.
ITEMS FOR DISCUSSION AND ACTION
REPORTS
STUDENT RECOGNITIONS
The Board of Trustees honored Plano Senior High School's Lady Wildcats the 2018 UIL 6A Girls Basketball State Champions with a certificate of recognition.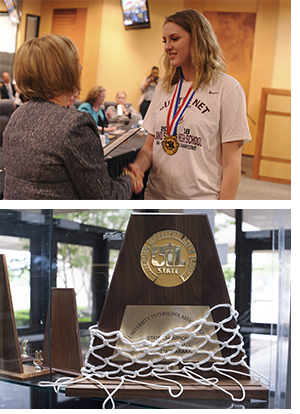 Attending the meeting were: Sarah Bowles, junior; Ona Boyd, senior; Zaria Collins**°, junior; Lolo Davenport* (championship tournament MVP), senior; Mikayla Eddins, freshman; Payal Elete°, senior; Katie Ferrell*, senior; Sophie Fleites, senior; Avery Foltz, freshman; Emma Halverson°, senior; Jordyn Merritt**° (Player of the Year), sophomore; Nirvani Snorton, junior; and Veronica Stark°, senior.
Also in attendance were Head Coach Rodney Belcher, Assistant Coach Kelly Stallings and Assistant Coach Courtney Warner.

** all state student, * all region and ° all district academic.
Also recognized by the Board of Trustees were the Texas Science and Engineering Fair "Best of Show" and Grand Prize winners.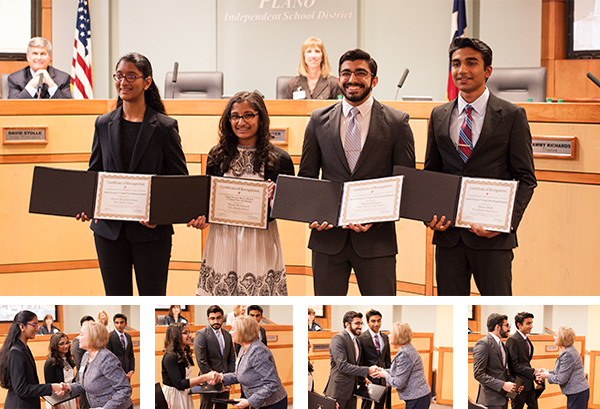 Pictured are: Navya Ramakrishnan, Rice Middle School (Junior Division second grand prize winner - physical sciences); Tanaz Muhamed, Otto Middle School (Junior Division "best in show" and Junior Division first grand prize winner - life sciences); Burzin Balsara and Malav Shah, Plano Senior High School (Team: Senior Division second grand prize winners - physical sciences). Board Secretary Nancy Humphrey presented the certificates to the students.
Special Called Board Meeting, March 27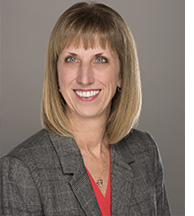 At the special called meeting on March 27, the Board of Trustees approved Sara Bonser for the position of superintendent of schools. The superintendent is the chief administrator and executive officer of the district and shall administer the district in accordance with the Board's policies. Ms. Bonser was approved as the district's lone finalist for the position of superintendent of schools on March 6.
Helpful Links:
PISD.edu | Schools | Calendar | Contacts | Foundation | Menus
See Plano ISD Headlines or for more district news.
Have News to Share?
To submit notable notes about yourself or fellow employees or to submit a news feature to District Digest please email digest@pisd.edu or call 469-753-8030. Photos are a welcome addition to the news; please share photos via Google or email your photos at the highest resolution available to digest@pisd.edu. See photo tips on the Plano ISD website publicity request page.

2700 W. 15th Street | Plano, Texas 75075 | 469.752.8150 | askpisd@pisd.edu
To unsubscribe: Parent portal users must use your parent portal login to unsubscribe to eNews: Parent Portal.
If you are not a parent of a Plano ISD student or do not have access to parent portal use http://elist.pisd.edu to unsubscribe.
Copyright 2017 Plano Independent School district.