Return to Headlines
Aug. 23, 2017 - Assistant Superintendent Appointment
Dr. Katrina Horn-Hasley, Assistant Superintendent for Academic Services
At the August 22 board work session, Katrina Horn-Hasley was named as the new assistant superintendent for academic services, replacing retiring Assistant Superintendent Dr. James Wussow.
"I am so honored and humbled to have the opportunity to join the outstanding educators at Plano ISD!" said Dr. Horn-Hasley. "I look forward to being part of the team and continuing to support campus and classroom leaders in providing excellent learning opportunities for students."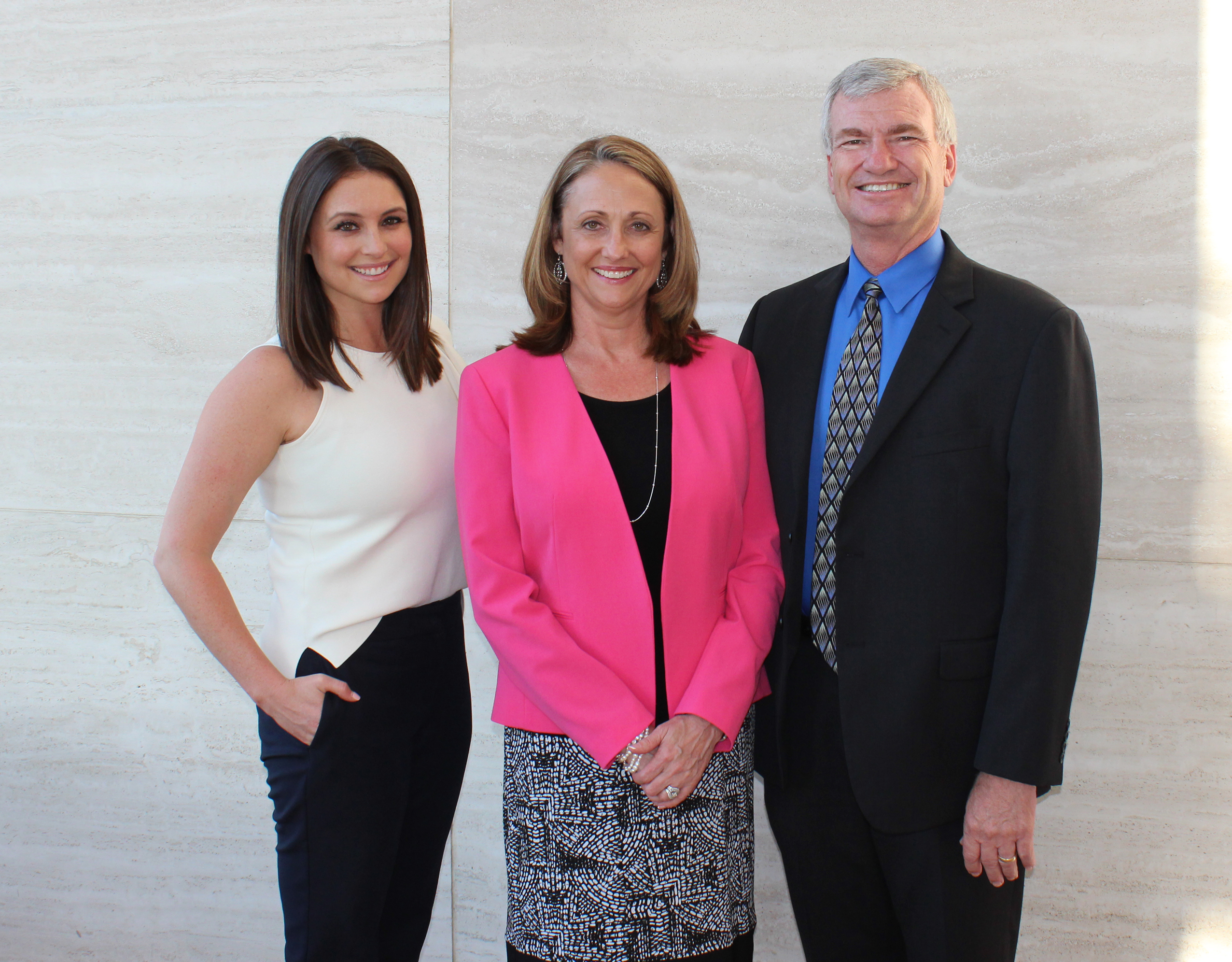 Photo: Dr. Katrina Horn-Hasley (center) with her husband David Hasley and daughter Leah Douthit.
Dr. Horn-Hasley most recently served as executive director of curriculum and instruction at Coppell ISD where she lead the K-12 curriculum and professional learning departments, working closely with campus principals and the directors of special education, career and technical education (CTE), fine arts, ESL/dual language and preK.
Prior to her work with Coppell ISD, Dr. Horn-Hasley held the position of executive director of professional learning & elementary curriculum at Rockwall ISD from 2012-17 where she oversaw district-wide elementary programs and coordinated all district led professional learning activities.
Dr. Horn-Hasley began her career as a middle school math teacher in 1985, and was promoted as elementary assistant principal in 1999 and principal in 2003. In 2011 she became Rockwall ISD's director of assessment, accountability and professional learning.
Dr. Horn-Hasley is a member of the Texas Association of School Administrators (TASA), Learning Forward, the Association for Supervision and Curriculum Development and the Texas Elementary Principals and Supervisors Association. She has served as part of the North Texas Visioning Consortium and the TASA Academy for Transformational Leadership. She is an active member of Lake Pointe Church in Rockwall, the Rockwall Lion's Club, and she is a PTA Elementary Principal of the Year and PTA Lifetime Member.
She received her Doctorate of Educational Administration from Texas A & M University-Commerce in 2007; in 1999 she received her Master's Degree in Educational Administration also from Texas A & M University-Commerce and her Bachelor of Science Degree in Elementary Education from the University of North Texas in 1985.

Texas Certifications
Texas A & M University-Commerce,Superintendent Certification, 2006
Texas A & M University-Commerce, Mid-Management Certification, 1999
University of North Texas, Denton,Texas Life-time Teaching Certification, Self-Contained, gr.1-8, 1985
University of North Texas, Denton, Texas Life-time Teaching Certification, Mathematics, gr.1-8, 1985
Read about Dr. Beth Brockman assistant superintendent for employee services who was also appointed at the August board work session.