Return to Headlines
Sept. 11, 2017 - National Arts in Education Week
Passed by Congress in 2010, House Resolution 275 designates the week beginning with the second Sunday in September as National Arts in Education Week. During this week, the field of arts education joins together in communities across the country to tell the story of the impact of the transformative power of the arts in education.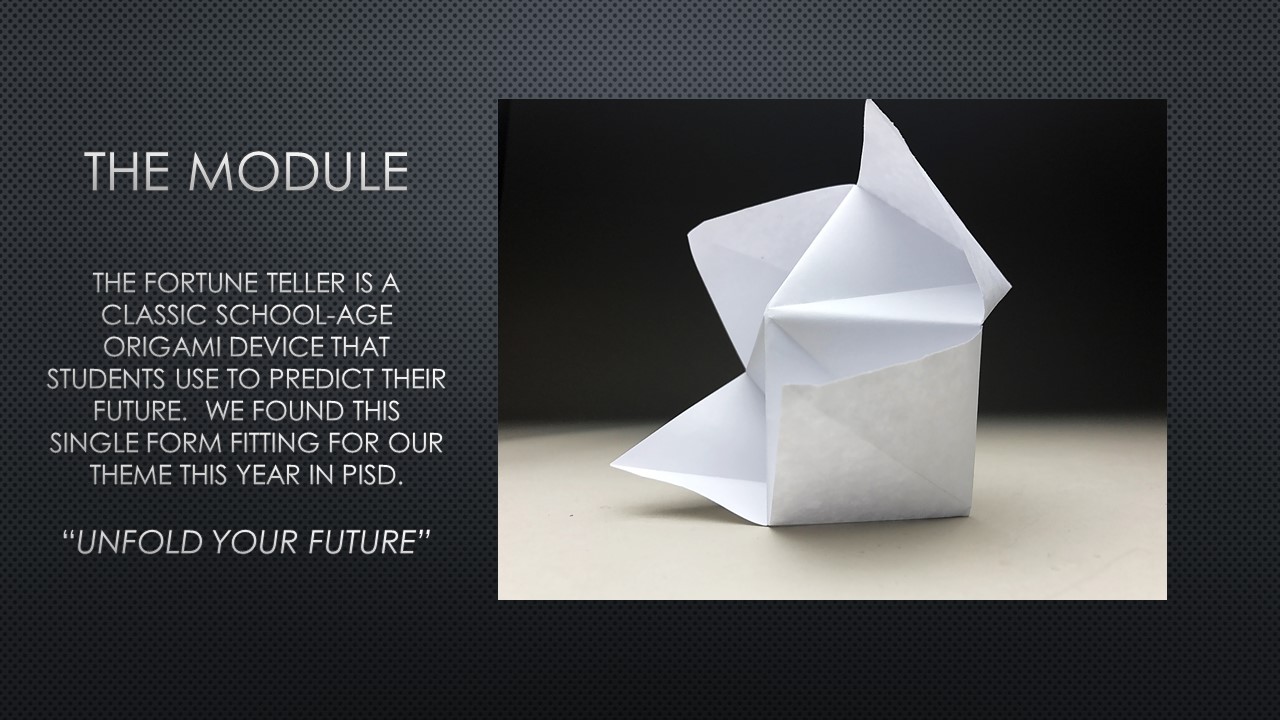 As an example of this joining together, see the Photo Gallery of the creation of the giant origami sculpture on display in the lobby of the Administration Center. This paper sculpture was created using more than 1,000 folded paper "fortune tellers;" a classic school-age origami device that students use to predict the future. These modules were then joined together to create the sculpture and as a symbol of encouragement to students to "Unfold Your Future" in Plano ISD. This creative project was led by Laura Grundler coordinator for visual arts and supported by every art teacher in Plano ISD. These teachers in particular were instrumental in the project:
Tracy Evans, Mitchell Elementary
Jeanine Gaston, Plano West Senior High
Matt Grundler, Brinker Elementary
Lisa Jones, Plano Senior High
Renee Miller, Carlisle Elementary
Kim Paser, Shepton High School
Ericka Pomponio
Rebecca Reichman, Hughston Elementary
Adriana Martinez-Mendoza, McMillen High School
Colin McGrane, Plano East Senior High
Amy Semifero, Academy High School
Lauren Well, Renner Middle School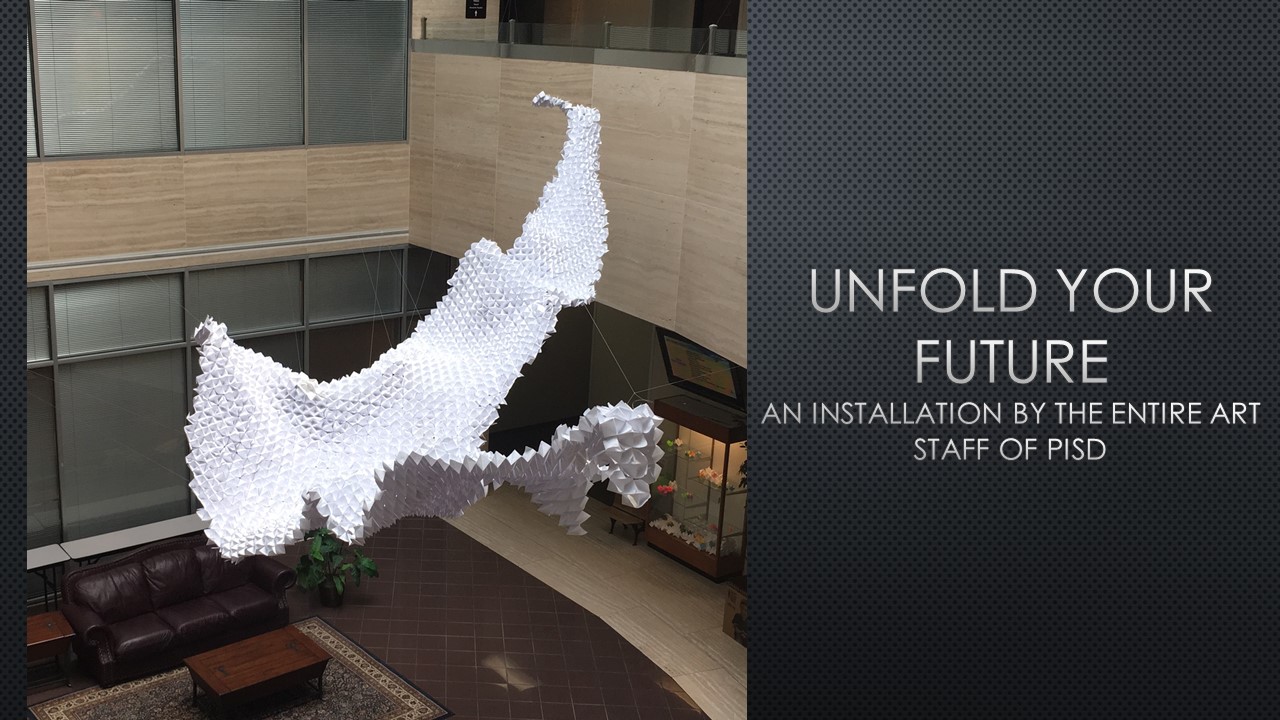 Plano ISD students have a rich history of success in the fine arts arena from drama, debate and speech, to choir, band and orchestra to the visual arts and JROTC which is part of our fine arts and special academic programs department. We look forward to the successes of our students in the 2017 -18 school year as they compete on the district, regional, national and international levels led by an award winning fine arts staff. Already in the first month of school we have an international award winning band program at Plano East who recently won the Earl D. Irons Program of Distinction by Phi Beta Mu and the Plano Senior High School Chamber Orchestra is invited among the 40 ensembles to perform at the Midwest International Band & Orchestra Clinic in December. And Plano West has won a debate first place sweepstakes in Grapevine, Texas.
National Arts in Education week gives us an opportunity to look into the future at how our new school year will unfold...the future will be bright in Plano ISD, but it's the unfolding of the journey that makes it so so rewarding.
More information about the Plano ISD fine arts program in 2016-17 is available. And even more information can be found about student achievements under our news headlines using the filter tag "fine arts." Keep in touch with social media by following Plano ISD fine arts on Twitter: #pisdcreatesart and #pisdFineArts. Links to the district Twitter and Facebook accounts are available on the homepage.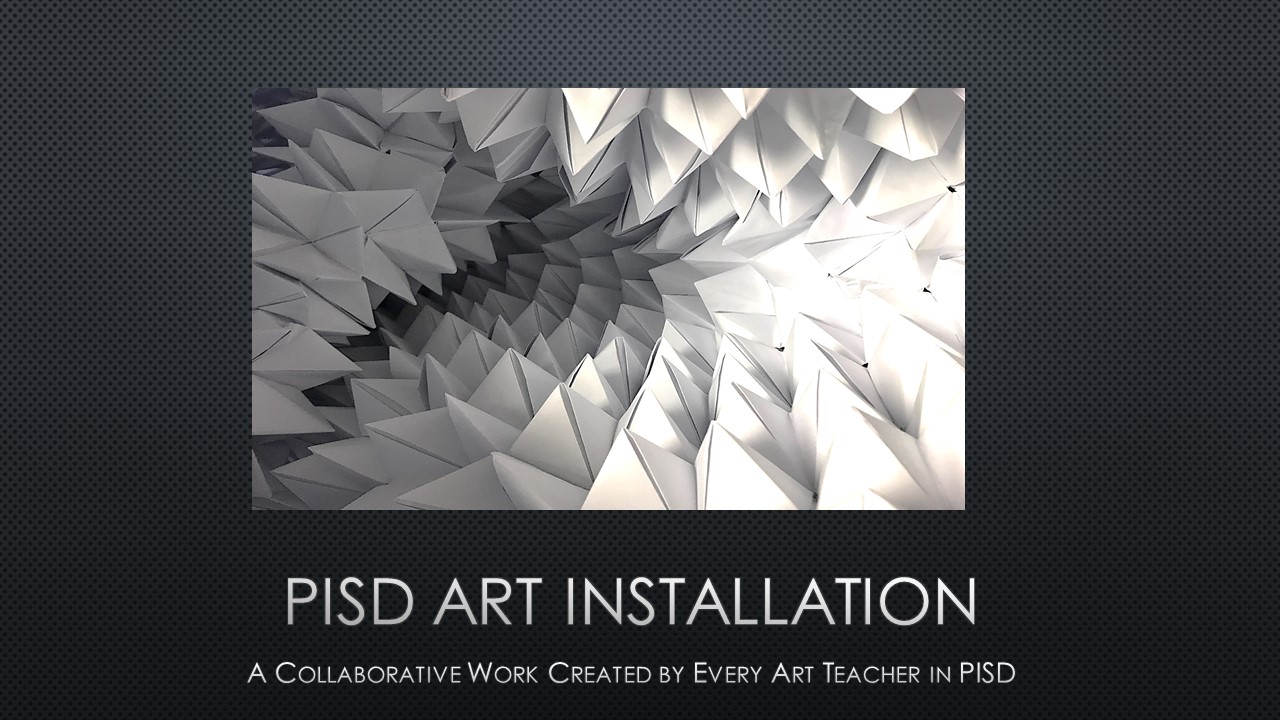 Special thank you to these facilities employees for their expert assistance in hanging the installation:
Sergio Carona
Bill Couzynse
Logan Singer
Dennis Younkins
Mario Zamora