Return to Headlines
Sep. 27, 2017 - Students Awarded for Environmental Community Achievements
Two Plano ISD school environmental groups and two Plano East Senior High students in the IB World School were honored at the City of Plano Environmental Community Award Ceremony on September 20. See the photo gallery.
Environmental School Award Winners
The environmental school awards are designed to recognize schools and school groups that make outstanding contributions towards involving Plano students in environmental activities and programs and are open to all Plano ISD schools, regardless of location.
The Murphy Middle School Environmental Club. The club sponsor is Tina Pilgrim, science department head at Murphy Middle School. The club was founded in 2003 and approximately 40 to 60 students attend the meetings, and participation in club projects can include even more students. These environmentally-minded Murphy students are interested in recycling, organic gardening, landscaping with native plants and overall environmental awareness. Sustainability is incorporated into the science curriculum and motivates the students in the club to implement various projects. The environmental club helped to collect over 3,400 pounds of clothing and large quantities of electronics to be diverted from landfills. According to Ms. Pilgrim, "These are great students and wonderful kids. They are so excited about picking up trash and recycling in general." She also said that club participants from prior years that are now students at McMillen High School are beginning an environmental club there. Student interest in environmental issues continues to grow every year. She is "very proud of the Murphy students and what they have accomplished."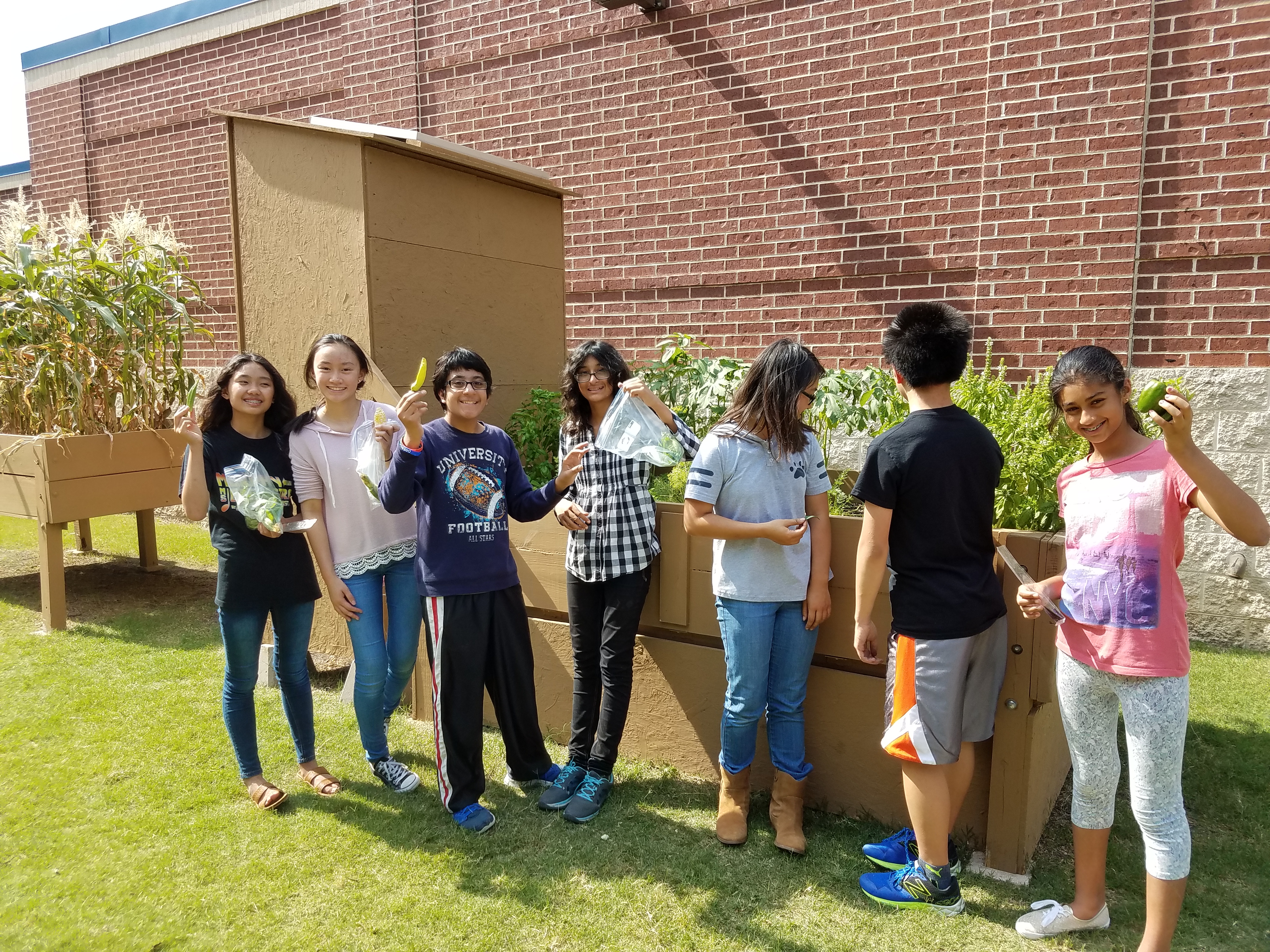 Murphy Environmental Club with their garden project.


The Rice Middle School Eco-Club. This club was created last school year to provide a platform for students who want to make a difference in their local environment. Around 30 students are active in the club. Members work to increase recycling throughout the school by identifying areas for improving recycling and by increasing awareness among students and staff. One of the ways the group increased awareness was by hosting a reduce, reuse, recycle week during Earth Week. The club sponsor is Rocio Martinez-Mendoza, Spanish teacher at Rice Middle School, who said that "Even though this was a new club last school year, these students are already excelling in making a difference in environmental issues in their school and community. We look forward to working on projects they have already put into action and to beginning new environmental work." This year their goals include:

Create videos to educate the school community about the importance of recycling. They want to continuously remind the community of what the club does and how they can help.
Install a bottle filler station to reduce plastic bottle waste and to encourage bringing a reusable water bottle.
Increase participation in the City of Plano Great American Clean-up day.
Increase participation in the Earth week activities.
Increase awareness of and participation in the recycling programs offered at school.
Organize an activity where students learn how to create paper using newspapers from home.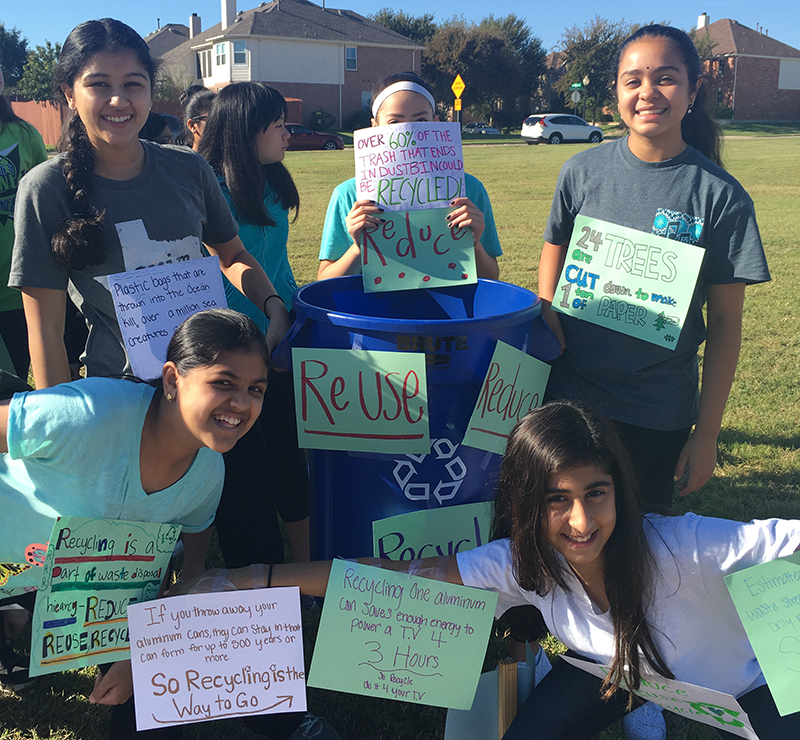 Rice Eco-Club in action.


Environmental Community Award Winners
The environmental community awards recognize outstanding environmental leadership and achievement by honoring businesses, non-profits, schools and individuals with the environmental star of excellence.
Plano East Senior High School /IB World School students Daniel and Alexander Atiyeh were recipients of the community outreach individual - youth award in the category of Environmental Star of Excellence Community Awards. Daniel and Alexander designed, constructed and donated a produce washing table to the Plano Community Garden. The table was built to replace the ailing, existing table and includes a collection system that conserves water. The water used for rinsing the vegetables is collected and then reused to water the plants in the garden.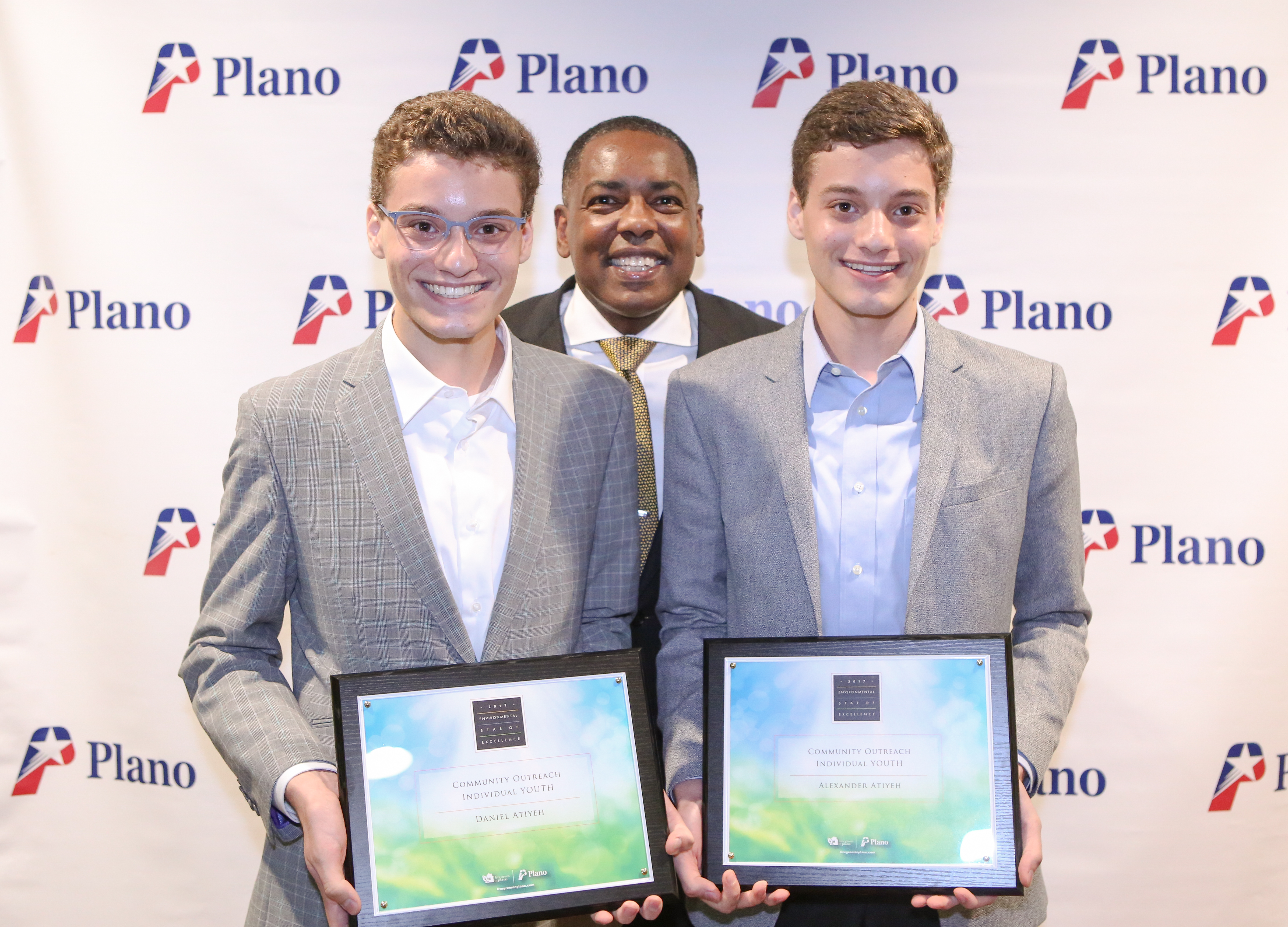 Plano East/IB World School students Daniel and Alexander Atiyeh with Plano Mayor Harry LaRosiliere.