Return to Headlines
Oct. 11, 2017 - Plano ISD Robotics Hosts NTX Tournament of Robots
On October 7-8, Plano ISD robotics hosted the FIRST (For Inspiration & Recognition of Science & Technology) NTX Tournament of Robots at Williams High School. Three robotic teams from the district competed, the Academy High School team 5431 Titan Robotics, Plano Senior High team 6171 Chain Reaction and team 9999 a collaborative team which included students from the Academy High School, Plano Senior High and Allen High School. Fast paced and high energy would aptly describe this event. Cheering was heard in the stands, and team flags were waving as the bots competed. As is typical when the pressure is on, there was celebratory fist pumping accompanied by leaping and whoops of joy as the competition got heated in the elimination matches.The tournament was an off-season event with 25 teams competing. Event video and photo gallery.
Competition was fierce, but unlike other competitive events robotics tournaments have an element of collaboration among the teams. Teams succeed by forming alliances in team groups of three, and collaboration is vital to success. In the first rounds of competition at this tournament, random computer generated alliances competed as Red and Blue Alliances and included a mix of school districts. In the finals, the top eight teams were named captains, and these teams selected two partner teams to create alliances. These alliances competed in single-elimination for the championship.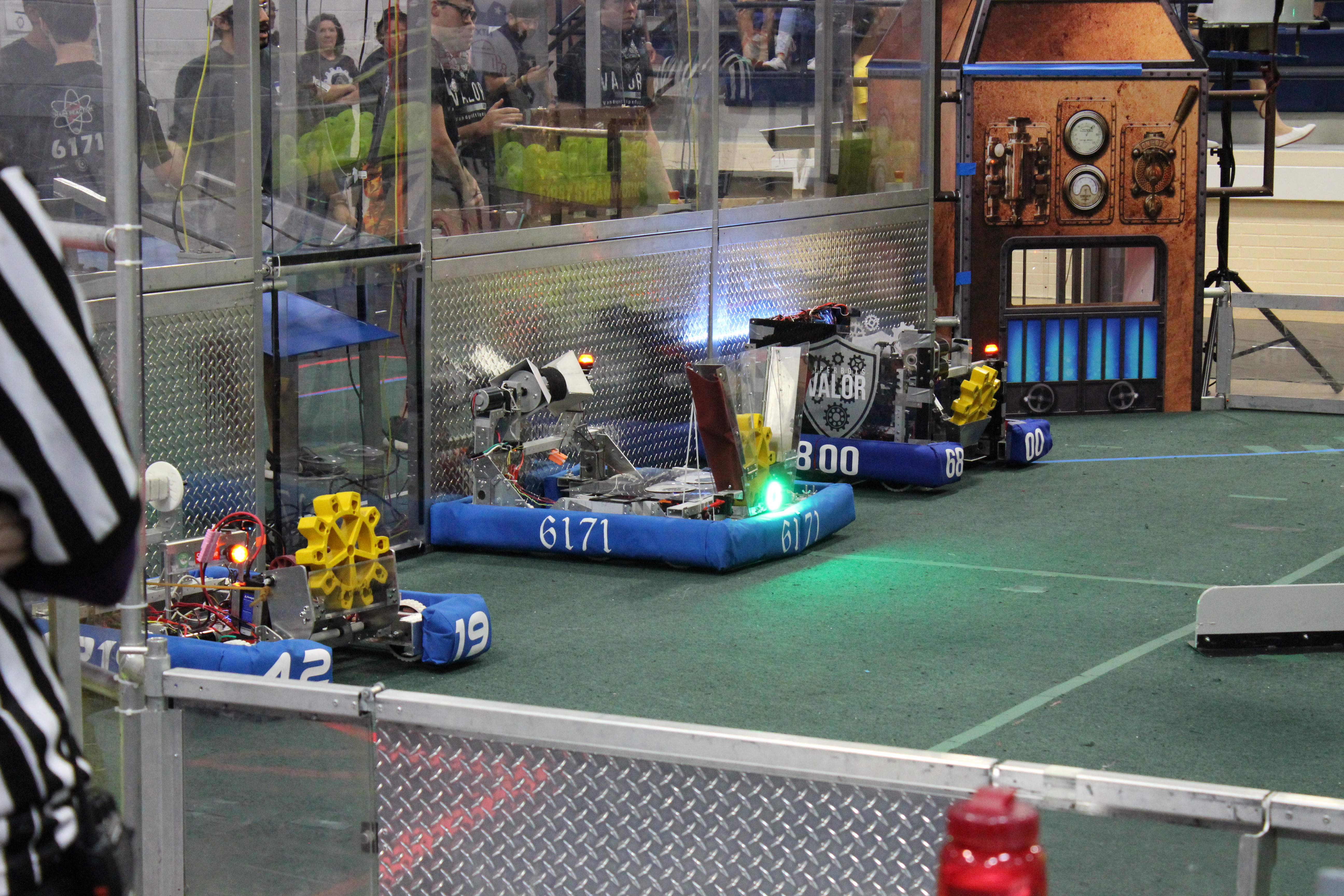 Blue alliance: Plano Senior High's 6171 Chain Reaction with 6800 Viperbots Valor from Leander, Texas and 4219 the R4 Robo Riders from San Antonio, Texas.
Teams within their alliance set strategy together, so it's not just the best robot who wins the tournament. Robotics is about teamwork. And the camaraderie also extends to support between opposing teams. Opposing teams are known to actually help each other succeed. More experienced teams mentor younger participants, helping the program to grow organically and to create a nurturing environment. The teams determine that they are competing against the challenge rather than against other teams.
Both the Academy High School and Plano Senior High teams have nearly 80 team members each; all team members contribute to their team in unique roles such as programming, designing, marketing, fabrication and driving the robot. Teams are coached by faculty members. Titan Robotics is coached by Stephanie Burnham and Julia Eaddy, and Chain Reaction is coached by Gary Sullivan and Tyler Wille.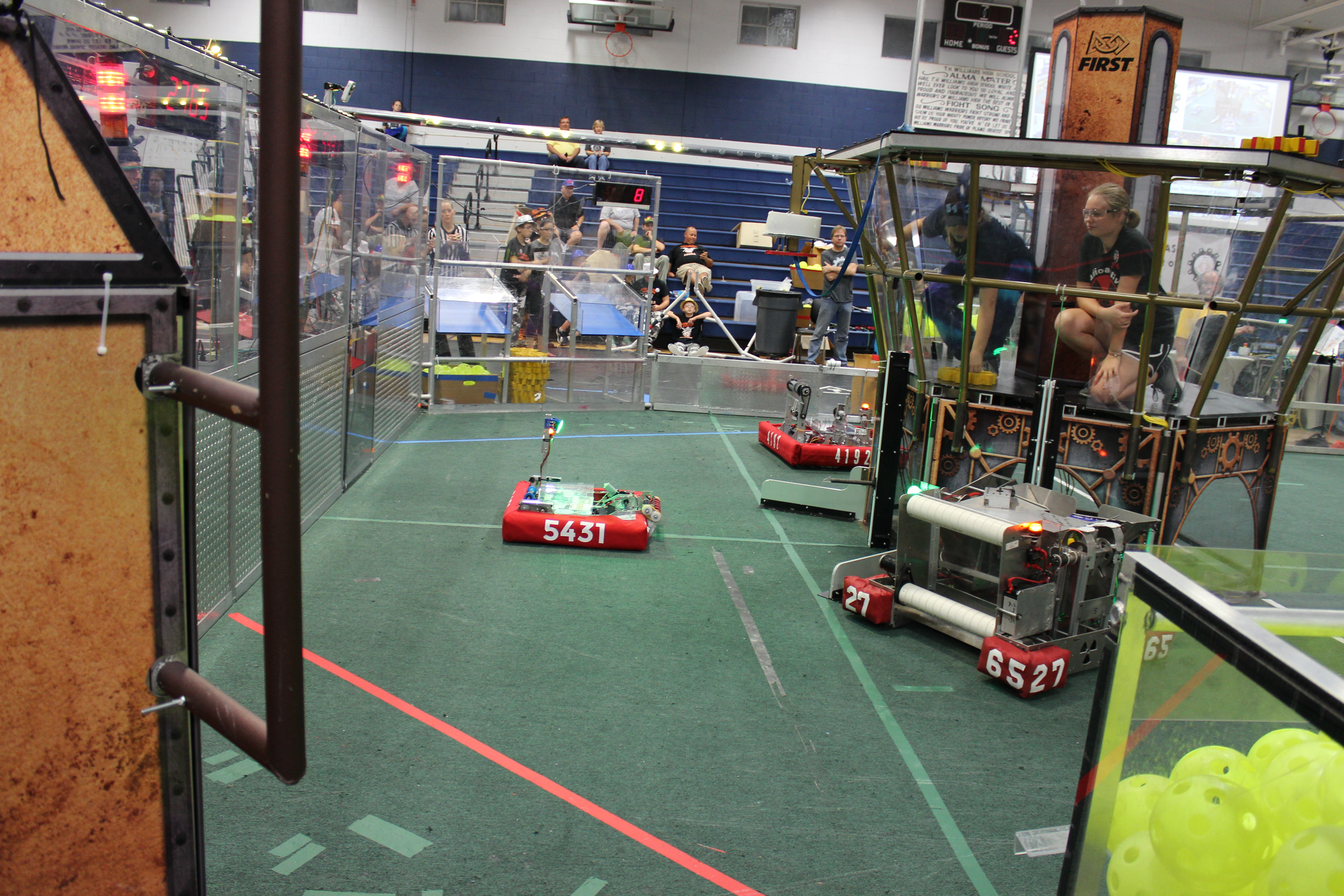 Red alliance: Academy High School's 5431 Titan Robotics with 4192 Jaguar Robotics from Flower Mound, Texas and 2765 Radioactive Robotics from Norman Oklahoma.
In Plano ISD interest in robotics is growing with programs beginning in elementary schools. The district participates in the FIRST (For Inspiration & Recognition of Science & Technology) program at three levels.
FIRST Lego League (FLL) teams from fourth to eighth graders.
FIRST Tech Challenge (FTC) grades seven through twelve
FIRST Robotic Challenge (FRC) grades nine to twelve
FIRST, founded in 1989, is an international nonprofit organization whose mission is "to inspire young people to be science and technology leaders, by engaging them in exciting mentor-based programs that build science, engineering and technology skills, that inspire innovation, and that foster well-rounded life capabilities including self-confidence, communication and leadership."
For more information about participating in robotics in Plano ISD, contact Amy Bates director of special projects at amy.bates@pisd.edu or by phone at 469/753-8996. According to the FIRST Longitudinal Study from March 2016, students who participate in robotics are two times as likely to major in science or engineering, and 33% of girls go on to major in engineering. 87% of FIRST alums are more interested in going to college and 90% plan to take more challenging math/science courses.
Congratulations to Plano ISD robotics on hosting a great tournament. The Academy High School team 5431 Titan Robotics ended the day as finalists, collaborative team 9999 were semi-finalists and Plano Senior High's team 6171 Chain Reaction were quarterfinalists. The tournament winners were Team 3310 from Rockwall Heath High School, Team 3005 from Conrad High School in Dallas and Team 6751 from Sunset High School in Dallas.
Additional Awarded Categories
Gracious Professionalism: Team 3005 RoboChargers (Conrad High School in Dallas ISD)
Outstanding Mentor: Pauline Tatum from Team 6751 RoboFlash (Sunset High School in Dallas ISD)
Play of the Day: Team 6171 Chain Reaction Robotics (Plano Senior High School)
Safety: Team 2765 Radioactive Robotics (Norman, Oklahoma)
Team Spirit: Team 5431 Titan Robotics (Academy High School)
This event was made possible due to the generosity of Texas Instruments and Flowserve. Both are long-time supporters of FIRST Robotics and Plano ISD. The teams also wish to thank the more than 100 volunteers who worked to make the event a success. More information about the tournament and individual teams can be found at the NTX Tournament of Robots website.