Return to Headlines
Oct. 27, 2017 - Plano Students Excel at Texas Junior Academy of Sciences Competition
Eight Students Qualify for the National Contest
Forty-three Plano ISD students competed in the annual Texas Junior Academy of Sciences (TJAS) competition held October 17 and 18 in College Station. High school students (grades 9-12) from across the state conducted research during the school year and presented results at TJAS through both oral and written word.
At this competition of the 13 first place awards, eight were earned by Plano ISD students. All eight of these students will attend the American Junior Academy of Sciences where they will interact with other students from the United States, as well as present their research to prominent scientists in the field through both oral and poster presentations.
First place winners competed in a second round of competition to determine grand prize winners in the life and physical sciences. Plano ISD captured two of the six places awarded.
Congratulations to the following students:
Grand Prize Winners
First Place: Andei Spiride, IB World School at Plano East, Engineering - General
Second Place: Annie Zhi, Clark High School, Engineering - Energy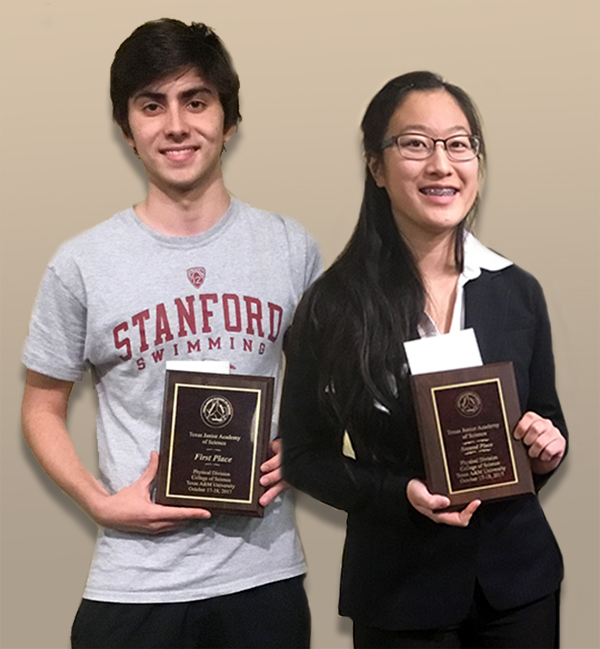 Grand prize winners Andrei Andei Spiride, IB World School at Plano East (left) and Annie Zhi, Clark High School.
First Place
Aditya Arjun, Plano West Senior High, Engineering - General
Meena Hari, IB World School at Plano East Senior High, ESS/Math/Physics
Jacob Mammen, Plano West Senior High, Medicine & Health
Kavya Muralidhar, IB World School at Plano East Senior High, Behavior & Social Science
Rishi Niranjan, Shepton High School, Engineering- Energy
Joseph Williams, IB World School at Plano East Senior High, ESS/Math/Physics
Andei Spiride, IB World School at Plano East Senior High, Engineering - General
Annie Zhi, Clark High School, Engineering- Energy
Second Place
Eric Chen, Plano Senior High, Chemistry
Niki Djordjevic-Kisacanin, Jasper High School, Computer Science
Sujai Hiremath, Plano East Senior High, Medicine & Health
Krishna Kalluri, Plano East Senior High, Biochemistry/Microbiology
Rohan Khera, Plano West Senior High, Engineering - General
Siddharth Krishnan, Plano West Senior High, Engineering - General
Rachel Mannon, Vines High School, Medicine & Health
Noah Mathai, Jasper High School, Chemistry
Amanda Moon, Plano East Senior High, Botany- Zoology
Ethan Moore, Plano Senior High, Engineering - Energy
Likhita Nandigam, Plano West Senior High, Medicine & Health
Savannah Pas, Plano East Senior High, Biochemistry/Microbiology
Abhilash Potluri, Plano Senior High, Chemistry
Rithvik Ramesh, Plano East Senior High, ESS/Math/Physics
Khushi Thakkar, Jasper High School, Environmental
Nathan Wille, Plano East Senior High, Environmental
Third Place
Travis Brooks, Clark High School, Engineering - General
Peyton Browder, Plano ISD Academy High School, Chemistry
Jenna Chen, Clark High School, Medicine & Health
Mark Farid, McMillen High School, Computer Science
Rahul Hayaran, Plano East Senior High, Computer Science
Pratyush Mallick, Williams High School, Medicine & Health
Brianna Phan, Jasper High School, Chemistry
Kushal Shah, Plano Senior High, ESS/Math/Physics
Paritosh Suri, Plano West Senior High, Engineering - General
Kunj Tapiawala, Williams High School, Engineering - General
Howard Yen, Plano Senior High, Biochemistry/Microbiology
Shirui Zhong, Plano West Senior High, Environmental
Honorable Mention
Rahul Anand, Plano West Senior High, Medicine & Health
Diego Diaz, Vines High School, Engineering- Energy
Alex Lin, IB World School at Plano East Senior High, Computer Science
Vivek Mathesh, Plano Senior High, Medicine & Health
David McFearin, Clark High School, Engineering - Energy
Pranav Nathan, Jasper High School, Engineering - General
Sujoy Purkayastha, Plano Senior High, Engineering - General