Return to Headlines
Oct. 26, 2017 - Plano West Speech and Debate Teacher Inducted into the TFA Hall of Fame
Rhonda Smith, Speech and Debate Coach at Plano West, was inducted into the Texas Forensics Association (TFA) Hall of Fame at the Texas Speech Communication Association Convention in San Antonio on October 5-7, 2017.
According to those who know her best she has spent her career helping others succeed – as teacher and mentor. Plano West Senior High principal Kathy King says, "What sets Rhonda apart is her relationship with her students, her belief in them, her ability to build them up, her innate drive to help them exceed beyond their personal expectations and her unique ability to touch their lives forever." Former students have glowing words about Rhonda as a teacher and as a caring adult in their lives. When struggling with a family crisis one of her students said, "No matter how hard she made me work on debate, she never let me lose sight of what really mattered in life."
Speaking at the convention Plano West Speech and Debate Teacher Kattie Leito said that Rhonda has helped everyone in the room from hosting state tournaments to helping new coaches. "It is an honor to learn from the best. Texas Forensic Association, and speech and debate as a whole, are better because of Rhonda Smith."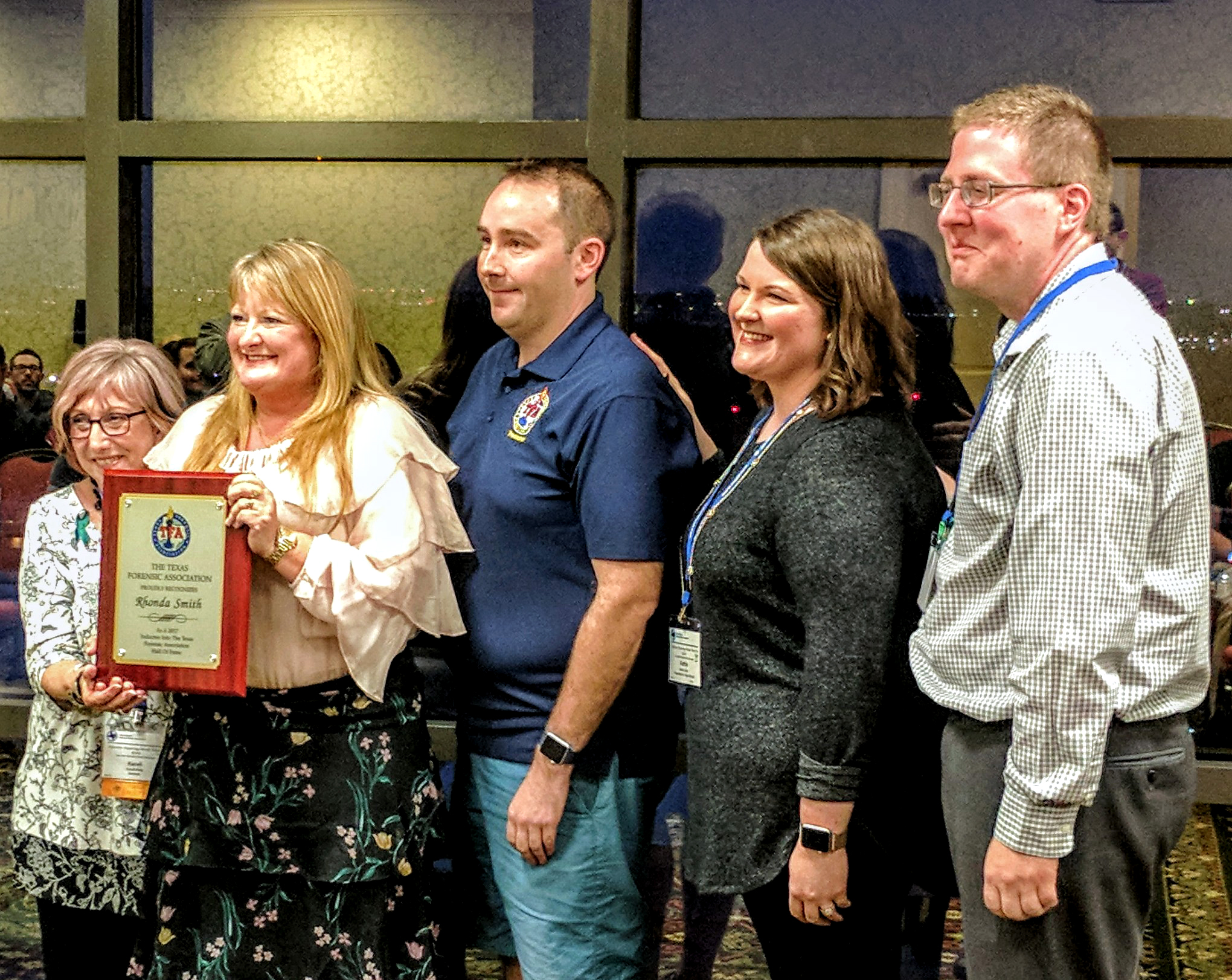 (Pictured above: Left to right: Kandi King, Chair Texas Forensic Association (TFA) Hall of Fame Membership Committee; Rhonda Smith, Plano West Senior High, Speech/Debate Teacher; Jason Warren TFA Treasurer; Kattie Leito, Plano West Senior High School Speech/Debate Teacher; and Noah Recker, TFA President.)
Jason Warren TFA treasurer said that Rhonda's program is not only competitive at TFA state but also NSA Nationals as a multi-time top 10 school, "but that is not the reason Rhonda deserves to be in this hall of fame. Rhonda deserves to be in this hall of fame because every educator can learn from Rhonda. When her students succeed as they often do, she is the first to say - don't congratulate me. Congratulate them. They are the ones who did the work – and if a student fails, she is the first to say - I should have taught them better; I should have made sure they are on the right path."
The hall of fame honor is given to coaches that not only have success as a coach, but also make significant service contributions to the organization. Rhonda serves on the Executive Council for TFA, and as a mentor for coaches across the state. She has been nominated for Texas Speech Communication Association's teacher of the year for the past two years and says that one of her proudest moments was being selected as the Plano West teacher of the year in 2015-2016. She has served on committees for UIL as well as the National Speech and Debate Association and has taught at multiple summer debate camps, including the University of North Texas, the University of Texas in Austin and the University of Texas in Dallas.
Coordinator for Speech and Theatre Greg Arp said, "We are so incredible proud to have Rhonda teaching the students of Plano ISD! She is an incredible leader, teacher, colleague and friend to all speech teachers across the state." Congratulations to Rhonda for this well-deserved award!
Send your congratulations to Rhonda.