Return to Headlines
Oct. 26, 2017 - 2017 LULAC Educator of the Year
On October 5, 2017 Weatherford Elementary Instructional Specialist Erika Manning was officially honored by the Collin County League of United Latin American Citizens (LULAC) as the 2017 Educator of the Year. She was nominated for the honor by a committee in recognition of her many contributions to Plano, Plano ISD and Collin County specifically for her efforts in the education of bilingual children. See the photo gallery from the awards banquet.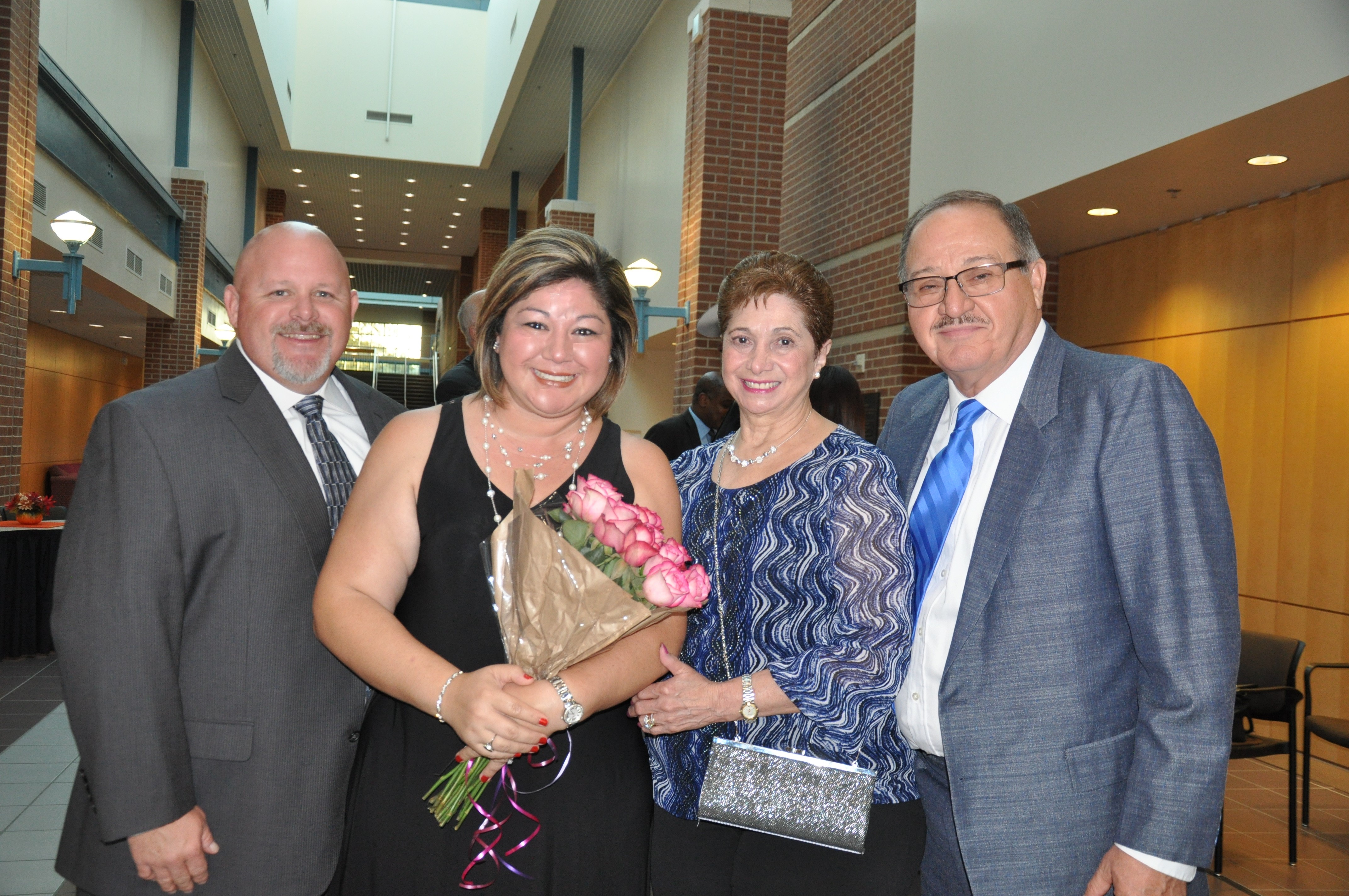 Erika Manning (with roses) and her husband Jeff Manning (right), mother Pilar Oropeza and father Jesus Oropeza.
Erika is a native of Mexico City who moved to the Plano area at the age of nine, graduating from Plano Senior High School. She received a Bachelor's Degree in Corporate Communications and Public Affairs from Southern Methodist University and found herself with opportunities though her employer to volunteer at a nearby school in a second grade classroom where she worked with Hispanic students who were English language learners. This opportunity changed her career path. She now holds a Master's Degree in Elementary Education from Texas A&M University, Commerce, and she belongs to an elite group of teachers who have been honored not only as a Plano ISD Elementary Teacher of the Year but also as a Region 10 Elementary Teacher of the Year in 2016 and 2017 respectively.
For the past 15 years, she has been an advocate for her student's lives both inside the classroom and in the community. According to Ben Benavides Weatherford principal, "She does a great job of challenging students academically and helping them feel a sense of accomplishment, triumph and pride. Mrs. Manning consistently plans her lessons creatively in order to accomplish this goal. Her students love, respect and really look forward to their time with her. She makes each one feel like they are the most important person in the world….She is one of those unique individuals that help remind us all why we are in the teaching profession."
As part of her teaching philosophy, Erika has this to say, "Teaching is about building a strong relationship with my students and their families. Parents entrust their children to me and it is my honor to be their guide and mentor in a safe and protected environment. To know a child is to be a part of their lives." Learn more about Erika's teaching philosophy by viewing this Teacher of the Year video. Erika begins the video with these words, "Never forget where you came from and who was there for you."
We sincerely congratulate Erika on this well-deserved honor. Send your congratulations to Erika.