Return to Headlines
Oct. 27, 2017 - Fire Prevention Poster Contest Winners
Congratulations to all the participants and winners of the 2017-18 fire prevention poster contest. This contest, which includes students in grades PreK-12 is held in conjunction with fire prevention week as a way to give students an opportunity to teach the community about the importance of protecting families from fires. These winning posters will move on to the district competition and winners will be announced in March 2018 at the district meeting of the North Texas Firemen's and Fire Marshals' Association of Texas.
Photo gallery of winning artwork.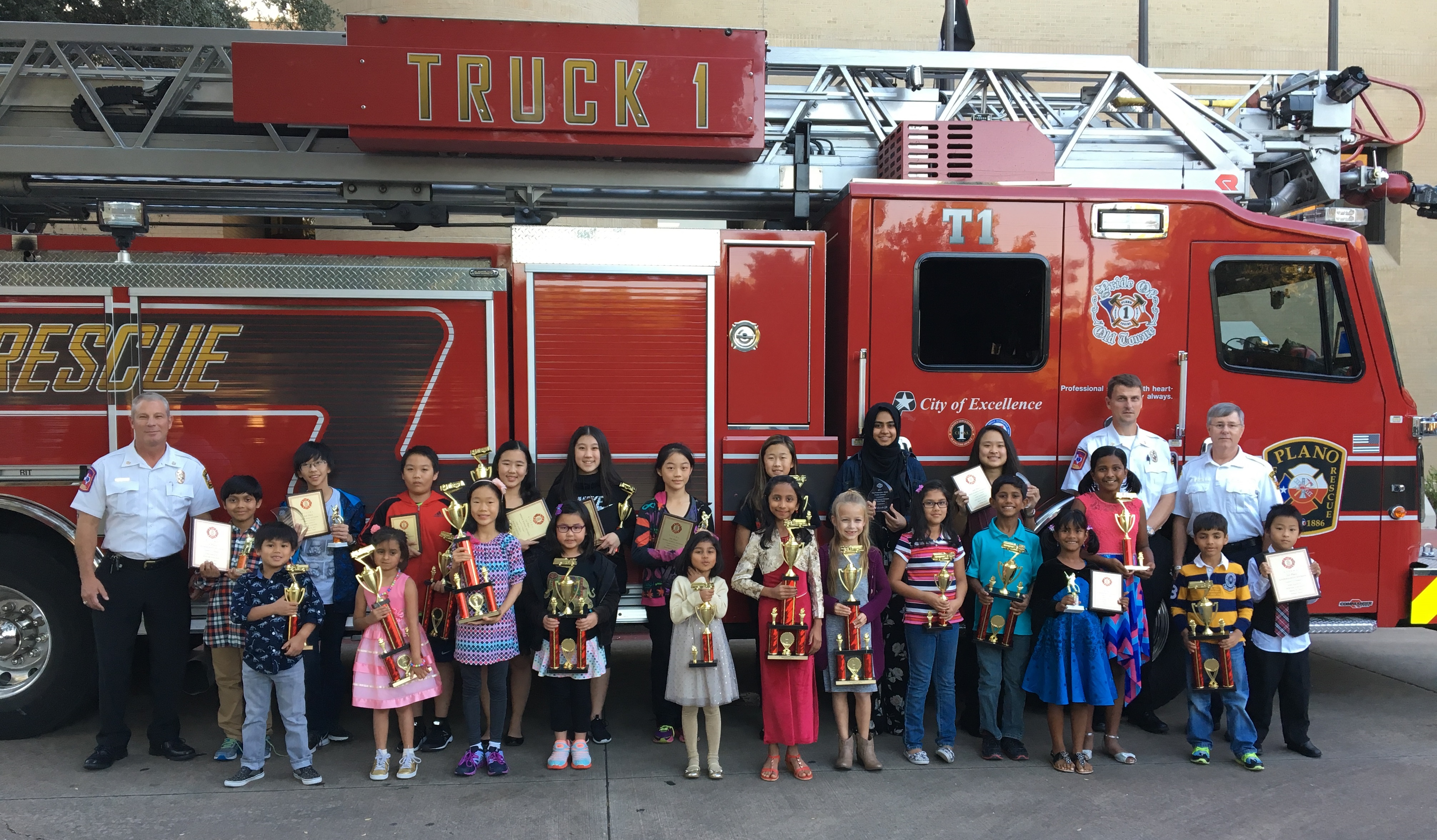 Photo from the awards ceremony held on November 1, also included are district and state winners which were also honored at the awards ceremony.
"We are so fortunate to have such a strong and longstanding partnership with the City of Plano Fire - Rescue. Students from Plano ISD have been competing in this statewide contest since the 1960's," said Mary Swinton, Plano ISD elementary science coordinator.
2017-18 City of Plano Winners
Kinder Division (PreK - Kindergarten)
Anisha Tiwari, Barksdale Elementary, kindergarten, teacher: Mai Kloub – first place
Aarav Chokhani, Hunt Elementary, kindergarten, teacher: Carole Greer – second place
Amna Ahsan, Haun Elementary, kindergarten, teacher: Michael Jalamantez – third place
Primary Division (Grades One and Two)
Makenna Huslig, Stinson Elementary, second grade, teacher: Robin Stokes – first place
Annika Wong, Schell Elementary, second grade, teacher: Amber Briggs – second place
Austin Saechew, Barksdale Elementary, second grade, teacher: Dusty Holliday – third place
Intermediate Division (Grades Three and Four)
Isabella Wang, Skaggs Elementary, fourth grade, teacher: Alyson Zembower – first place
Aakash Arulkumaran Schell Elementary, fourth grade, teacher: Sheila Greenberg – second place
Aadhya Gaur, Rose Haggar Elementary, fourth grade, teacher: Melissa Bailey – third place
Middle Division (Grades Five and Six)
Ananya Ramesh, Centennial Elementary, fifth grade, teacher: Felecia Maness – first place
Kate Lee, Schimelpfenig Middle School, sixth grade, teacher: Anne Q. Howard – second place
Sanjana Arulkumaran, Murphy Middle School, sixth grade, teacher: Elizabeth Edenkrans – third place
Junior High Division (Grades Seven and Eight)
Lucy Cai, Schimelpfenig Middle School, seventh grade, teacher: Anne Q. Howard – first place
Daniel Wang, Rice Middle School, seventh grade, teacher: Rebecca Bottin – second place
Olivia Fan, Rice Middle School, eighth grade, teacher: Scott Summer – third place
High School Division (Grades Nine, Ten, Eleven and Twelve)
Ellie Ruan, Clark High School, tenth grade, teacher: Daren Causey – first place
Joshua Wang, Jasper High School, ninth grade, teacher: Sara Stevens – second place