Return to Headlines
Nov. 17, 2017 - Grant Patrol Makes Annual Surprise Awards
On November 9, the Education Foundations' Grants to Educators "grant patrol" delivered more than $100,000 in grants in surprise visits to teachers in their classrooms. Grants to Educators is an annual program funded by the Education Foundation that benefits the students of the district by awarding grant money to teachers for innovative student learning projects. Photo gallery of grant winners.

<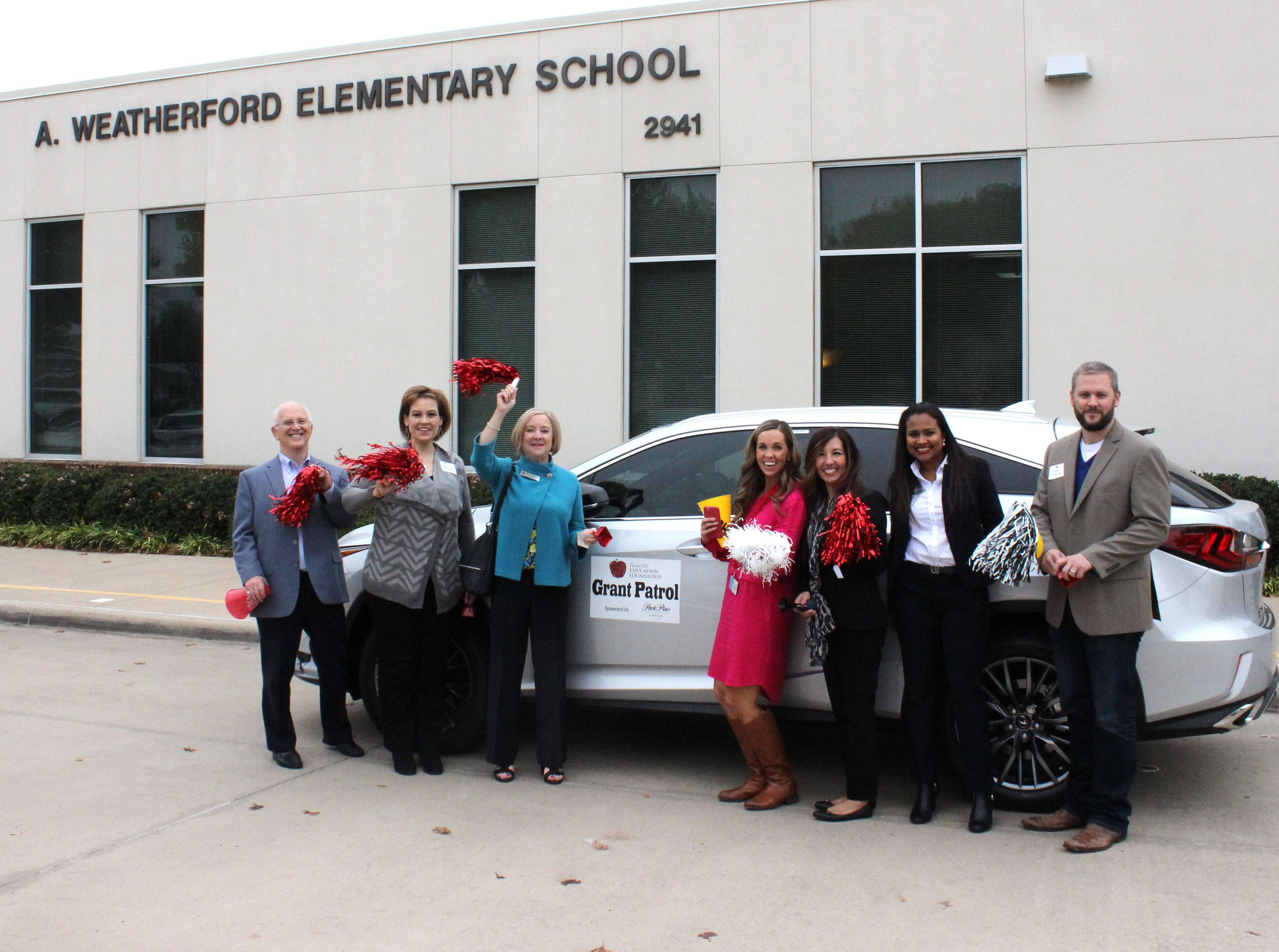 One of the grant patrol cars arrives at Weatherford Elementary, (car courtesy of Park Place Lexus Plano).
Sponsors, volunteers and donors play an important part in bringing these grants to teachers. The grant giving process actually began months ago with fundraising to support the Foundations' efforts. SKI Plano is the Foundation's most important annual fundraising event. Scheduled for February 3 in 2018, the upcoming SKI Plano will benefit the 2018 grants. Kenneth Hutchenrider Foundation board president said, "We are so appreciative of our business and community partners who participate in Grants to Educators as donors and volunteers. The Education Foundation and our sponsors are proud to help strengthen teaching and learning district-wide by providing resources to teachers." Grants to Educators is generously supported by sponsors: Park Place Lexus Plano, Alliance Data, Huawei, TAFF – The Andrea-Mennen Family Foundation, the Plano ISD Council of PTAs and Carole Greisdorf.
By September of this year 270 online grant applications were completed by teachers. Then judges began the process of evaluating the applications taking into consideration many factors such as the number of students impacted, the value the grant would bring to the classroom and how the proposal would fill in gaps in current student learning.
Then on November 9, the "grant patrol," comprised of Education Foundation board members, program sponsors, district staff and parent leaders, brought the news to 102 winning teachers at 44 schools. Once they arrive at the schools they make some noise. Bells, whistles and noisemakers echo through the hallways as they arrive at the winning teachers' classrooms. And then the hoopla really begins as teachers discover their grants were selected, and students, caught up in the excitement, cheer for more learning opportunities. Students will cheer for more books to read, more math, more science, more art, more of whatever their teachers have dreamed into reality with the help of Grants to Educators. Grants range in size from one hundred to several thousands of dollars depending on the project.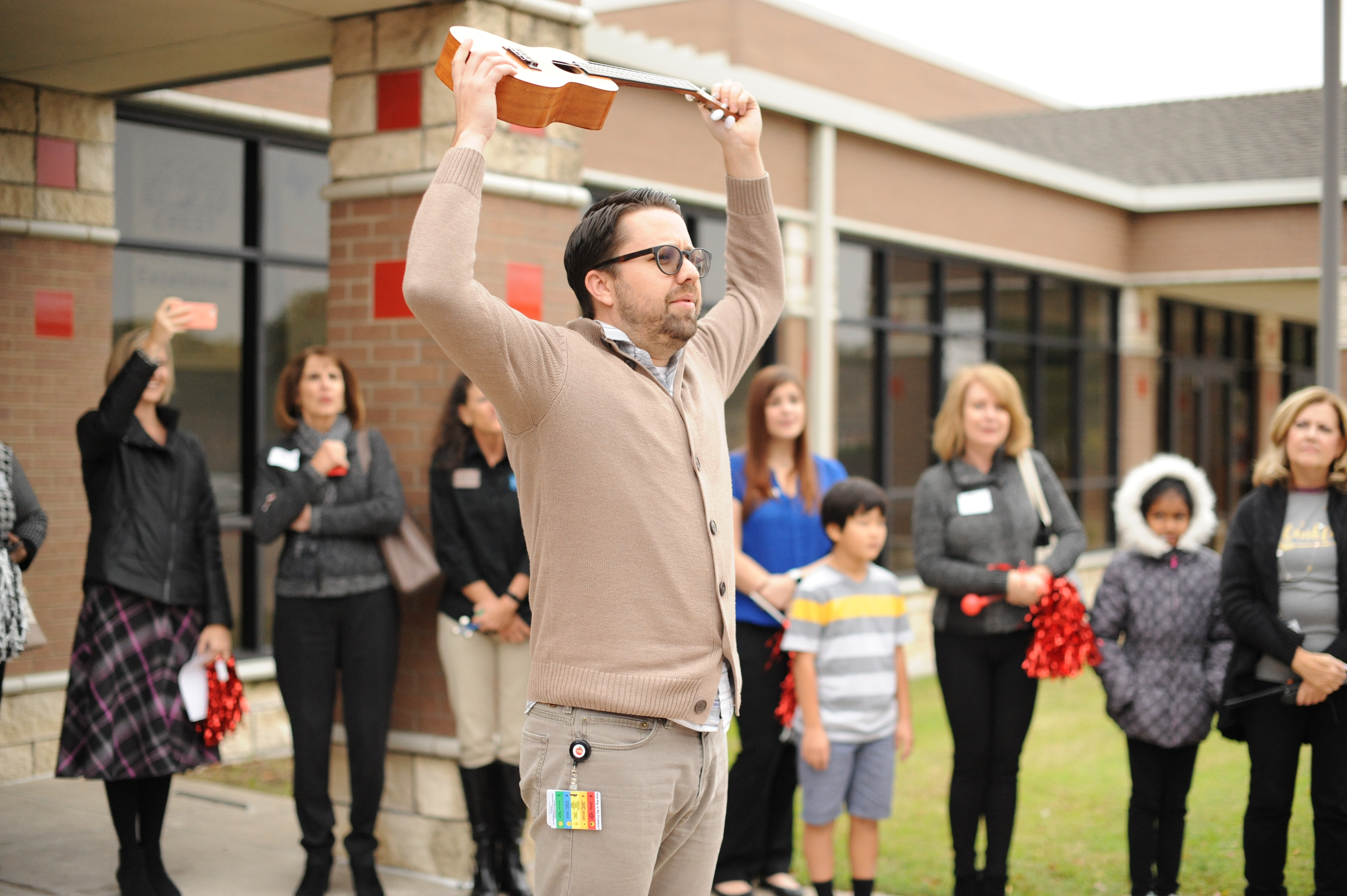 Grant winner and Haun Elementary School Music Teacher Tobit Hall with his ukulele standing before cheering Haun students.
At Haun elementary, music teacher Tobit Hall received a grant for ukulele's for the music room. Mr. Hall's grant application begins, "There is nothing more necessary for music and musical concepts to make its home in the life of a child than for every student to be actively involved in the process. What better way to be actively involved than to play an instrument!" And evidently the entire elementary school agrees. Hear the entire school express their excitement. After the cheering, they gave Mr. Hall a "Husky Howl." If you've never heard a Haun Husky Howl, it sounds something like this "AROOOH" and then multiply that by around 600 student voices.
Here are a few more of the 102 grants awarded and celebrated. See all the grants winners and details.
Beverly Elementary Kristin Meggers and Katie Sralla's grant in the amount of $1,465 is for teaching non-verbal children to communicate through play using structured play bins.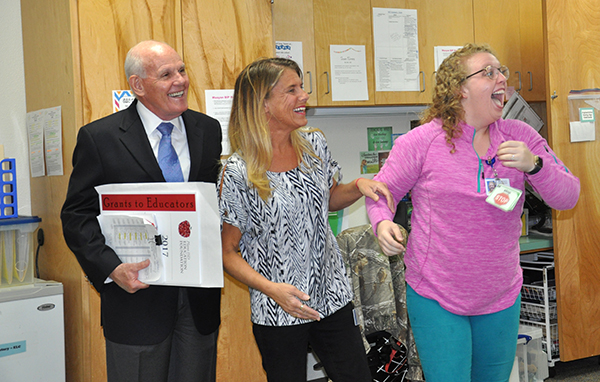 Harvey Fishero with the Education Foundation surprises Beverly teachers Kristin Meggers and Katie Sralla with their grant.
Davis Elementary Deaf Education Teacher Dana Smith received an $800 grant for book fair vouchers for students with hearing impairments.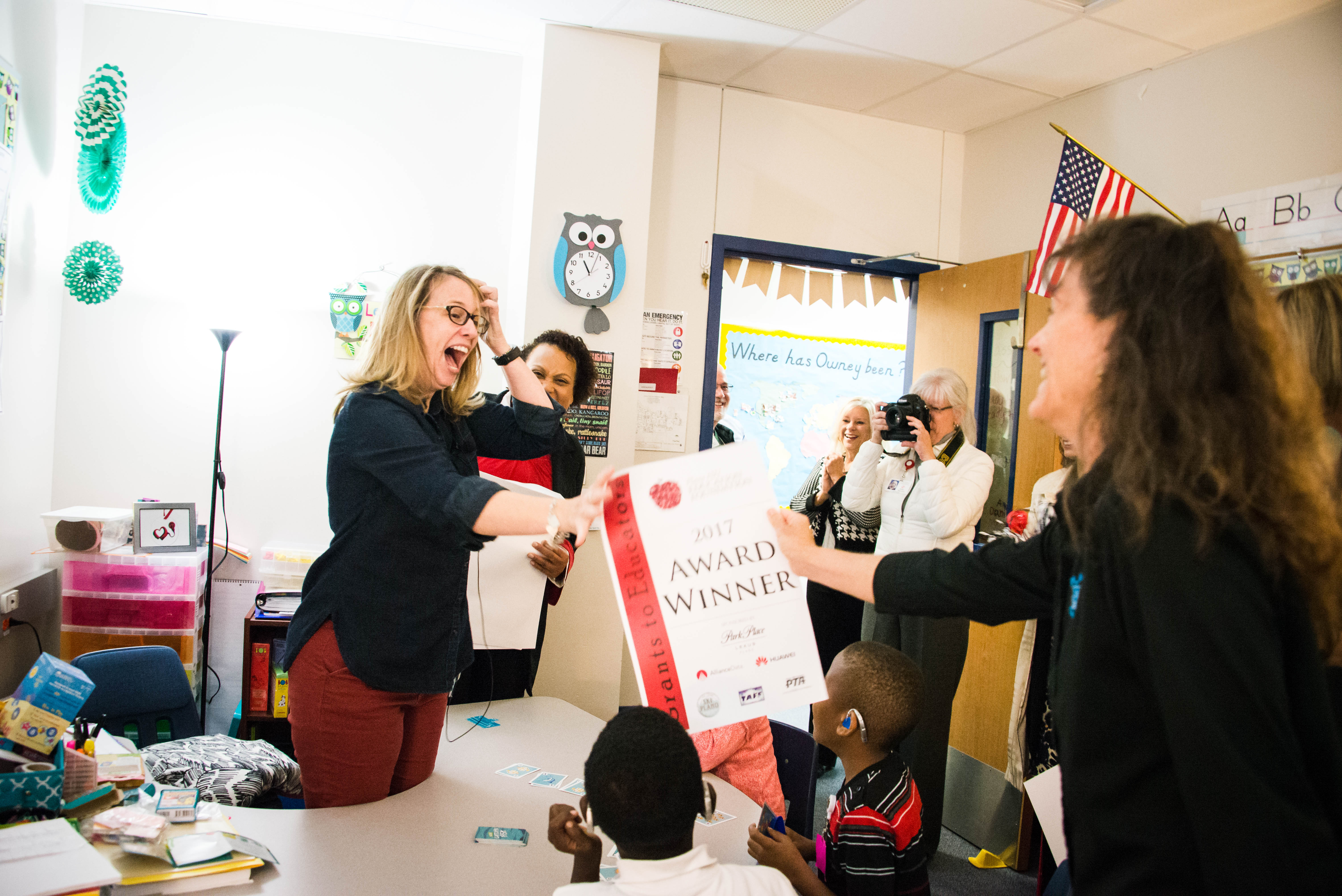 Dana Smith Davis Elementary teacher and her students were excited to receive their grant!
At Haggard Middle School teacher Donna Moreland received a $250 grant for flexible seating for special needs students.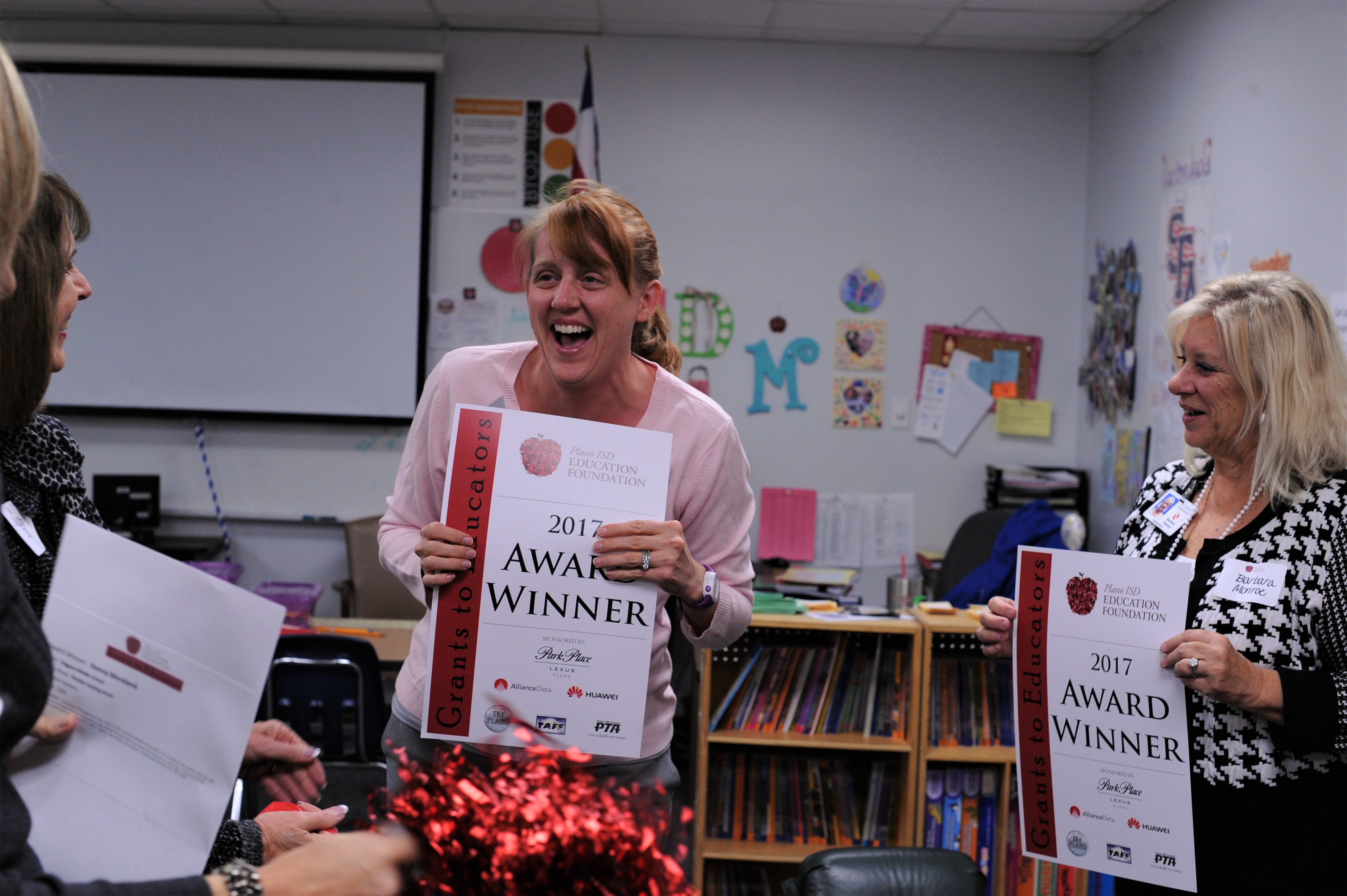 Donna Moreland, Haggard Middle School.
At Plano East Senior High teacher Kristin Shapiro received a $3,000 grant titled Aquaponics. "Students will use project based learning to test hypothesis, conduct experimentation and integrate technology to increase their knowledge of the natural nutrient cycling that occurs on earth, as well as the problems associated with efficient food production. The aquaponics experience allows students to face real world problems which leads to a greater understanding of the struggles and difficulties associated with the world hunger crisis."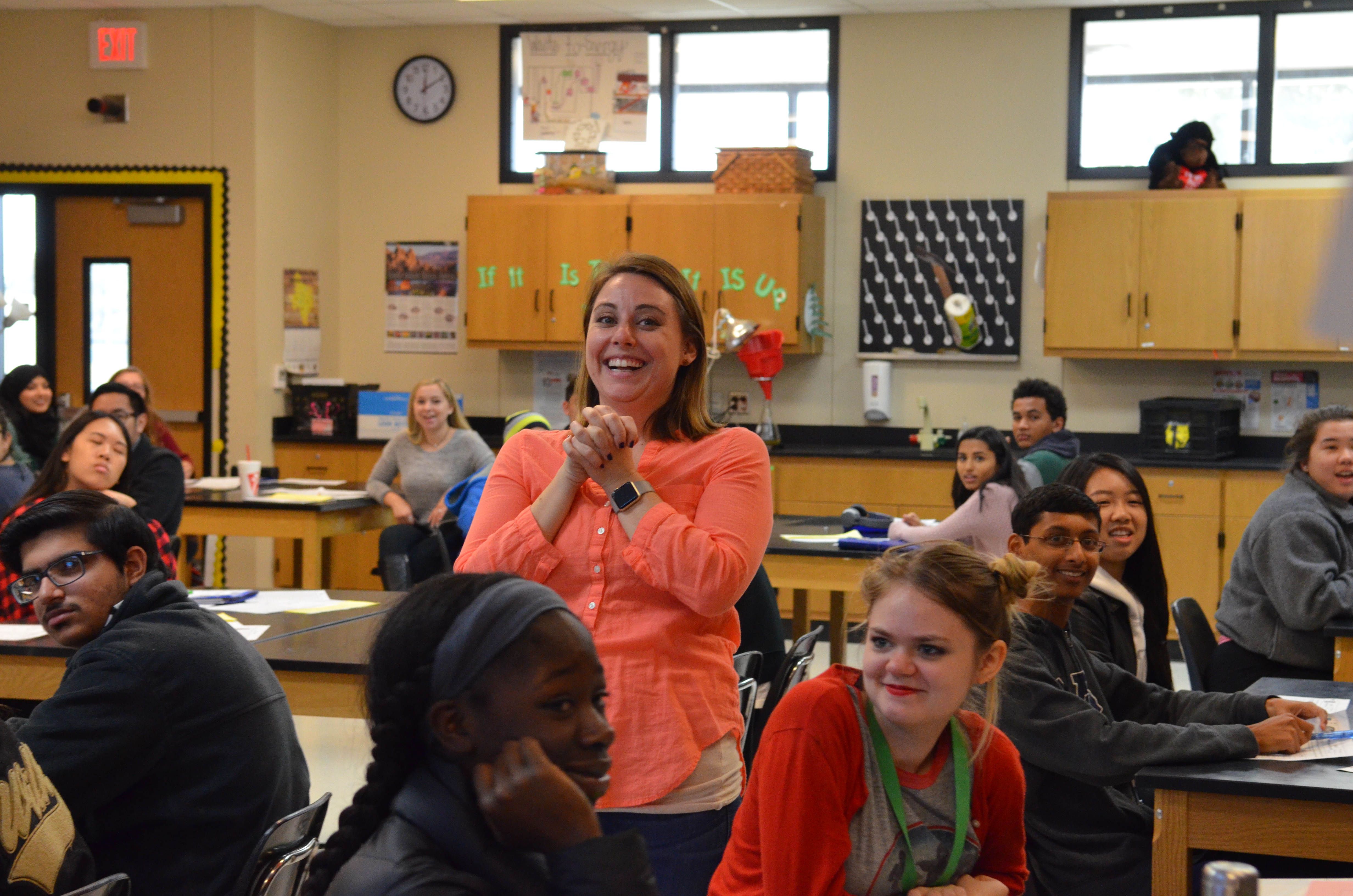 Kristen Shapiro, Plano East Senior High School grant winner (photo by Jaydn Sims Plano East).
Plano ISD staff, students and schools give thanks for the generosity of the Foundation's fundraising partners and Grants to Educators sponsors for helping to provide another year of gifting Plano ISD students with more opportunities to learn and excel in every facet of their educational careers.
About the Plano ISD Education Foundation
The Plano ISD Education Foundation is a 501(c)(3) nonprofit organization with a mission to help all students in the Plano Independent School District achieve their full potential by providing financial support to educators and academic programs.
Since 1993, the Foundation has generated private support for priority projects for which tax dollars are not available. Almost $17 million has been gifted to Plano ISD for programs and services of importance to the school district.
The Foundation's commitment to support quality education for Plano ISD students remains strong. We continue to identify and fund needed programs and work to increase community and corporate involvement in support of our schools.
The Board of Directors consists of business and community leaders who recognize the importance of excellent public schools to the Plano community. Support generated by the Plano ISD Education Foundation ensures Plano ISD remains one of the best public school districts in the nation.