Return to Headlines
Dec. 8, 2017 - Plano ISD Robotics Teams "Gear Up" for New Challenges
FIRST LEGO League (FLL)
FIRST LEGO League (FLL) is made up of teams of fourth through eighth grade students. In Plano ISD, 41 FLL teams on 30 elementary and middle school campuses have been busy developing solutions to the 2017 challenge called HydroDynamics.
FLL challenges have three judged aspects: project, core values and robot design. Students have been studying the interactions that humans have with water. In the project portion, each team has proposed a method to improve the way people find, use, transport or dispose of water. The teams have the opportunity to demonstrate their teamwork in the core values portion of the challenge and also demonstrate their building and coding skills. Then their robots compete on the field.
Teams have had the opportunity to practice their skills at a series of scrimmages hosted within the district over the last five weeks.
FLL qualifying events are scheduled each Saturday in December. Plano ISD teams competed at Allen High School on December 2 and will compete at Williams High School on December 9 and 16. The robot games portion of these events are open to the public.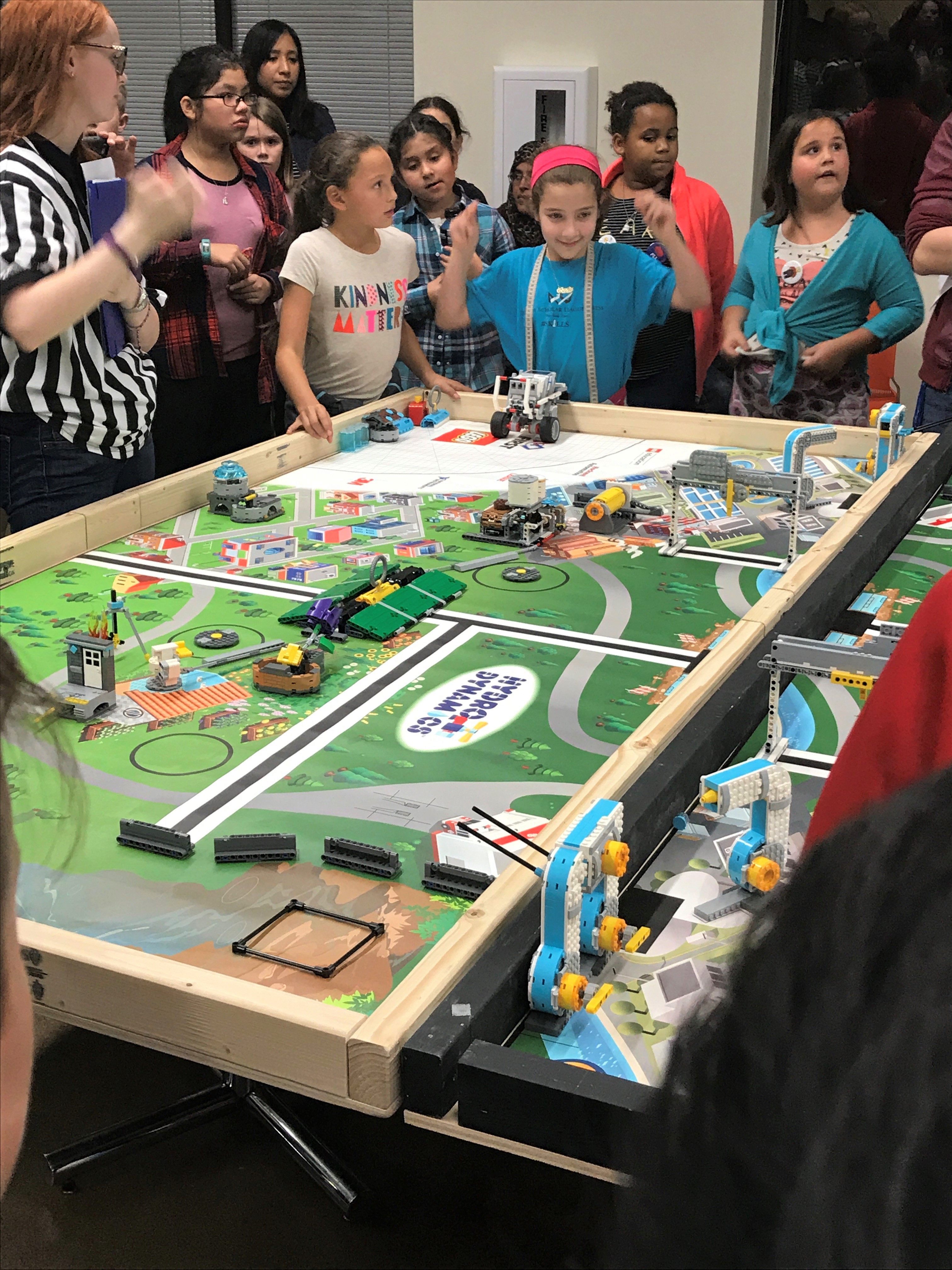 FIRST LEGO League scrimmage.
FIRST Tech Challenge (FTC)
FIRST Tech Challenge (FTC) teams are made up of students from grades seven to twelve. The district's 13 FTC teams are working toward their 2017 challenge called Relic Recovery. Students with an interest in design, manufacturing, programming and marketing have been working this semester to design a robot that can play this year's game. Teams have also been recording their progress in an engineering notebook. Teams will meet with a panel of judges to present their flow of work and will play the robot game with randomly assigned partners to determine their placement in the elimination tournament.
FTC teams have participated in a district-hosted scrimmage and the region's qualifying events get underway on December 9 at Williams High School. These events will continue each Saturday in December and January. Most teams will participate in two area tournaments. The Plano ISD event is scheduled for January 27 with the robot portion of the competition open to the public.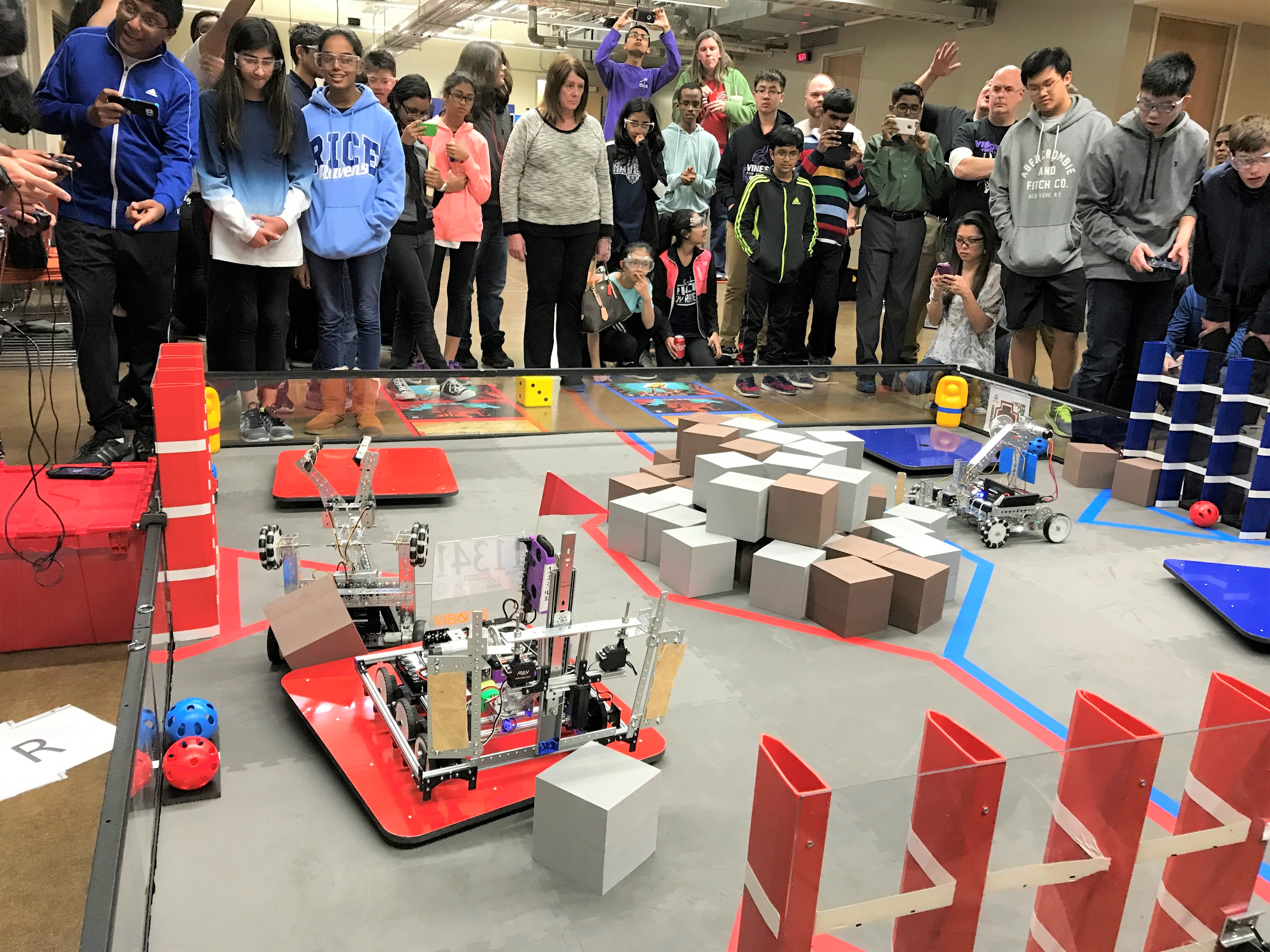 FIRST Tech League scrimmage.
FIRST Robotics Competition Teams
The FIRST Robotics Competition teams consist of ninth through twelfth graders. Two teams in the district are competing at this level. The Plano Senior High School and Academy High School teams have been concentrating on skill development, such as CAD and programming training, as well as safety training as they anxiously await the reveal of their challenge on January 6. Both teams are scheduled to compete at the Dallas Regional in late February and at the El Paso Regional in March. See the video of the Plano hosted ISD NTX Tournament of Robots competition in October 2017.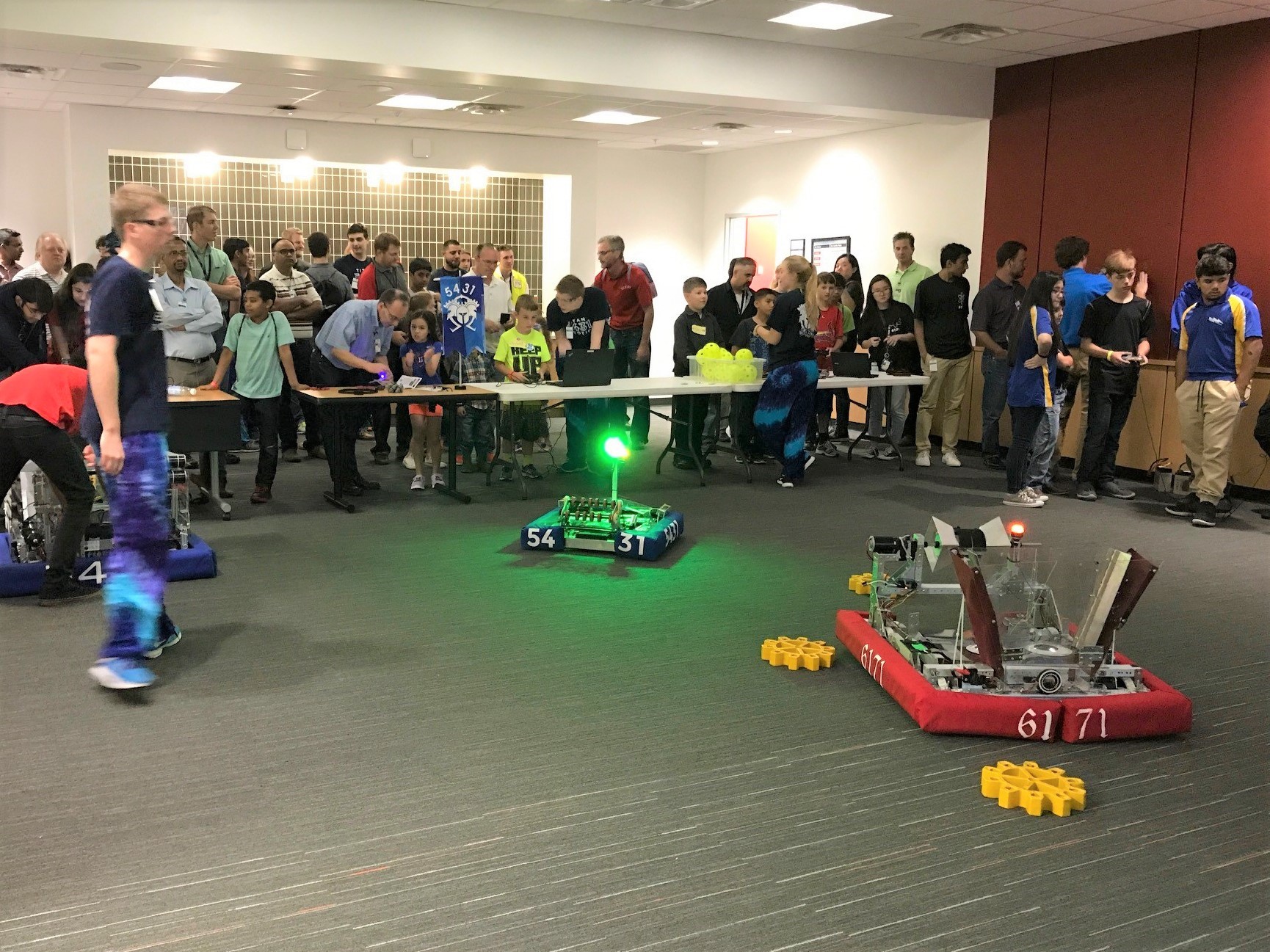 Robotics teams from Academy High School and Plano Senior High pictured here doing community service by mentoring younger robotics students. More experienced teams mentor younger participants, helping the program to grow.
More Information about FIRST
FIRST (For Inspiration & Recognition of Science & Technology) was founded in 1989 and is a nonprofit organization whose mission is "to inspire young people to be science and technology leaders, by engaging them in exciting mentor-based programs that build science, engineering and technology skills, that inspire innovation and that foster well-rounded life capabilities including self-confidence, communication and leadership." FIRST is an international program.
In Plano ISD, contact Amy Bates director of special projects at amy.bates@pisd.edu with questions about the program. More information about FIRST is available online.