Return to Headlines
Dec. 12, 2017 - Brinker Art Teacher and the Visual Arts Coordinator Receive Lone Star Award from Texas Art Education Association (TAEA)
At the TAEA annual conference in November 2017, Matthew Grundler art teacher at Brinker Elementary and Laura Grundler visual arts coordinator for the district have jointly been awarded the 2017 Lone Star Art Advocates award for their weekly Twitter chat #K12ArtChat. This weekly chat provides a global platform for learning and collaboration among art educators.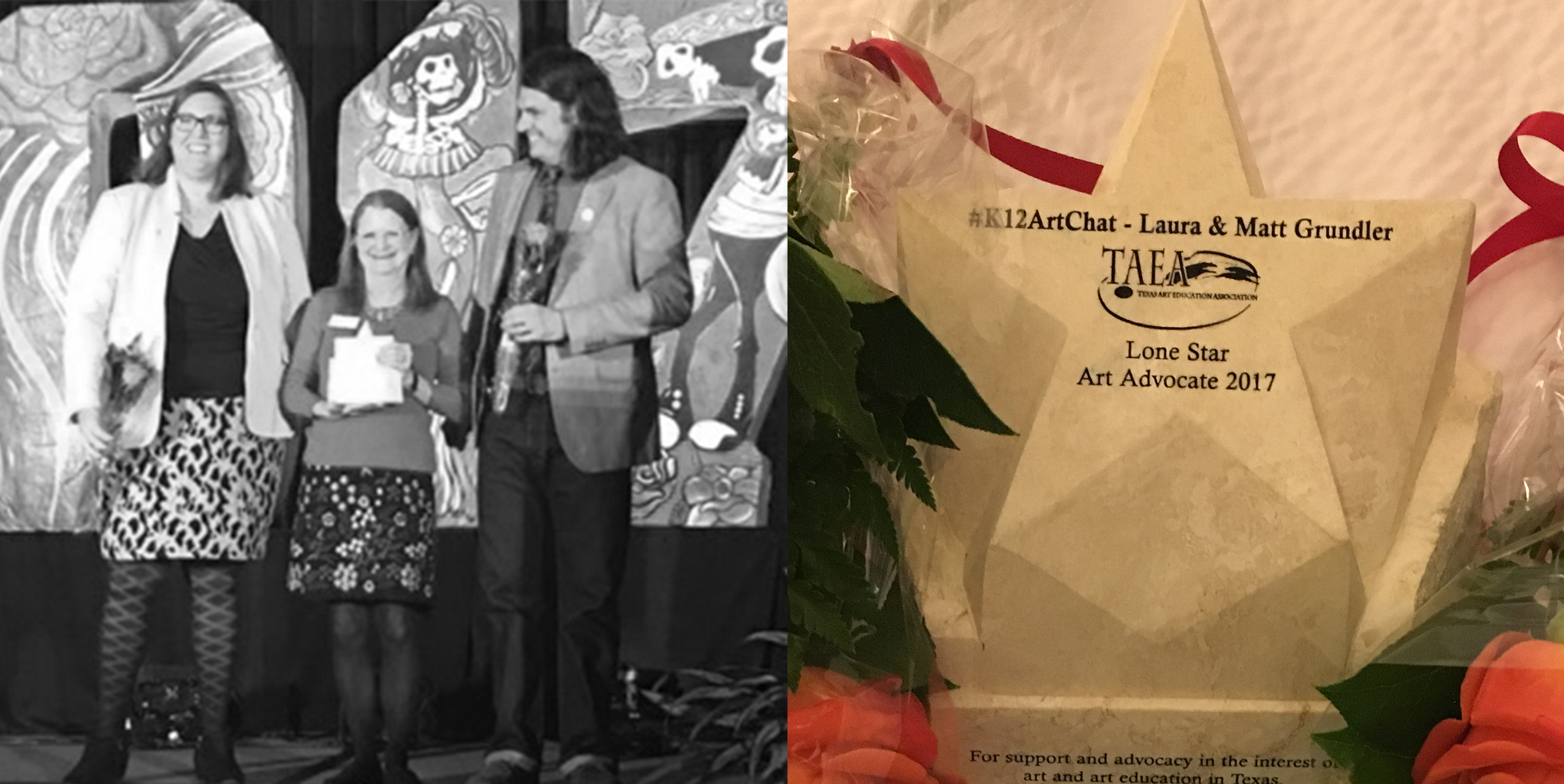 Laura Grundler, Plano ISD visual arts coordinator; Suzanne Greene TAEA president and Matthew Grundler, Brinker art teacher at the awards ceremony in November.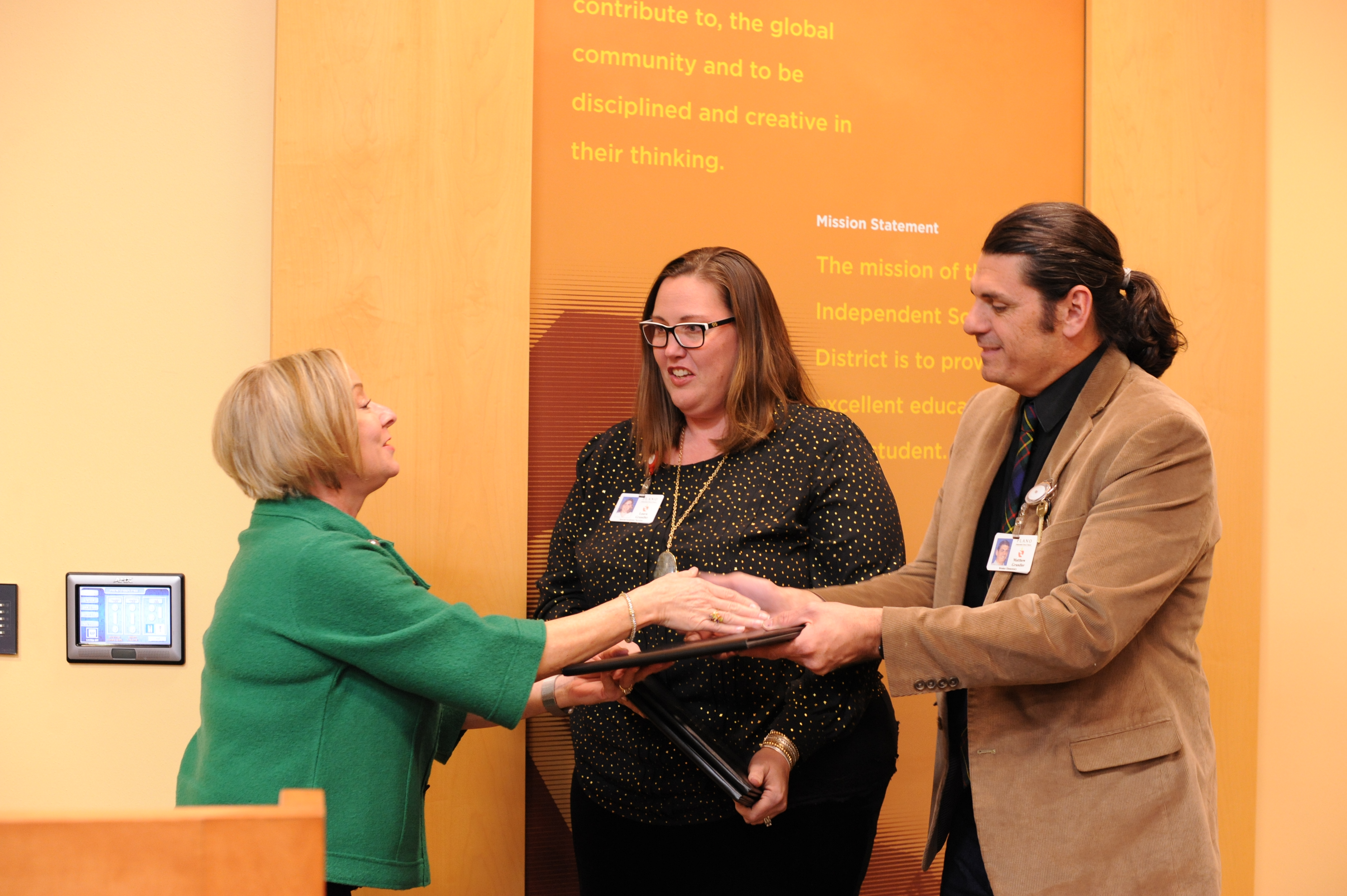 Board Secretary Nancy Humphrey presents certificates of recognition at the December 12 school board meeting to Laura and Matthew Grundler in honor of their Lone Star Art Advocate award.
As founders and moderators of #K12ArtChat the Grundlers are advocates of digital technology in connection to visual art education. Using digital technology and new media, they have created a free resource for art educators to meet, connect, collaborate and share.
The Lone Star Art Advocate award is in its second year and was created to recognize outstanding service above and beyond what is already a part of the TAEA annual awards cycle. It is one of two awards that are selected solely by the board of TAEA, and it is not an annual award. The inaugural award went to First Lady Cecilia Abbot in 2016.
In December, 2017 in honor of this award the Grundlers were presented with board certificates of recognition. Kathy Kuddes executive director for fine arts and special academic programs said as she introduced the Grundlers at the board meeting, "Visual arts teachers often live on an island of isolation at their campuses without teachers who teach their subject or share their passion or understand their challenges, so just over three years ago, Laura and Matt started a small weekly Twitter chat for their colleagues. What started with a few Plano teachers, now has over 5,000 global followers and guest hosts that include studio artists, authors and innovative educators. I can't emphasize how proud we are as a department of the work you do on behalf of creating artistic and well-rounded students."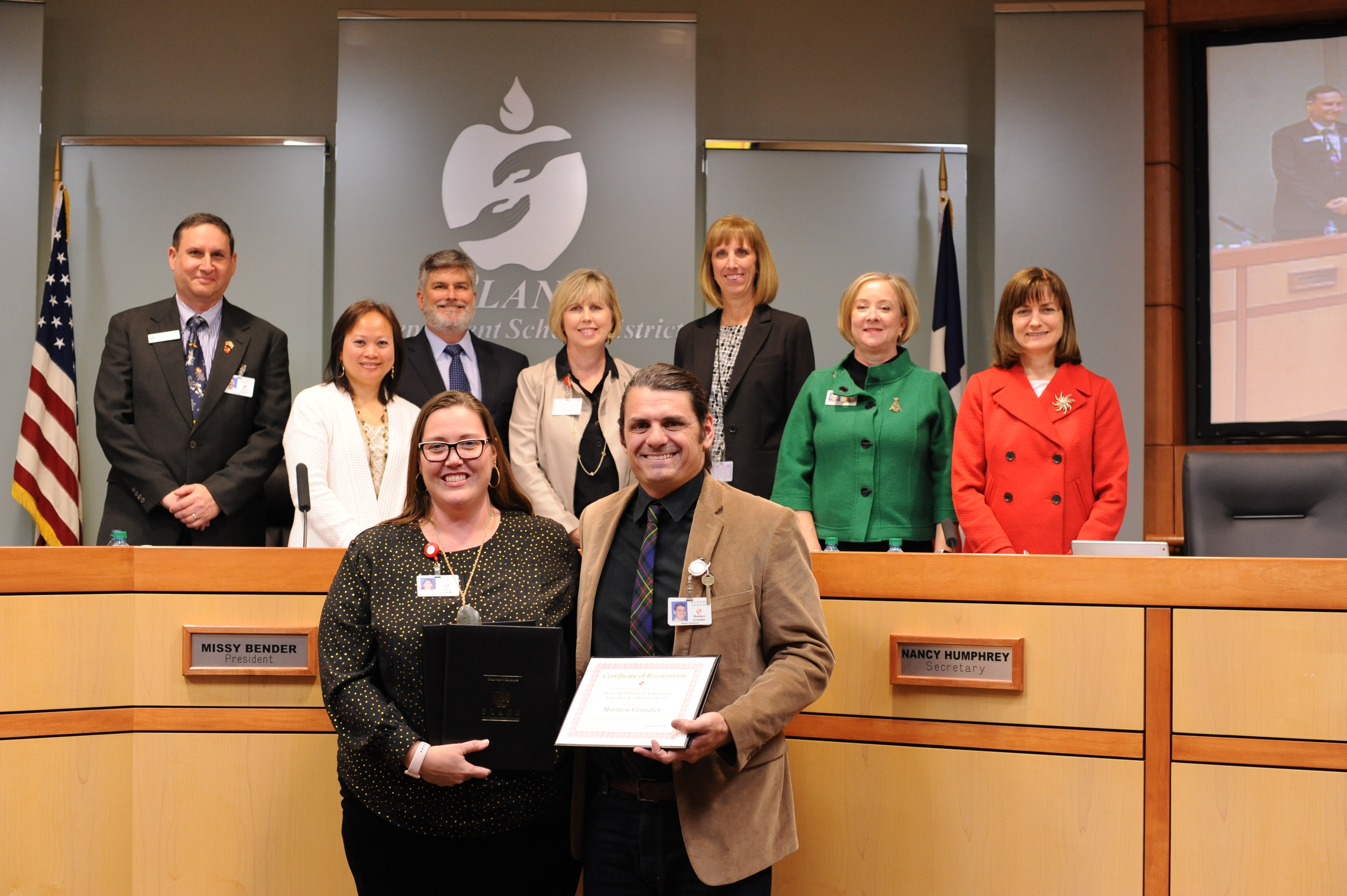 Visual Arts Coordinator Laura Grundler and Brinker Art Teacher Matthew Grundler are pictured with the Board of Trustees and Interim Superintendent of Schools at the December meeting: (back row) Trustee Dr. Yoram Solomon, Trustee Angela Powell, Board Vice President David Stolle, Board President Missy Bender, Interim Superintendent Sara Bonser, Board Secretary Nancy Humphrey and Trustee Tammy Richards.
eMail congratulations to Matthew Grundler and Laura Grundler.