Return to Headlines
Jan. 17, 2018 - Jeri Chambers Appointed by Board to Fill Place 6 Vacancy
At the January 16 board meeting, the board of trustees voted unanimously to appoint Jeri Chambers to fill the Place 6 vacancy. The board selected Ms. Chambers from a pool of twenty volunteers who expressed interest in the position through the board's application process. Ms. Chambers was sworn in at the meeting and will serve until the next school board election in May 2019. The trustee elected in May 2019 will then fill the remaining two years of the seat's four-year term.
As a parent, educator, volunteer and active community leader, her experience with Plano ISD and our community is broad and deep. She is a former Plano ISD teacher, an active booster club and PTA parent and serves on the Plano ISD Education Foundation Board of Directors.
Among her many community service efforts, Ms. Chambers has been an instrumental volunteer and supporter of the Plano ISD Education Foundation's CORE Store, is a past president of Plano Youth Leadership, serves on the Collin County Homeless Coalition, is a graduate of Leadership Plano and member of the current class of Leadership North Texas. Through the Junior League of Collin County, Ms. Chambers served on a team whose mission involved research and working closely with Plano ISD faulty members to address the need for STEM learning experiences, ultimately resulting in the launch of the Collin County-based science and technology museum, Sci-Tech Discovery Center.
Ms. Chambers said that as a trustee, she wants to be a voice for students, families, teachers and the community. "Serving on the Plano ISD Board of Trustees feels like a natural extension of my community interests and passion for education," said Ms. Chambers. "A strong public school education system that constantly strives to do what's best for our children and their futures is essential for the long-term stability and economic security of our community. I want to maintain Plano ISD's values of bringing the highest level of excellence in education to all students in Plano ISD—and do it in a manner that is fiscally responsible."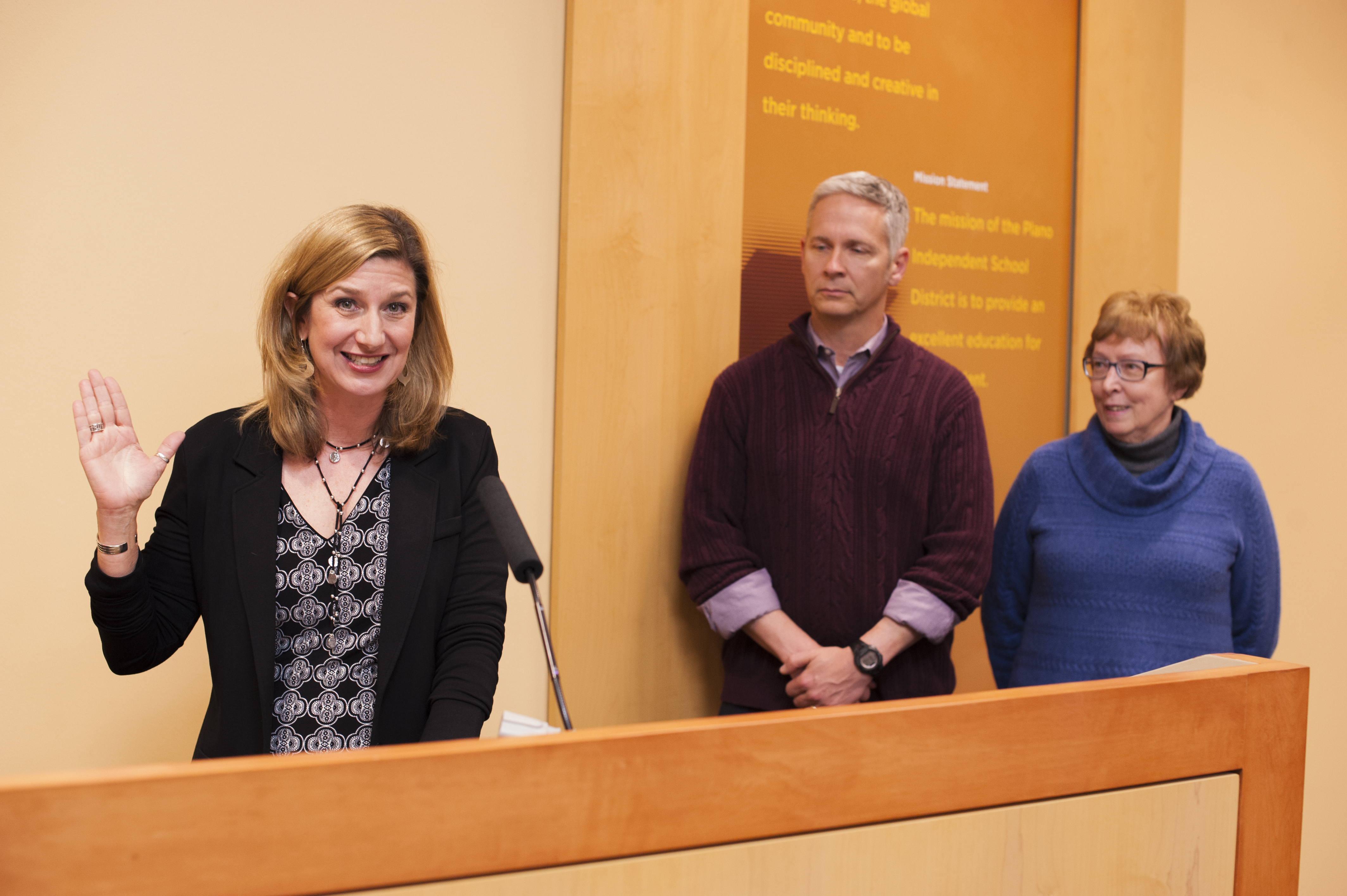 Jerry Chambers, being sworn in at the January 16 school board meeting. Pictured here with family, husband Rick Chambers and Mary Beth King, retired Plano ISD trustee.