Return to Headlines
Feb. 16, 2018 - Elementary Regional Science Fair Winners
The regional elementary science fair was held on February 5-6, 2018 at the Curtis Culwell Special Events Center in Garland. Approximately 300 project were entered in the competition. Plano ISD students captured 55 of the 105 awards at the regional event including two of the three grand prize awards. Plano ISD has participated in the regional science fair along with six other school districts (Allen, Mesquite, McKinney, Garland, Richardson and Carrollton-Farmers Branch) for over 30 years. Judges for this event have backgrounds in science and engineering and are recruited from area businesses and universities.
Prior to the regional fair, students compete at their home campuses in hopes of capturing the grand prize award. This year, 2,531 Plano students entered projects at campus science and engineering fairs. At each campus, one grand prize winner was selected from grades 1-3 and one from grades 4-5. At middle schools, three to four projects advanced to the regional fair from each campus.
Mary Swinton, Plano ISD elementary science coordinator, said, "It is exciting to see so many students extending their science and engineering knowledge beyond the school day. Our students are lucky to attend schools where their teachers, principals and community support this type of creative thinking!" See photo gallery for more pictures of students and their projects.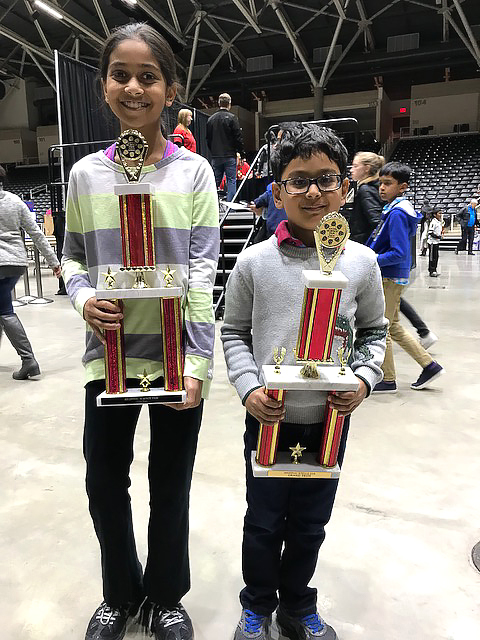 Grand Prize
Anish Musthyala, Gulledge Elementary, second grade, Super Power Sand Castle, Earth
Anushka Sridhar, Otto Middle School, sixth grade, Zoom to Flash, Physical
First Place
Shrinath Bathey, Wyatt Elementary, second grade, Humpty Dumpty Had a Great Fall, Physical
Prisha Bhat, Stinson Elementary, fifth grade, Ethylene Gas and Bean Plant Growth, Life
Claire Boselli, Hightower Elementary, third grade, Musical Bottles, Physical
Maya Brown, Frankford Middle School, sixth grade, pHun Algae: The Effect of pH on Algae, Life
Kyle Bullock, Barksdale Elementary, fifth grade, The Magic of Momentum, Physical
Eden Doan and Kapil Taspa, Otto Middle School, sixth grade, Scratchy Says, Engineering
Aadhya Gaur, Haggar Elementary, fourth grade, Beverages That Stain Your Teeth the Most, Life
Connor Johnson, Haggard Middle School, sixth grade, Color Solar Speeder, Physical
Michael Johnson, Hughston Elementary, first grade, Freezing Fizz, Physical
Sophia Kakar and Nuha Mahnoo, Andrews Elementary, third grade, Measuring Milk Contamination Using Spectrum-Photo-Meter, Engineering
Sahana Muhunthan, Renner Middle School, sixth grade, Where is the Wind, Earth
Anish Musthyala, Gulledge Elementary, second grade, Super Power Sand Castle, Earth
Shivani Nathan, Andrews Elementary, fifth grade, The Modern Miracle Worker, Engineering
Frances Percaccio, Wells Elementary, first grade, Skin Deep Neuroscience for Kids, Life
Agastya Prabhu, Haun Elementary, third grade, Exploring Global Warming, Life
Victor Quezada, Mendenhall Elementary, second grade, The Seed Growing Experiment, Life
Surya Rajkumar, Stinson Elementary, second grade, Magnet Magic, Engineering
Shivi Shrivastava, Wyatt Elementary, fourth grade, Smart Left: a Better Left Turn Signal, Engineering
Anushka Sridhar, Otto Middle School, sixth grade, Zoom to Flash, Physical
Second Place
Sanjana Arulkumaran, Murphy Middle School, sixth grade, Solving Dissolving, Physical
Ishi Chakravarthy, Schimelpfenig Middle School, sixth grade, The Greenhouse Effect: Does it Really Exist? Earth
Riya Chhaya, Bethany Elementary, second grade, Let the Games Begin, Physical
Sameera Chiruvolu, Robinson Middle School, sixth grade, Tackling Childhood Obesity with Healthy Snacking, Life
Addison Gagliano, Davis Elementary, fourth grade, Pulley Up! Engineering
Ellie Helmke, Dooley Elementary, fourth grade, Tough Stuff, Physical
Neela Jackson, Harrington Elementary, fourth grade, LED v. Incandescent Christmas Lights, Physical
Ellen Johnson, Davis Elementary, second grade, pH Kills pHast, Life
Katie Pilgrim and Isabella Tepichin, Murphy Middle School, sixth grade, Got Ike? Engineering
Ibrahim Qazi, Gulledge Elementary, fifth grade, Pedometer in a Shoe, Engineering
Ainsley Schwerdtfeger-Jones, Miller Elementary, third grade, How Freezing Affects Different Types of Rocks, Earth
Jaswardhan Sharma, Weatherford Elementary, first grade, Plant Watering Signal, Life
Amrita Shyam, Skaggs Elementary, fifth grade, A Biodegradable Boom, Physical
Jack Wright, Hedgcoxe Elementary, third grade, Hea Ha Maa Cluck - A Test to See Which Fertilizer is Best? Life
Third Place
Neal Acharya, Bethany Elementary, fourth grade, Let the Sun Heat Your Water for Free, Engineering
Ellen A. Anis, Rice Middle School, sixth grade, Electricity Produced from a Natural Voltage Cell, Physical
Owen Baggett and Landon Riggs, Frankford Middle School, sixth grade, False Advertising for Solar Panels, Earth
Diya Jain, Brinker Elementary, third grade, Keeping Strawberries Fresh, Life
Sarah Johnson, Hughston Elementary, fourth grade, Cold Coats, Physical
Rishi Kalyandurg, Brinker Elementary, fifth grade, May the Electrolytes Be with You, Life
Armaan Newaskar, Daffron Elementary, third grade, Solar Powered Machines, Engineering
Peyton Presley, Beverly Elementary, fifth grade, Spin 'Em Up, Physical
Vybhavi (Neela) Raman, Murphy Middle School Middle School, sixth grade, What's in Your Filter? Physical
Ishveer Randhawa, Hunt Elementary, third grade, Hot Lunch Ready to Munch, Physical
Mikail Rizvi, Hunt Elementary, fifth grade, Bus Alert, Engineering
Rida Salim, Rice Middle School, sixth grade, The Effect of Different Substances on Growth of Paperwhite Bulbs, Life
Honorable Mention
Shlok Chaubey, Aldridge Elementary, third grade, Blow, Blow, Blow the Wind, Engineering
Cayley Curotolo and Sarah Raishe, Hedgcoxe Elementary, fourth grade, Safety First - Not Fashion, Physical
Ella Ebrahimi, Haggar Elementary, third grade, Can Colored Water Change the Color of a Flower? Life
Teagan Forrest, Aldridge Elementary, fourth grade, Solar Greenhouse, Earth
Sulaiman Ilyas, Skaggs Elementary, third grade, Does It Really Cool Me Off, Physical
Pranav Joshi, Renner Middle School, sixth grade, Roomba, Engineering
Tara Kamalakantha, Robinson Middle School, sixth grade, Ugh! Let Me Sleep, Physical
Isabella Krumwiede, Thomas Elementary, second grade, What Cup Holds the Coldest Water Longest? Physical
Anmol Murickananickal, Sigler Elementary, fifth grade, How Fast Can You Cram Numbers, Shapes and Words? Life
Armaan Newaskar, Daffron Elementary, third grade, Solar Powered Machines, Engineering
Alexis Novick and Juliet Rodriguez, Mitchell Elementary, fifth grade, The Green Effect, Life
Siri Peddinti, Schell Elementary, fifth grade, Dress for the Weather Using Rasberry Pi, Engineering
Abby Reichenstein, Hightower Elementary, fifth grade, Downhill Derby, Physical
Nawal Siddiqui, Renner Middle School, sixth grade, Wall of Water, Earth
Leo Truitt, Saigling Elementary, fourth grade, Return of the Lego Racers, Engineering