Return to Headlines
Feb. 16, 2018 - Plano West Social Studies Teacher Named International Educator of the Year by the DFW World Affairs Council (WAC)
For his consistent commitment to emphasizing international education and global perspectives throughout his teaching career, Plano West Senior High Social Studies Teacher John Scott has been honored as the 2018 International Educator of the Year by the DFW World Affairs Council (WAC). Mr. Scott received his award from WAC at a luncheon on February 19.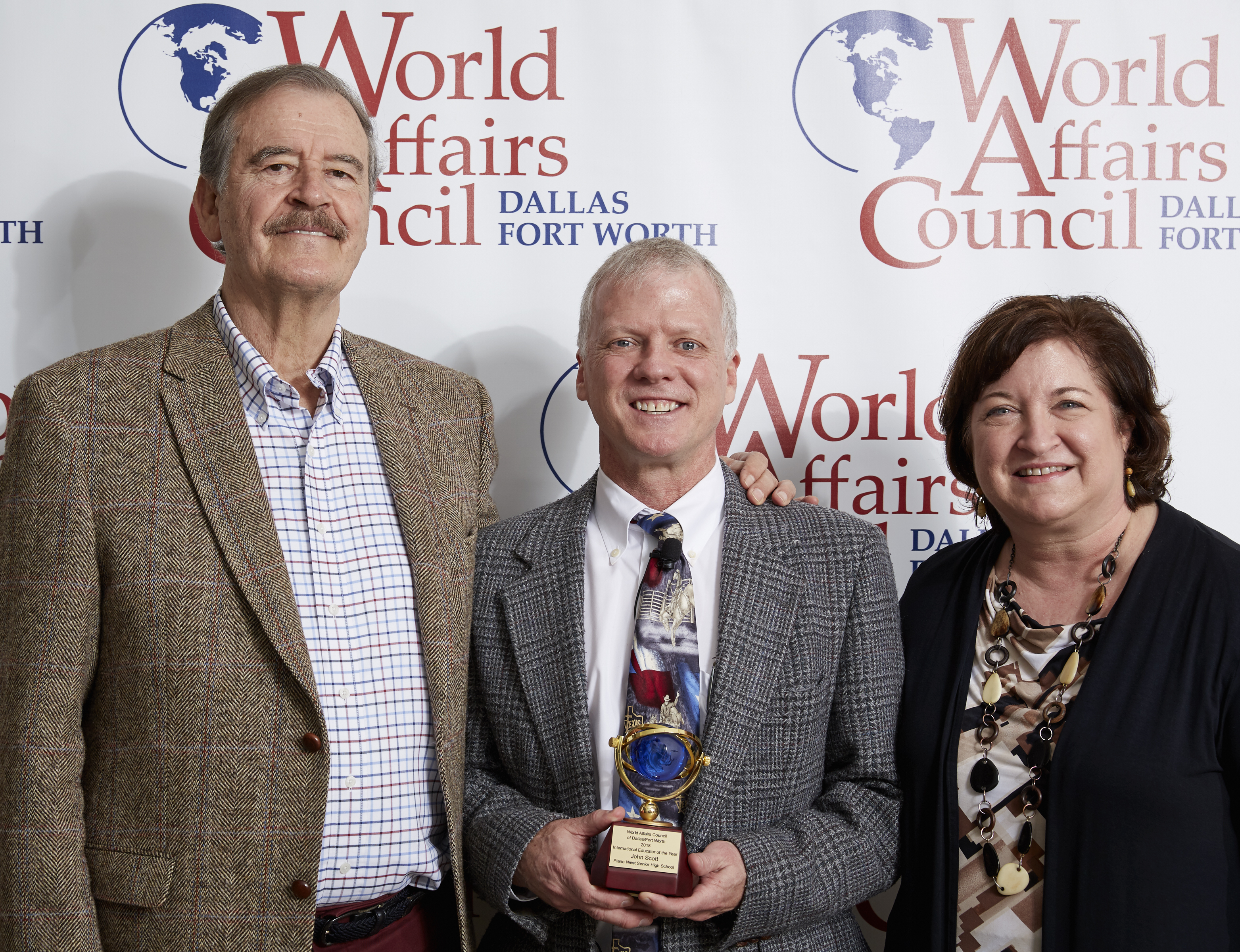 Pictured at the World Affairs Council awards luncheon are President of Mexico Vincente Fox (2000-2006), 2018 International Teacher of the Year John Scott of Plano West and his wife Suzanne.
On February 6, Mr. Scott was honored by the board of trustees at the February 6 school board meeting with a certificate of recognition for his accomplishment. Plano West Principal Kathy King in her remarks of introduction said that Mr. Scott, "is the kind of teacher and leader that every principal dreams of and every peer tries to emulate…but what sets him apart is his relationships with his students, his ability to build them up; his innate drive to help them excel beyond their personal expectations; and his unique ability to touch their lives forever." According to Nicole Michener, coordinator, secondary social studies, "John Scott is a dedicated educator who provides rich and meaningful experiences that deepens his students' understanding of the world."
Mr. Scott has been teaching at Plano West Senior High School since the school opened in 1999, and he has been a social studies teacher throughout his tenure at Plano West; he was the Plano West Boys Varsity Soccer Coach from 1999-2002, and he has taught economics and U.S. government in Plano ISD Summer School sessions.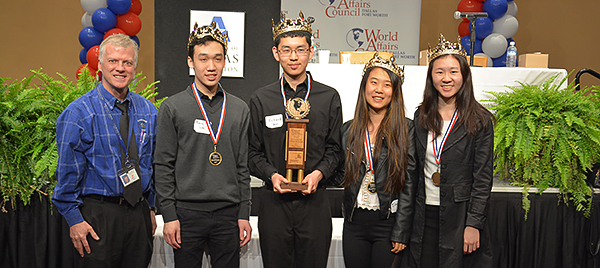 Plano West teacher John Scott with World Quest 2017 championship team from Plano West: Ranie Lin, Richard Guo, Cindy Hao and Christina Lu.
Over the years Mr. Scott has sponsored an array of different clubs and organizations, including Whiz Quiz, UIL Social Studies and UIL Current Events, Habitat for Humanity, Project Need, The Anti-Genocide Club, the Ultimate Frisbee Club, and he is a long-time member of the Plano Council for the Social Studies and the Texas Council for the Social Studies. He has been a sponsor of the Junior World Affairs Council (JWAC) club at Plano West from 2006-2008, then from 2011-present. Under Mr. Scott's leadership, the Plano West JWAC has won three national titles in the Academic WorldQuest competition. He also sponsors Plano West students in the annual Citizen Bee competition each year.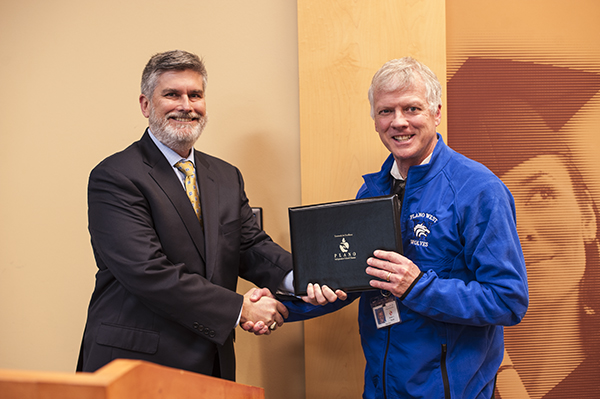 Board Vice President David Stolle presenting John Scott with a certificate of recognition from the board of trustees at the February 6 meeting said that, "It is teachers like you who make this district an extremely special place to learn and become citizens of the world."