Return to Headlines
Feb. 27, 2018 - 100 Plano ISD Elementary Students Perform at the Meyerson
On Saturday, February 4, one hundred Plano ISD fifth grade students performed in the North Texas Children's Choir (NTCC) at the Morton H. Meyerson Symphony Center under the direction of world renowned conductor Rollo Dillworth. Founded by Ann Smith, the North Texas Children's Choir is a non-profit organization dedicated to providing world-class choral musical experiences for children.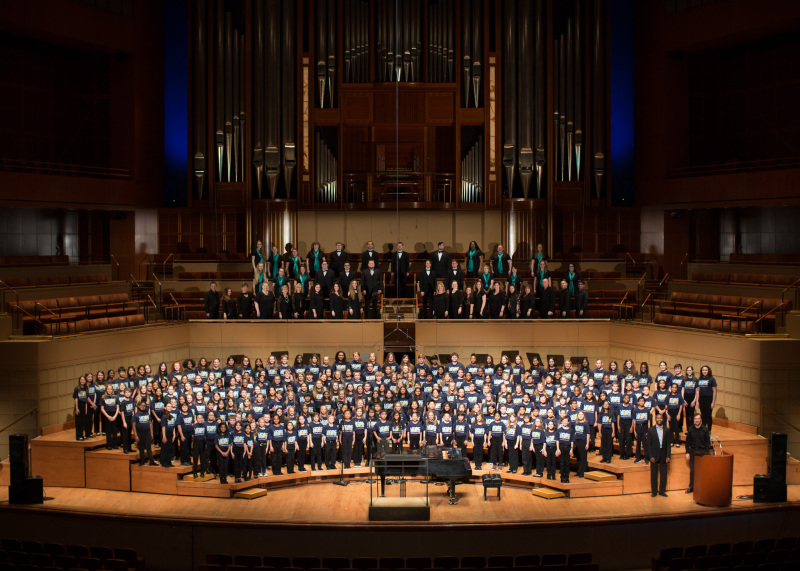 The NTCC on stage at the Meyerson.
During the event Huffman Music Specialist, Chara Rollins was honored with the North Texas Children's Choir "Teacher of the Year" award from NTCC founder Ann Smith.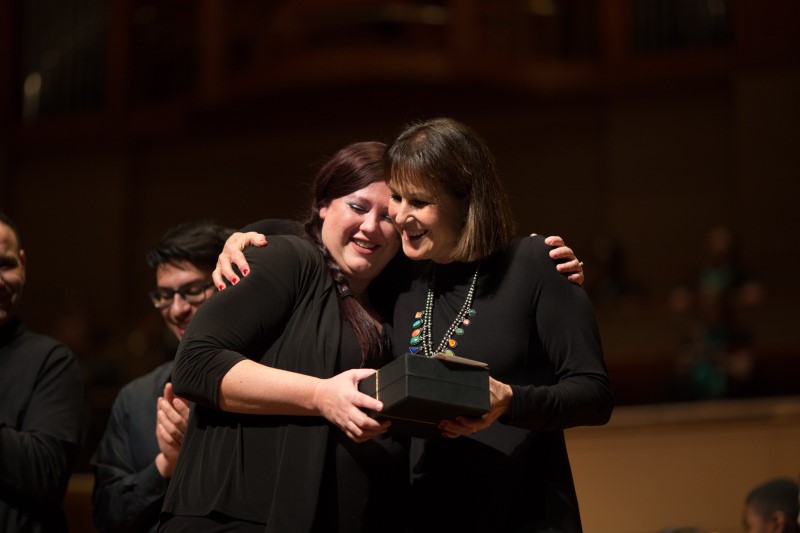 Chara Rollins, Huffman music specialist (left) receives her award from NTCC founder Ann Smith.
The following nine Plano ISD elementary schools had choir members performing as part of the NTCC.
Andrews Elementary
Sarah Riordan, Andrews Elementary music specialist
Ramya Bendapudi
Isaac Chen
Joelle Chung
Shreya Dhananjayan
Aryahi Gairola
Anushka Gupta
Rayna Li
Aanya Mohapatra
Shivani Nathan
Eric Qian
Shahnaz Showkath
Aashi Shyam
Nate Tang
Harini Venkatesh
Lekha Yogish
Beverly Elementary
Ben Porter, Beverly Elementary music specialist
Audrey Bird
Ariel Cruz
Divyana Iyer
Anshul Khandekar
Nadine Khashab
Georgia Kiser
Toby Mattingly
Jinyuan (Edward) Mou
Tristan Ramon
Taylor Snyder
Lente VanderWesthuizen
Michael Yu
Tiffany Zhang
Lindsey Zhao
Bethany Elementary
Laura Burton, Bethany Elementary music specialist
Elizaveta (Lisa) Ajaeva
Aimee Azzahra
Jackson Chambless
Emily Feng
Kahlie Gaske-Dominguez
RoseMary Hoang
Marissa Lee
Abbigail McMorrow
Ella Myers
Miharu Obayashi
Brock Schlef
Averi Scruggs
Julia Yin
Daffron Elementary
Virginia Asiatico, Daffron Elementary music specialist
Rylee Adler
Rania Azizah
Briana Black
Haylee Blanks
Aliyah Freddie
Katie Jennings
Jenna Lee
Ava Mallard
Julio Mota
Ronnie Rapoport
Luiza Soares
Presley Thompson
Hightower Elementary
Brenda Keen, Hightower Elementary music specialist
Makena Bonsukan
Shivani Chilakapati
Miku Coulston
Keya Dave
Marlee Flanigan
Connor Jenkins
Thomas Kirk
Kate Lara
Nicole Lee
Bhavini Nair
Sophia Nell
Maya Rathod
Olivia Rocco
Siya Sethi
Mateo Viteri
Huffman Elementary
Chara Rollins, Huffman Elementary music specialist
Jimena Cerda
Elijah Colbert
Brianna Davis
Chloe Evans
Kaitlyn Frazier
Jazmyne Naizghi
Anna Shiue
Ava Westbrooks
Vanicia Wilhite
Jai'dyn Williams
Jayden Windham
Schell Elementary
Leslie Tyson and Rachel Eldridge, Schell Elementary music specialists
Saanvi Andhavarapu
Ishya Jain
Arya Karthik
Kate Keller
Nagavenkat (Venkat) Modugula
Ava Nakhleh
Siri Peddinti
Shreya Ravi Shankar
JaMari Roberson
Jaime Ronquillo
Naisha Shrivastava
Skaggs Elementary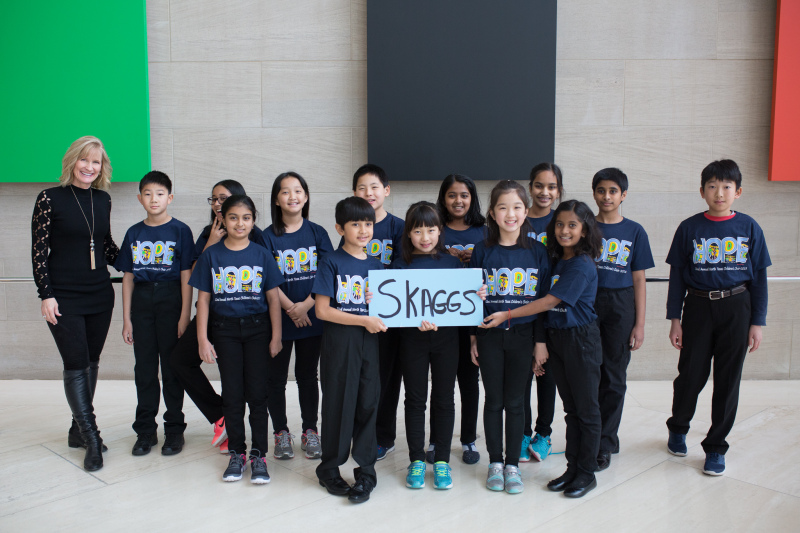 Skaggs Elementary NTCC permformers with Chantell Pickles, Skaggs Elementary music specialist.
Chantell Pickles, Skaggs Elementary music specialist
Kaitlyn Fan
Manya Gummaraju
Minseo (Sarah) Kwon
Abhinav Medarametla
Raksha Nattamai
Vedhav Nattamai
Mythili Pratap
Manvi Rawat
Arushi Sen
Lexing Wei
William Xie
Sherwin Xu
Iris Zhang
Stinson Elementary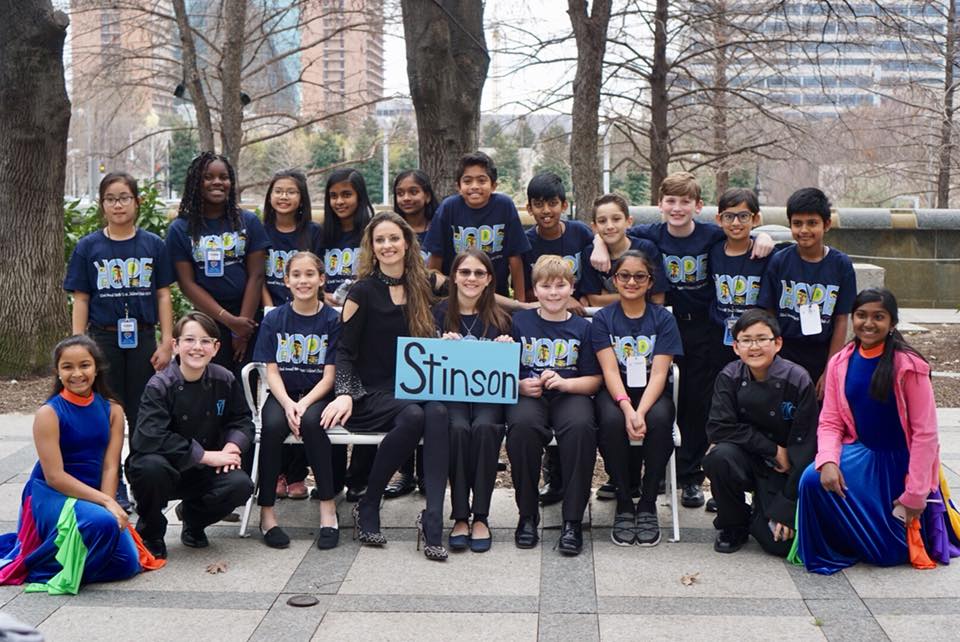 Stinson and Otto NTCC performers with Hillary Leverton-Nolasco, Stinson Elementary music specialist.
Hillary Leverton-Nolasco, Stinson Elementary music specialist
Toluwalope Ajibola
Sloane Briscoe
Pranav Gorty
Hrishikesh Harish
Isabel Heen
Charlie Hodges
Meher Jammalamadaka
Rayan Kisar
Eva Nguyen
Rohan Palivela
Shravya Palivela
Addison Pardini
Samien Rahim
Vishalya Sairam
Heather Vo
Jackson Zemanski