Return to Headlines
Feb. 27, 2018 - 67 Student Artworks Advance to State Visual Arts Scholastic Event (VASE)
At the Region 10 Visual Arts Scholastic Event (VASE) held in February, Plano ISD student works of art competed with a total of 2,297 regional entries. 555 works by Plano ISD students received a superior rating of IV - the mark of a superior, exemplary, work of art. A total of 67 pieces by Plano ISD students will be advancing to the State VASE on April 27-28 in San Marcos, Texas.
The Texas Art Education Association (TAEA) has sponsored VASE since 1994. VASE is the only art event of its kind in the nation. Students are provided the opportunity to bring artwork created in their art classes to a regional event where they are interviewed by certified, professional TAEA jurors.
The state VASE is intended to provide a forum for art teachers and students to meet and to grow artistically. All of the entries are exhibited and open for viewing after the jury process has been completed. This provides opportunities for students to view the works of other student artists.
Congratulations to the following students whose artwork has advanced to the state competition. View photo gallery.
Academy High School
Brianna T. Huynh, Beauty, teacher: Linda Aponte
Clark High School
Aditi Buch, Still Life on Wooden Background, teacher: Daren Causey
Allyson Vasquez, Minimalist Watercolor Portrait, teacher: Katherine Pinkham
Connie Xu, Girl on Bicycle with Dog, teacher: Daren Causey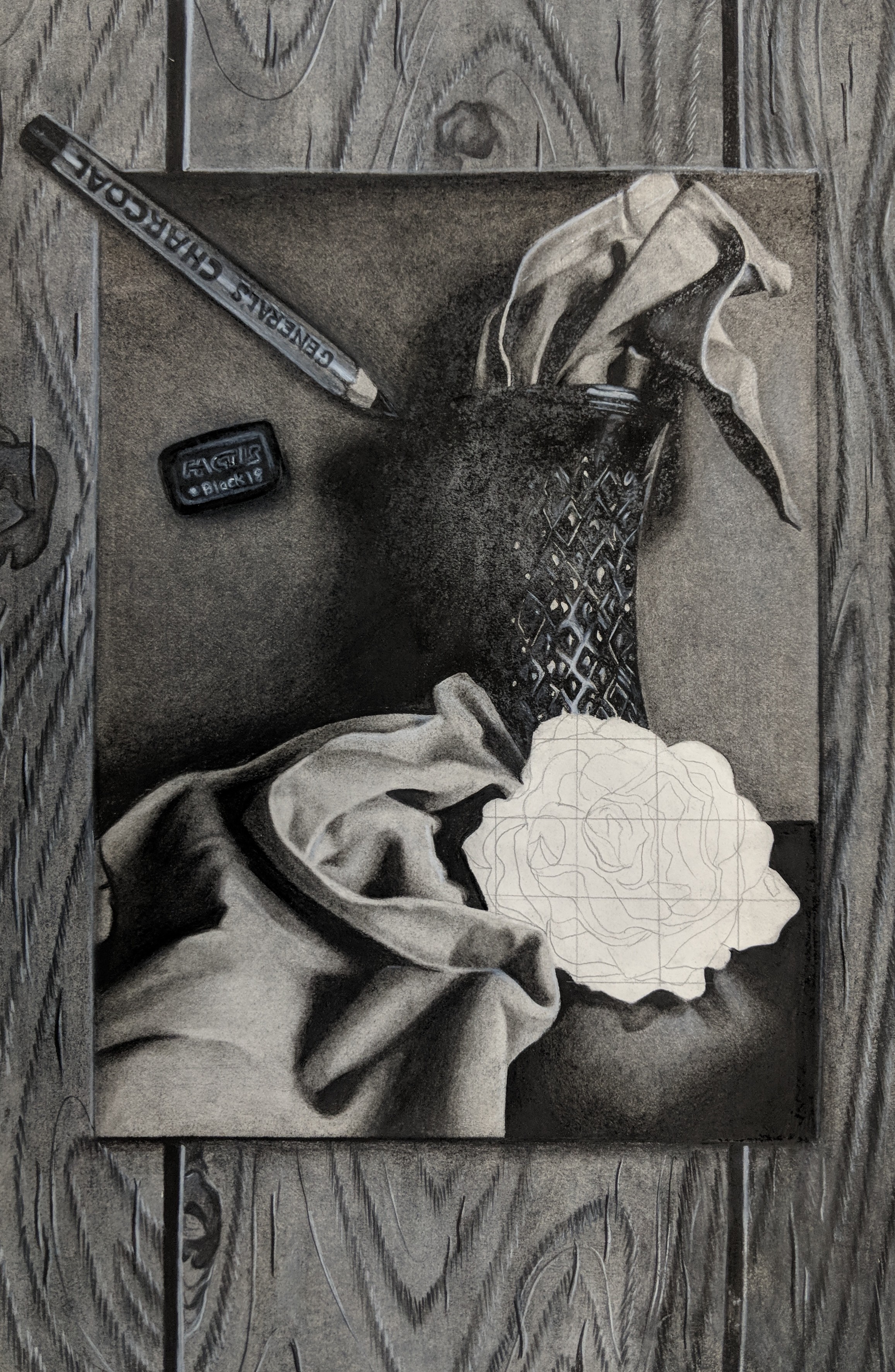 Division 1 (first year art student) artwork by Aditi Buch, Clark High School, Still Life on Wooden Background.
Jasper High School
Abhitha Batikeri, Dance Bells in Acrylic, teacher: Adriane Anderson
Doreen Chen, The Cowherd and the Weaver Girl, teacher: Adriane Anderson
Yayi Ding, The Jeweler, teacher: Adriane Anderson
Julia Feng, Self Portrait Showing Frustration, teacher: Adriane Anderson
Jennifer Huang, Fresh Produce, teacher: Sara Stevens
Katie Lau, Boat on Water, teacher: Sara Stevens
Tisha Nakakes-Nguyen, Blue River through Rocks, teacher: Adriane Anderson
Caroline Pastrano, Layers of Cake, teacher: Sara Stevens
Joyce Qin, The Forest from the Trees, teacher: Adriane Anderson
Emily Ren, Sushi, teacher: Adriane Anderson
Saamya Sekhri, Iguana!, teacher: Adriane Anderson
Jennifer Su, Macaroons, teacher: Adriane Anderson
Jennifer Su, Saxophone, teacher: Adriane Anderson
Varsha Sudeep, A Koi Story, teacher: Sara Stevens
Princeton Tran, American Leisure, teacher: Adriane Anderson
Princeton Tran, The Fuzz, teacher: Adriane Anderson
Yingjie Wang, Curious Bird, teacher: Adriane Anderson
Shirley Zhou, St. Paul's United Methodist Church, teacher: Adriane Anderson
Michelle Zhu, Fish on Ice, teacher: Adriane Anderson
McMillen High School
Chloe Chan, Wired Figured in Double Stag Pose, teacher: Patrick France
Tiffany Hoang, Escape (collage), teacher: Adriana Martinez-Mendoza
Chloe Quinn, Geometric Biped Robot View in Vr, teacher: Patrick France
Sydney Trieu, Bull Skull Watercolor, teacher: Adriana Martinez-Mendoza
Sophia Xu, Under My Umbrella, teacher: Adriana Martinez-Mendoza
Plano East Senior High School
Zach Chapman, Interactive Ledges, teacher: Colin McGrane
Prachi Dalal, Red Sox Player, teacher: Ashley Bruegel
Anuhya Kotta, Girl Painting Face, teacher: Andrea Weide
Andrew Lin, Wander, teacher: Ashley Bruegel
Luke Miller, Baobab Tree, teacher: Colin McGrane
Luke Miller, Transparent Victory, teacher: Colin McGrane
Peyton Mitchell, Lion, teacher: Colin McGrane
Angie Ngo, Green with Envy, teacher: Andrea Weide
Rachael Pham;Rock, Scissors, Paper; teacher: Colin McGrane
Abha Rathi, Dual Self, teacher: Andrea Weide
Emma Trussell, Broken Skeleton, teacher: Ashley Bruegel
Rebecca Yohannes, Duplicate, teacher: Ashley Bruegel
Kaitlyn Yuan, Self Portrait with Haunted House, teacher: Andrea Weide
Plano Senior High School
Xinyu Ai, Digital Woman with Winged Hair, teacher: Andrew Serie
Caroline Blanton, Portrait with Deconstructed Background, teacher: Allison Garrison
Christopher Brock, Horse Hair Fire Vase - Brown in Color, teacher: Andrew Serie
Gabrielle Domke, Portrait with Thermal Colors, teacher: Andrew Serie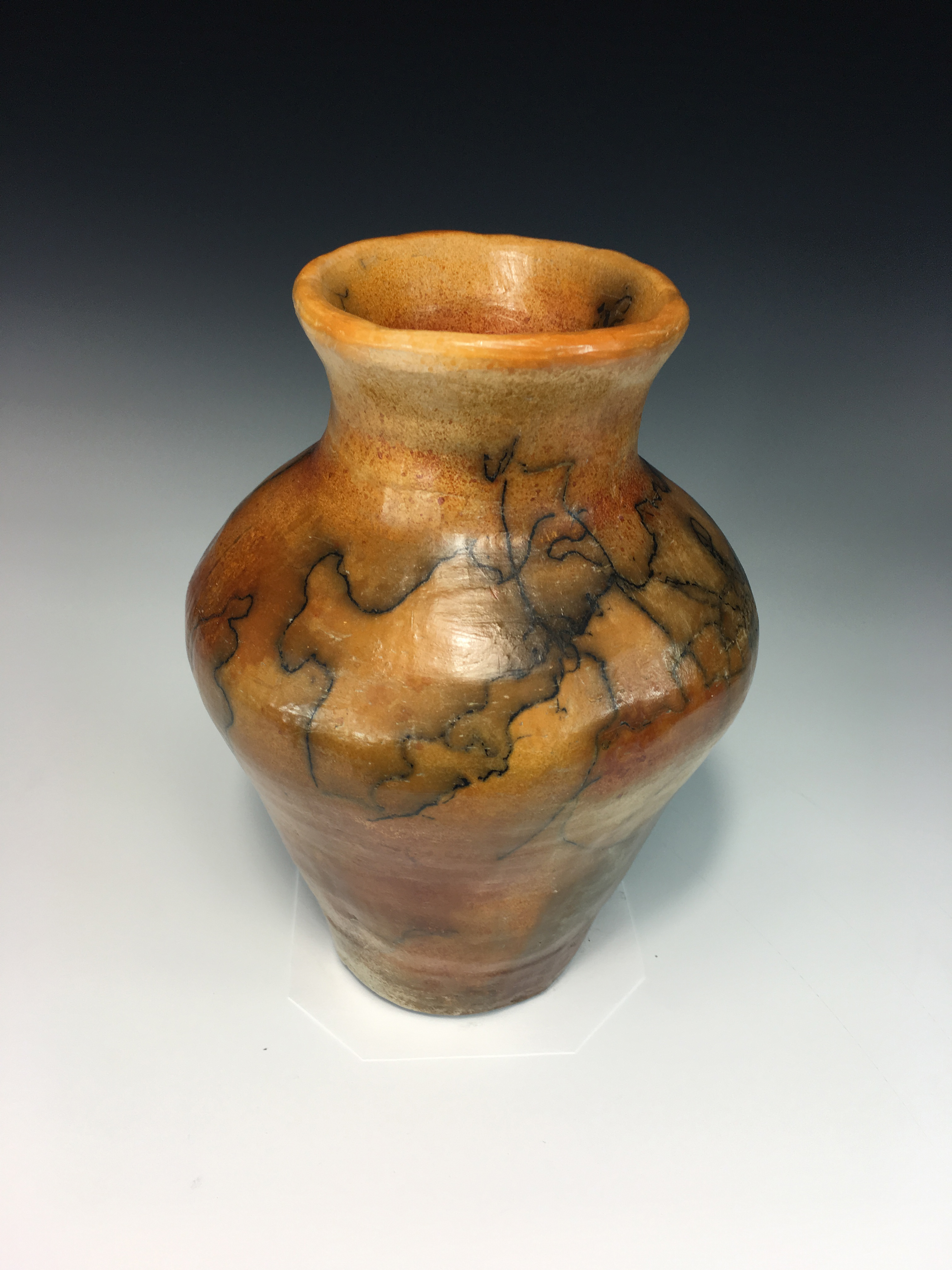 Division 4 (AP art) artwork by Christopher Brock, Plano Senior High School, Horse Hair Fire Vase - Brown in Color
Plano West Senior High School
Kaitlyn Alldredge, Shirtless Man Holding Up Hand, teacher: Ted Kincaid
Khyathi Gowkanapalli, Push-up in the Spotlight, teacher: Ted Kincaid
Anusri Gunde, Boy with Hands in his Hair, teacher: Ted Kincaid
Jacqueline Hawley, Girl with Hand on Face, teacher: Ted Kincaid
Kendra Huang, Human Resting on Dog, teacher: Ted Kincaid
Nathan Kwan, Brushpen Asian Cityscape, teacher: Sarah Depetris
Elle Misencik, Elle (self-portrait), teacher: Douglas Darracott
Pavithra Saravanan, Self Portrait with Hand on Chin, teacher: Ted Kincaid
Frances Wu, The House, teacher: Ted Kincaid
Ivy Wu, Old Man Holding Head in White, teacher: Sarah Depetris
Jiayi Zhu, Copper Plate Etching of Manhattan, teacher: Sarah Depetris
Shepton High School
Stephanie Chen, Large Vessels with Flowers, teacher: Melissa Pierce
Jane Lee, Embroidered Stressed Out Girl, teacher: Melissa Pierce
Krista McLeod, Stitched Watercolor with Ink Drawings, teacher: Melissa Pierce
Jessica Ouyang, Girl with Butterflies and Glass, teacher: Melissa Pierce
Jose Rodriguez, Magic Lamp Teapot with Cups, teacher: Kimberly Paser
Yumi Tateno, Girl in Water with Fish, teacher: Melissa Pierce
Minha Virk, Girl with a Rainy View, teacher: Melissa Pierce
Parto Zarei Kordi, Girl in Dust with Birds, teacher: Melissa Pierce
Regina Zhou, Color Blocked Portrait of Girl, teacher: Melissa Pierce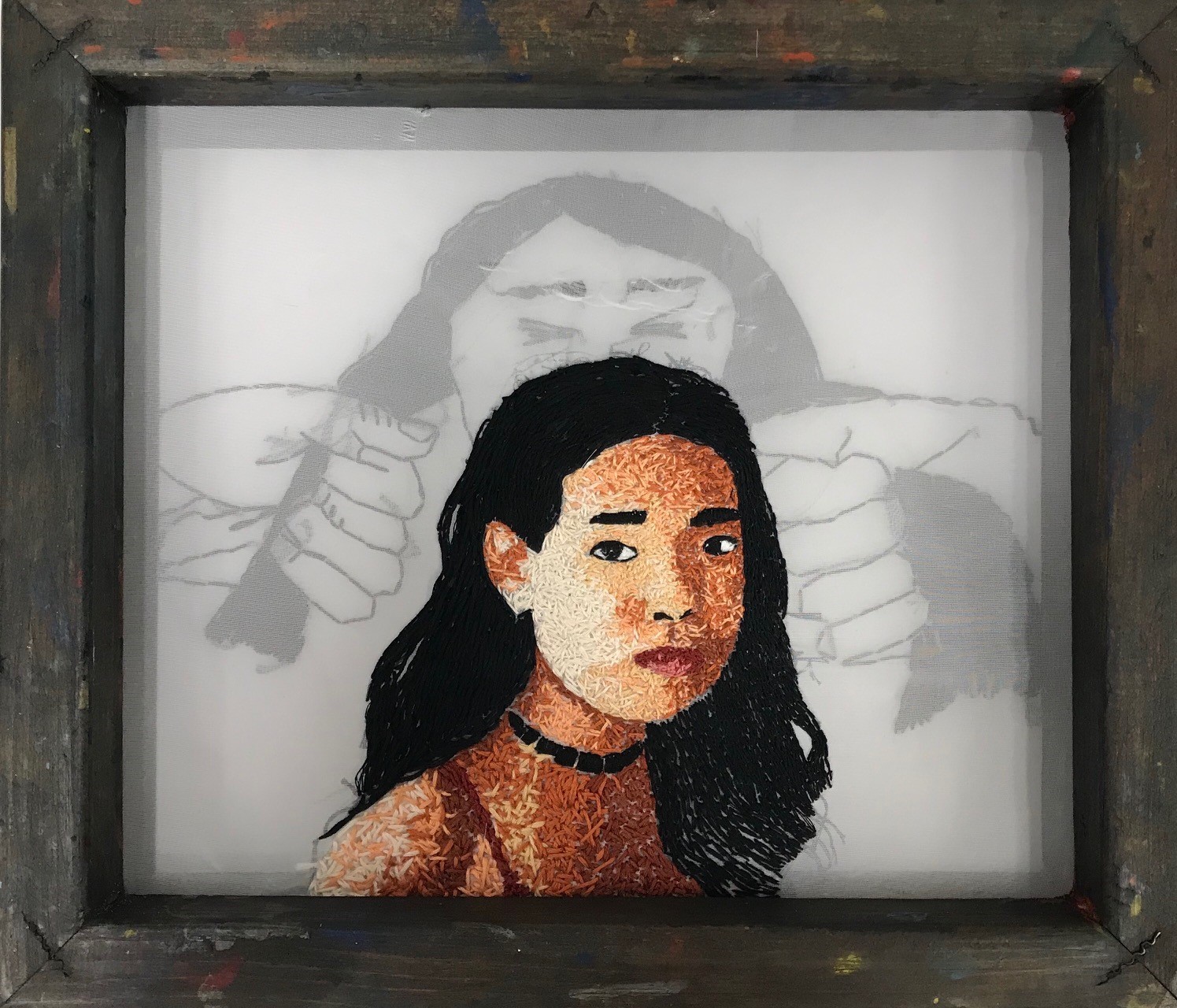 Division 2 (second year art student) artwork by Jane Lee, Shepton High School, Embroidered Stressed Out Girl
Vines High School
Emilee Row, The Saints, teacher: Ransom White
Williams High School
Byeolha Seo, Father with Pattern Shirt, teacher: Emily Garner