Return to Headlines
March 21, 2018 - Plano Principals' Association Awards Aspiring Administrator Scholarships
The Plano Principals' Association (PPA) awarded six scholarships to Plano ISD employees - three paraprofessionals and three aspiring administrators. Information about the Plano Principals' Association paraprofessional scholarship winners is available in Headline News.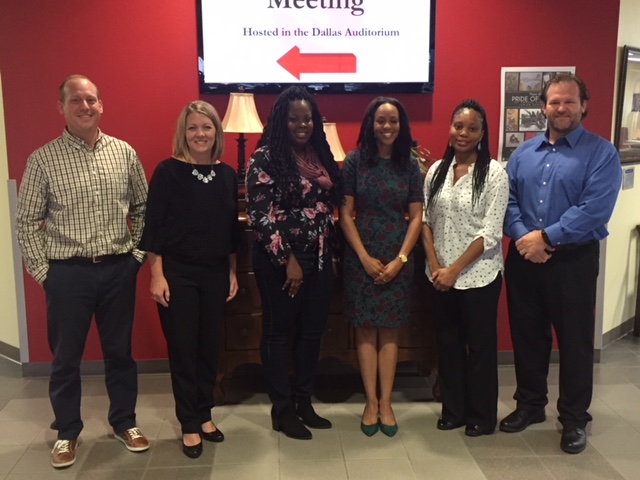 Pictured are Jordan Mullins, Rice Middle School; Stacy Lawrence, Wells Elementary School; Jessica Williams, Pearson Early Childhood School; Kimberly Tucker, Davis Elementary School; Ashley Thompson, Hughston Elementary School and John Lowrance, Huffman Elementary School. See Photo Gallery.
Aspiring Administrators Scholarships
The Plano Principals' Association (PPA) in support of leadership growth within Plano ISD has awarded scholarships of $1,500 each to three aspiring administrators who are full-time Plano ISD employees working towards either their masters' degree in educational leadership or their principal certification.
Winners of the PPA 2017-18 scholarships for aspiring administrators are:
Stacy Lawrence, Wells Elementary
John Lowrance, Huffman Elementary
Jordan Mullins, Rice Middle School
Continue reading for more information about these scholarship winners.
Stacy Lawrence
Letters of Reference from Wells Elementary Principal Sara Meyer and Daffron Elementary School Principal Stefanie Ramos.
Why did you choose education as your profession?
As a first grader, I absolutely loved school so much that I decided back then to be a teacher. When I was about 10, I set up a little classroom for my little brother and taught him how to read when he was four. I even planned learning units for him, just like the great teachers did for me when I was at school. Throughout my education in elementary school and high school, I never wavered from that commitment. With each teacher I met, I was always aware of what skills and attributes about them that I admired, and what about them I wanted to replicate. The desire to be a teacher started with a passion for learning, and grew into a desire to instill that passion in others. Along with that passion I also had a nurturing side that complemented taking students on a journey to learn and taking risks. Although the teaching profession has become about so much more for me, that little first grader that dreamed of being a teacher was given that gift because of the love she felt from her teachers, the risks she was allowed to take, and the learning opportunities provided. From that, blossomed the desire to be a teacher and put me where I am today.
What is leading you to educational administration?
When I first started teaching right out of college, I didn't imagine that I would one day end up moving towards a role as a school administrator. My passion for teaching and being in the classroom was providing me with such a rewarding career, but along the way, things started to point me towards leadership. I realized my talents for teaching were being noticed and used as a resource to support other teachers. I would get asked to be in district committees in Minnesota. After a year of being in Plano ISD, I was asked to be a team leader. I realized that others saw leadership capacity in me and provided opportunities that created my awareness that I had skills for leadership. When I made the decision to become an instructional specialist six years ago, it came from the mindset that I could take my passion for teaching and impact the entire school in this role. My philosophy was that if I could support a building of teachers, then my impact was multiplied beyond the walls of my classroom. I could support hundreds of students, by supporting teachers. Throughout these years as instructional specialist, I have had educational leadership on my mind, watching and learning from my administrators and taking on leadership tasks. When Plano ISD announced its investment in the Leadership Development Academy, I knew this was the perfect time to move forward and enroll in graduate coursework, so that I could be part of this initiative to build leadership capacity in teachers aspiring to be administrators. I believe the 24 years of experience in education that I have accrued have developed me as a master teacher and given me leadership experiences to be well prepared for the next step.
School vision and implementation.
My school vision is to create an environment where staff and students continuously learn and grow within an inclusive school climate where staff and students' social and emotional needs are met as they work towards a common goal of learning.
My school vision will be developed by working closely with staff members by first determining the "baseline" of where the campus is performing. It will be important to assess the current needs and performance of a campus, including gathering data from staff and students. After that, it is essential to use that data to determine learning goals for the campus that align with the district initiatives and state learning standards. My vision is to create an environment where staff and students continuously learn and grow, so finding that baseline will help determine what learning goals will help improve a campus and grow them beyond their current state. In creating an implementation plan to meet those goals, it will be important to identify the strengths of staff members and work towards placing those teachers strategically in positions to impact change, such as serving as mentors for others or leading a professional learning community. I believe the development and implementation of the vision will take time. If the staff is not included in the process and a continuous progress model is not utilized, a vision is hard to develop and cannot be forced. Staff need to be reinforced for their strengths, engaged in the improvement process and data must be used periodically to determine which efforts are showing growth and to help make future decisions. As a leader, I see myself facilitating the process to build the vision throughout the school, creating the supports to impact growth and providing the framework for measuring that growth.
As a campus administrator, how will you develop leaders on your campus?
I believe strong leaders are able to assess the strengths of their staff. Using that information, I would encourage development of leadership by giving those staff members opportunities to share that strength with others. For example, if there is a teacher who is skilled with instructional strategies, I would have her/him help lead professional development activities on the campus and be a mentor for a teacher who may need some ideas in that area. By giving the staff member this opportunity, she is able to develop some experience in leading by sharing her strengths with others. This can work when you have a campus that promotes a growth mindset where everyone is continually learning and seeking to improve the system through collaboration. When I was a first grade team leader, I often included a fellow team member in discussions about how our team was working, made an effort to engage her in discussions about student learning and gave her chances to experience some parts of my role that other team leaders in the building may not have been realizing. By creating this dynamic, when I stepped into the instructional specialist role, this team member flowed smoothly into the first grade team leader position. Although I was the team leader, I was developing her capacity to be a leader. As an administrator, I can develop leaders by giving staff members opportunities to branch out from their roles in the classroom and strengthen their skillset. Just as I was identified for leadership opportunities over the years, I need to work towards developing the leaders in my school by providing them opportunities in a supportive, collaborative school environment.
John Lowrance Physical Education Teacher, Huffman Elementary International Baccalaureate Primary Years Program Candidate School
Letter of recommendation from Huffman Elementary Principal Jamey Allen.
Why did you choose education as your profession?
I have known since I was a sophomore in high school that I wanted to go into education. As an athlete, I can remember my coaches correcting, motivating and pushing us to be our best. The inspiration of their influence has stayed with me to this day. The greatest impression left with me at the time was while they were instructing us and motivating us to give our all, they were having fun at the same time. I said to myself right then and there, I want to have a job where I can have fun every day! I want to enjoy what I do for a living. From that point forward, my path was clear. I set my sights on becoming a teacher and a coach. Looking back, I feel very fortunate that I had decided on my career, path before I ever entered my first college classroom. So many of my friends had no idea what they wanted to do or who they wanted to become. I knew my path, I knew myself. I set a goal, and I attained that goal with fervor and dedication. I have not regretted this chosen field for one moment of my 20+ year career.
What is leading you to education administration?
As I have grown older, my priorities have shifted. The demands and the hours required to be a successful coach at the varsity level in Texas are immense. The toll those requirements were taking on my family was becoming more than I wanted to bear. As a result of much thought, and careful consideration, this year I decided to step away from coaching and concentrate solely on teaching. The most difficult part of the transition has been knowing my desire to be a leader is as strong as ever. I do believe I can be a great leader as a teacher, but I want more. I want to have a greater sphere of influence. My passion for leadership and for children only continues to grow as I get older. My wife and I believe transitioning my career into administration is a natural next step as the move will allow me to continue to grow professionally, personally and in the area or which I will have the most influence as an educator.
School vision and implementation
If I were to close my eyes and envision a school with myself as the leader, I would want that environment to be one where educators and students alike felt welcome in their differences and safe in their learning experience. Empowering students through learning and providing them with the opportunity to be successful members of society really resonates with me. I believe it is important to teach all students that they are capable of achieving greatness when they seize the opportunities they are given, regardless of their circumstances.
Keeping the above concepts top of mind, I would begin to develop the vision by aligning my ideas with the existing vision of Plano ISD. I believe it is very important that students receive consistent messaging throughout their educational experience. Once alignment had been verified, I would sit down with my campus leadership team to discuss mine and their ideas of the campus vision. A collaborative approach would certainly be undertaken to create the final vision statement. After all ideas were discussed, we would create four versions of a new vision. The versions would then be submitted to the entire staff for voting. The most popular version would then be adopted as our school's official vision statement. Once fully developed and made public, I would implement the vision in several ways. For example, all staff members would be encouraged to include the statement as part of their professional email signature. The vision would also be visible on the school's official letterhead. Additionally, I would find a place in the main hallway of the school, or somewhere highly visible, where the vision could be prominently displayed in the form of a mural or something similar.
As a campus administrator, how will you develop leaders on your campus?
I believe leaders are developed in many ways. One of the most impactful ways to develop future leaders is by providing an excellent example of leadership. Administrators play a key role in this area. Principals and assistant principals must exhibit good leadership characteristics at all times, whether on campus or in their personal lives. They need to be held to a standard above the rest in the way they present themselves and represent the school. Leaders need to guide, motivate and inspire. At the same time, effective leaders must also be approachable and those they lead need to feel comfortable coming to them with questions or problems that may exist. I believe another great way to develop leaders is to provide staff members with leadership opportunities. Believing all teachers are by natural leaders, and there are few better teachers in life than experience, all an administrator should need to do is harness those natural leadership characteristics and experiences into the leadership of their colleagues. This can be accomplished by providing opportunities for them to lead professional development sessions or to lead a committee or special interest group. At the end of the day, developing leaders is largely about pouring into a person daily and giving them the confidence they need to lead others. Just as we want to empower our students with knowledge and understanding, so too should a good principal empower their staff members with confidence and ability.
Jordan Mullins
Letter of Reference from Rice Middle School Principal Chris Glasscock
Why did you choose education as your profession?
I became an educator because my life path made a difficult choice - no choice at all. Let me explain. I was not an education major at Baylor; I was an economics major. I had dreams of going to law school and maybe one day getting my doctorate in economics. I wanted to be a researcher at a famous institute like the Brookings or the Hoover Foundation, maybe even a policy writer. When I graduated from Baylor, I was fortunate to be accepted to Georgetown Law, my dream school in my dream city. In the late Spring of 2006, my mother and I boarded the first flight I had ever been on and went to D.C. for student orientation. The trip was incredible; D.C. was everything I thought it would be. After growing up in Duncanville and living in Waco for four years, D.C. might as well have been Rome at the height of its imperial glory. And that is exactly what I wanted out of it, glory. The orientation was inspiring, so many ambitious young people coming together in a place where so many ambitious young people had come before and climbed the mountain of success in one of the most competitive places in the world. It was great, up until the final session of the orientation, the finance seminar ... I knew it was going to be expensive, I had seen the numbers before, but when I was faced with the prospect of three years of loans at $75k minimum each year, I balked. It was the first sound financial decision I ever made, and it propelled me into the wonderful life I now lead. I decided not to attend Georgetown that semester, over the next couple of years I bounced around, law clerk in Waco, investment advisor in Dallas, field engineer for a gas pipeline contractor, but I was never content, law school was always going to be the next thing. Then I was inspired by my girlfriend, soon to be fiancé, soon to be wife. She was, and still is a Plano ISD employee and it struck me one evening when we were talking about our days. She has such passion, she loves what she does, and she is helping people that need help the most. It was so fulfilling for her, and so inspiring to me. It was clear to me; I had to be a teacher. I always loved school. In turn, I realized that the reason I really wanted to go to law school was because I wanted other people to think that I was smart or successful, but that would truly never bring fulfillment to my life. The next day I contacted Region 10 about alternative certification, and I have never worked a day since. I love what I do. I am passionate about education. I am passionate about being a community leader and someone that brings out the best in others and supports them in discovering their talents and reaching for the dreams of their heart. Everyone should be as lucky as me, living a fulfilled life doing what he or she loves.
What is leading you to educational administration as the next career step?
I am being led into educational administration by an accumulation of experiences over the last decade. Simply stated, I have always assumed informal leadership roles, people look to me to lead, I am not afraid to fill that role, and I cherish the opportunity to guide and influence others. On a more personal note, I have a passion for the way I believe education should be administered. Education is changing and will look drastically different by the end of my career, hopefully, decades from now. I want to be a part of that change. I want to advocate for children during this change. I want to be a promoter of social emotional learning, student choice, radical differentiation. I feel I have something to offer and will pursue education leadership to find a position to best serve others.
School vision and implementation
My school vision is to facilitate an educational environment where all students are provided with a personalized academic experience that draws out their innate talents and are given individual choice to create knowledge and learning that is meaningful for them as 21st Century learners. Additionally, all school staff feel valued and each staff members' individual strengths are joined to create an effective and dynamic environment for staff and students alike to flourish.
This vision will be implemented by developing relationships first. Caring for people and convincing them that I want them to be successful; I want them to dream big and realize those dreams. Second to developing relationships will be the promotion of the vision of differentiation and the harnessing of diversity as a strength. I will model committed listening and stress the importance of the identification of strengths for staff and students through professional development, staff meetings, memos, newsletters and formal and informal conversations. When we focus on our strengths and the strengths of our students, we are stronger.
As a campus administrator, how will you develop leaders on your campus?
Again, developing leaders will start with developing relationships. I will study my staff and use what I learn about them to provide opportunities for them to assume leadership roles that fit their strengths and interests. Every person is different and responds differently to responsibility, it will be up to me understand the differences among the staff and find the right fit for each person on campus. Lastly, I will communicate to all staff the lessons from the book You Don't Need a Title to Be a Leader, mainly being that at the heart of every successful organization is a title-less person. Everyone can be a leader and leadership can and does look different for everyone.
Information about the Plano Principals' Association paraprofessional scholarship winners is available in Headline News.