Return to Headlines
March 21, 2018 - Plano Principals' Association Awards Paraprofessional Scholarships
The Plano Principals' Association (PPA) awarded six scholarships to Plano ISD employees - three paraprofessionals and three aspiring administrators. Information about the aspiring administrator PPA scholarship winners is available in Headline News.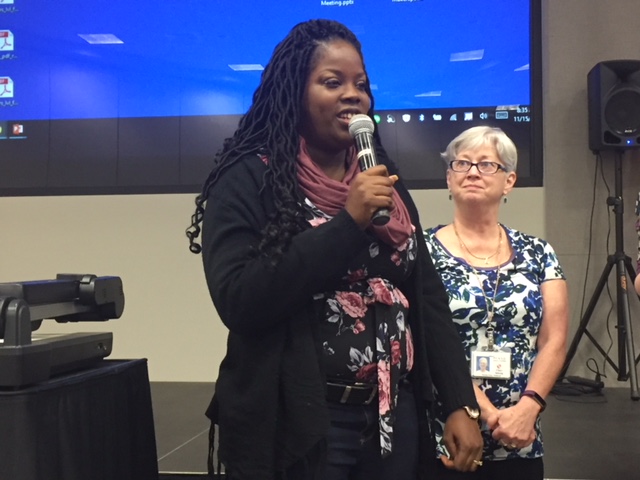 Jessica Williams, Pearson Early Childhood (left) pictured with Pearson Early Childhood School Principal Dr. Cheri Izbicki at the awards ceremony. See more photos in the Photo Gallery.
Paraprofessional Scholarships
Three $1,500 scholarships have been awarded by the Plano Principal's Association (PPA) to winning applicant paraprofessionals who seek college hours. Scholarship winners were selected using the following criteria: commitment to children, future plans and need.
Winners of the PPA 2017-18 paraprofessional scholarships are:
Ashley Thompson, Hughston Elementary School
Kimberly Tucker, Davis Elementary School
Jessica Williams, Pearson Early Childhood School
Keeping reading for more information about teaching philosophies and future career goals of these scholarship winners.
Ashley Thompson Special Education Assistant, Hughston Elementary School
Letter of recommendation from Hughston Elementary Principal Carrie D'Argo
Teaching Philosophy
My philosophy of teaching is that I believe in my students no matter what their capability is. I feel, that as a teacher, I must be patient and understanding of the students and the parents, remaining professional and understanding in all situations that I may encounter during my career as a teacher. My goal is to grow educationally with my students. By this I mean trying all methods of teaching to help them learn and do what works for them in the classroom.
Future Career Goals
My future goal is to help shape special education into a better program for families and their children by giving them a more positive outlook on their child's disability, knowing that there is hope for their child's education. I want to show the parents that there are teachers who will love their children and want them to feel safe while they are at school. As a teacher, I want to have that goal of being a great role model and inspire my students to want to learn.
Kimberly Tucker Special Education Paraprofessional, Davis Elementary School
Letter of recommendation from Davis Elementary Principal Karma Cunningham.
Teaching Philosophy
I believe education is one of the most important tools a person can have in life. Every child deserves to receive the best education possible, regardless of special needs or being placed in the least restrictive environment. Gaining necessary life skills and learning how to relate and communicate with people from different walks of life is highly imperative to the academic growth and success of any student. Every child is unique, and with guidance and support, a safe and positive school and classroom environment, understanding of their particular needs, security, and a variety of opportunities to learn by incorporating the intelligences and learning styles of each and every student. My goal as an educator is to encourage all students to understand and celebrate the differences that make each individual special. I believe that understanding diversity is an important skill not only as part of a classroom, but as part of a community for continual learning and growth. One of my hopes as an educator is to instill a love of learning in my students as I share my own passion for learning with them. I feel there is a need for strong and dedicated individuals who are excited about working with children. In our competitive society, it is important for students to not only receive a solid education, but to work with someone who is aware of and sensitive to their individual needs. Teaching is a lifelong process of learning about new philosophies and new strategies, learning from the parents and community, learning from colleagues and especially learning from the children. Children have taught me to open my mind and my heart to the joys, the innocence and the diversity of ideas in the world. Because of this, I will always remember how to smile with the new, cherish the old and laugh with the children.
Future Career Goals
In my future in the field of education, I plan to continue to inspire children and my peers daily, obtain my teachers certification, gain employment as a certified teacher within Plano ISD, and after several years of experience, I will grow into an administrative role as a school principal.
Jessica Williams Paraprofessional, Pearson Early Childhood School
Letter of recommendation from Pearson Early Childhood School Principal Dr. Cheri Izbicki.
Teaching Philosophy
I believe that children are the future, and it is our goal to do everything we can, so they can have a successful future. I believe that a good teacher must also understand motivation and the effects of peer interactions on learning. A good teacher cannot begin or continue to inspire learning without being a learner. A skillful educator builds good relationships with her students based on mutual respect and trust and sets the tone for a classroom. My duties would be to provide them with the tools to be successful and allow them to build relationships while learning. A welcoming atmosphere is very important, as well as conducting myself with professionalism and consistency while sharing my passion for their learning each day!
Future Career Goals
My future career goals are to become a lead teacher in a special education classroom. After being in the classroom for many years, I would like to then proceed to becoming a behavior specialist.
Information regarding the aspiring administrator PPA scholarship winners is available in Headline News.