Return to Headlines
March 21, 2018 - First Annual Computer Science Teacher Collaborative Conference
On February 10, Plano ISD hosted the first annual mini-conference targeted to high school computer science teachers - the 2018 Computer Science Teacher Collaborative Conference. The conference hosted 60 computer science teachers and administrators from 26 North Texas school districts and three of our computer science related university partners. Presentations were made by representatives from UT and UTD as well as Plano ISD. The conference goal was to create an opportunity for Computer Science teachers to network, collaborate with others who teach this content and learn together. "At this conference, attendees were able to share ideas, collaborate and update their own knowledge about evolving areas in computer science, and teachers formed a network of contacts through their attendance," said Dan Blier Plano ISD computer science specialist and Dallas/Ft. Worth Computer Science Teachers Association (CSTA) president.
Agenda
Lessons Learned from Programming Sequence Courses in UT Dallas
Presented by Jey Veerasamy, Center for Computer Science Education & Outreach Director, The University of Texas at Dallas
Session Description: Bachelor of Science computer science curriculum contains a series of three programming courses (introduction, OOP and advanced). We use to teach using Java ten years ago, then moved to C++, C++ and Java to ensure that the students are good in at least two languages. We also have another degree program B.S. ATEC (Arts & Technology). Students in that major are required to do a three-course sequence as well, but could not cope with the rigor. After careful analysis, we came up with the following sequence: KhanAcademy JavaScript, Processing & C# with Unity. We will share our experience with this approach. Additionally, we will cover a few other topics like auto-grading and programming competition problems. Aligned to Courses: Computer Programming, Advanced Computer Programming, Computer Science I, Computer Science II, Computer Science III / Session Strand: instructional strategies to engage all learners
Chunking the Programming Process to Support Student Learning
Presented by Dan Blier, Computer Science Curriculum Specialist, Plano ISD & DFW CSTA President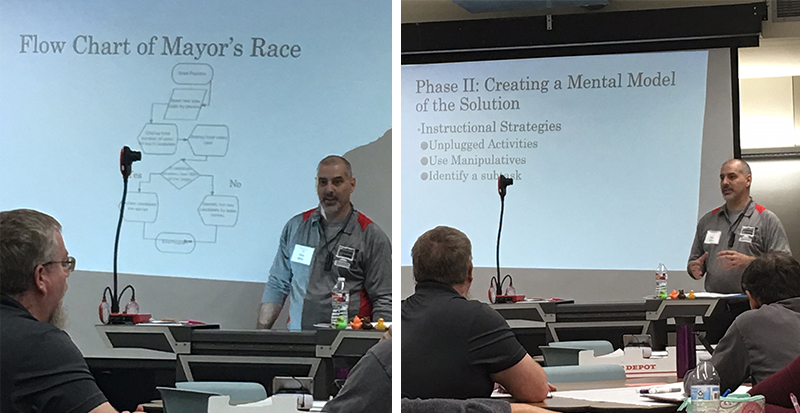 Plano ISD Computer Science Curriculum Specialist Dan Blier presenting at the conference.
Session Description: Have you ever wondered why your students do not understand or 'make sense of' the programming process? How can we help students to better advocate for their learning needs? This session will explore various instructional strategies students and teachers can use to develop student understanding of programming elements. We will walk through six phases of programming to establish in-class support structures for students that help make programming more transparent. By breaking down the programming process, teachers and students can better identify the obstacles hindering the programming process. Attendees will leave with access to samples of active learning resources to use when guiding and supporting students through one or more of the phases of programming. Aligned to Courses: All computer science courses / Session Strand: Instructional strategies to engage all learners
Sharing Great Ideas


Presenters: Robin Bailey, Plano ISD computer science teacher & DFW CSTA Treasurer and Sylvia Bavarian, Carrollton-Farmers Branch ISD computer science teacher

Session Description: Sharing what we do in class and allow others to do the same. Documentation that is shared during this session will be shared with all. Aligned to Courses: Computer Science I, Computer Science II, AP Computer Science A / Session Strand: curriculum connections - creative coding resources


We Teach_CS and You Can Too!


Presented by Carol Fletcher, The University of Texas at Austin - WeTeach_CS Deputy Director, Center for STEM Education
Session Description: Is your district looking to build a K-12 computer science program? UT Austin's WeTeach_CS program has supported over 400 Texas teachers to add a high school computer science certification in two years. This TEA funded program will share hands-on resources for improving the K-12 computer science pipeline in your district and professional development opportunities that support both new and experienced computer science teachers. Aligned to Courses: all computer science courses / Session Strand: curriculum connections - creative coding resources
Effective Strategies for Inclusive and Effective Teaching


Presented by Kate Woodward Young, Center for STEM Curriculum Developer, University of Texas
Session Description: This primer session will introduce you to the new course offered by the University of Texas, Center for STEM. Understand how your personal biases affect your teaching and recruiting. Participants will explore an unplugged activity and effective strategies for reaching under represented populations. Additional tips for recruiting will be shared during the presentation. Aligned to Courses: all computer science courses / Session Strand: Instructional strategies to engage all learners
Keynote Speaker
The Future Needs Software Engineers: Key Technologies and Skills at the Dawn of the Next Industrial Revolution


Presented by Darryl Nelson, Director, Raytheon
Session Description: Numerous technology experts claim that humanity is on the cusp of a new industrial revolution where digital, physical and biological domains converge. Holding the promise of widespread human flourishing through world changing advances in healthcare, manufacturing, transportation, education and many other areas, software is the driving force of this new age. Bringing it to fruition demands a new generation of software technologists who have the skills to harness the power of digital technology that automate, direct, connect and control the physical world of the future. This presentation will discuss key technologies for the so-called 4th Industrial Revolution including the artificial intelligence and machine learning, autonomous systems, robotics, Cloud Computing, Internet of Things and cyber security. Likewise, the skill sets required to deliver, design and build these technologies will be covered with an emphasis on free software tools that are available today.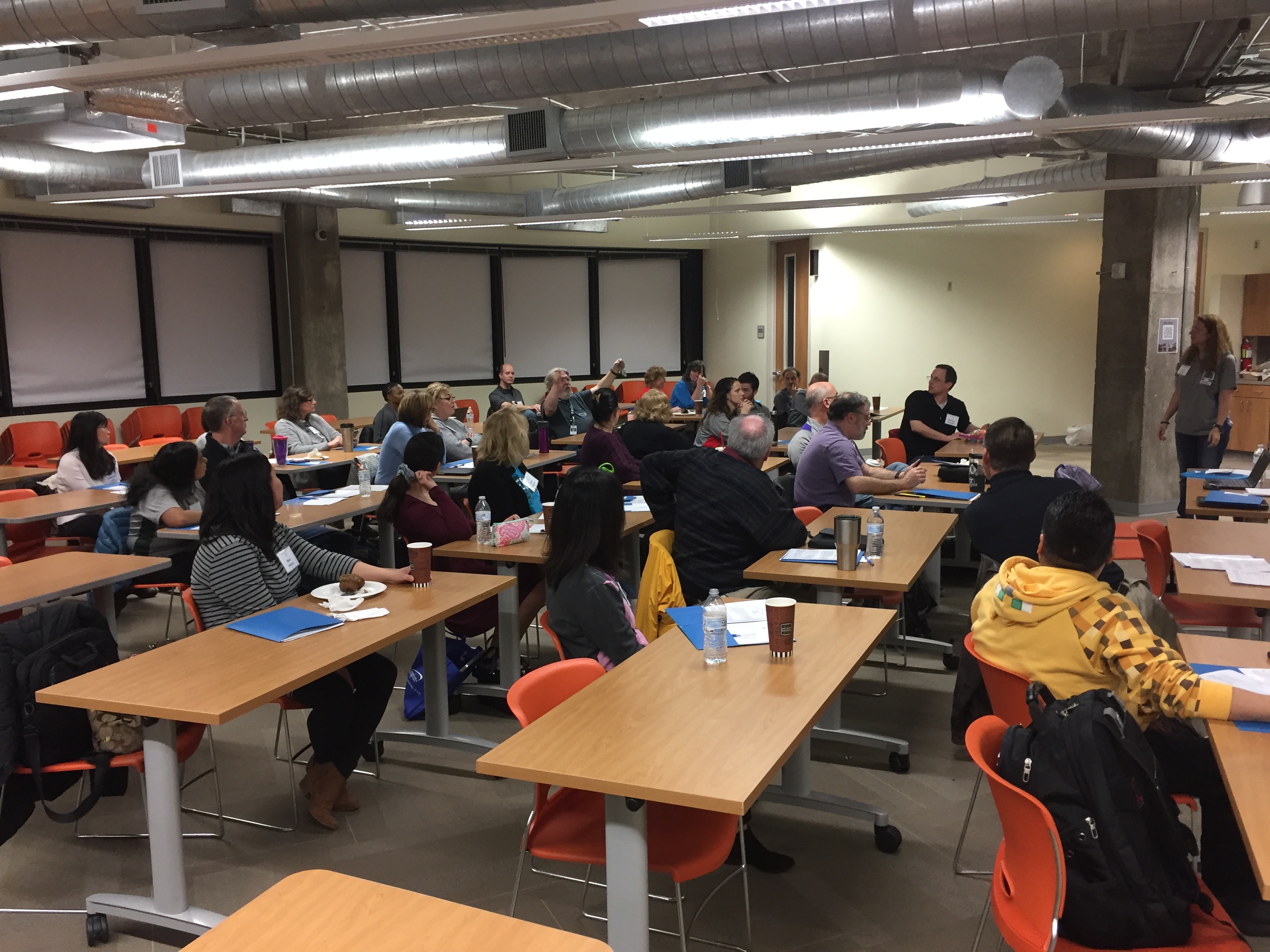 Teachers learning and networks at the Conference.
About the Keynote Speaker
Darryl Nelson, conference keynote speaker, is an Engineering Fellow and leads the Raytheon Analytics & Sensing Capability Center. In this role, he directs strategic R&D efforts in advanced analytics including machine learning and big data. Mr. Nelson has previously delivered software systems for Special Operations Command (SOCOM), the US Army and the Intelligence Community in various roles including software engineer, architect and chief engineer. Prior to Raytheon, he worked as a software developer at Travelocity, Sam's Club and startups. He has a Master of Engineering degree from Texas Tech University, a Bachelor of Science in biology from the University of North Texas and served in the US Army as a tanker in the 2nd Armored Division "Hell on Wheels." Mr. Nelson and his family reside in Plano, Texas.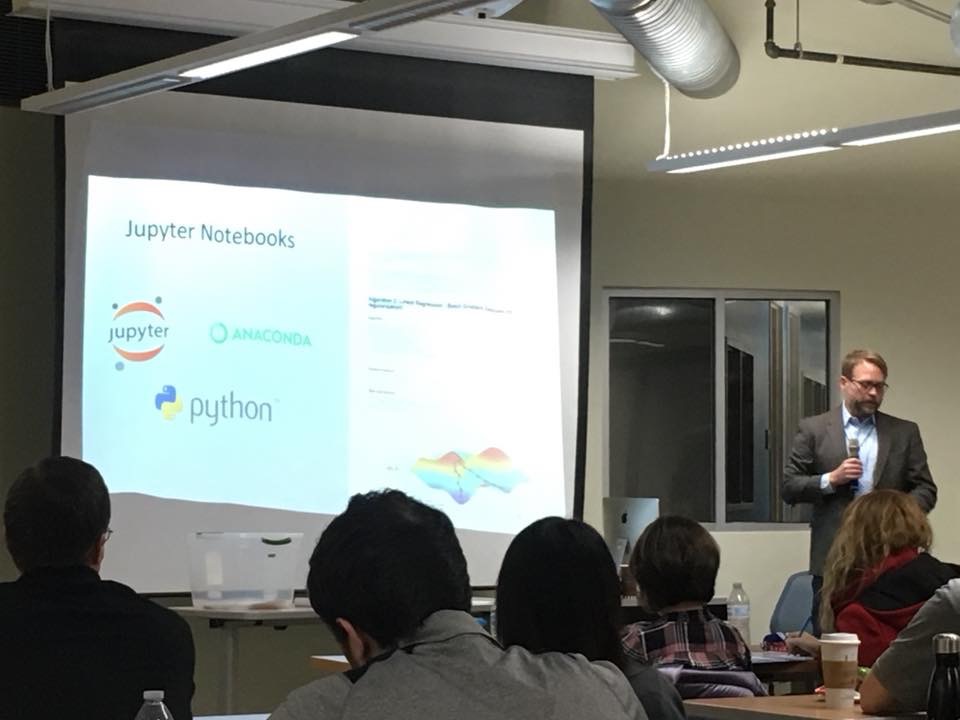 Keynote speaker, Darryl Nelson.