Return to Headlines
April 16, 2018 - Rodney Belcher, Plano Senior High, Awarded Coach of the Year by TABC and the "Dallas Morning News"
Named as the 2018 Texas Association of Basketball Coaches (TABC) Girls Basketball Coach of the Year, as well as the Dallas Morning News Coach of the Year, Rodney Belcher was also honored with a certificate of recognition from the Plano ISD Board of Trustees at the April 10 meeting. Belcher is the head coach of the Plano Senior High Lady Wildcats girls basketball team which won the 2018 UIL 6A State Championship on March 3.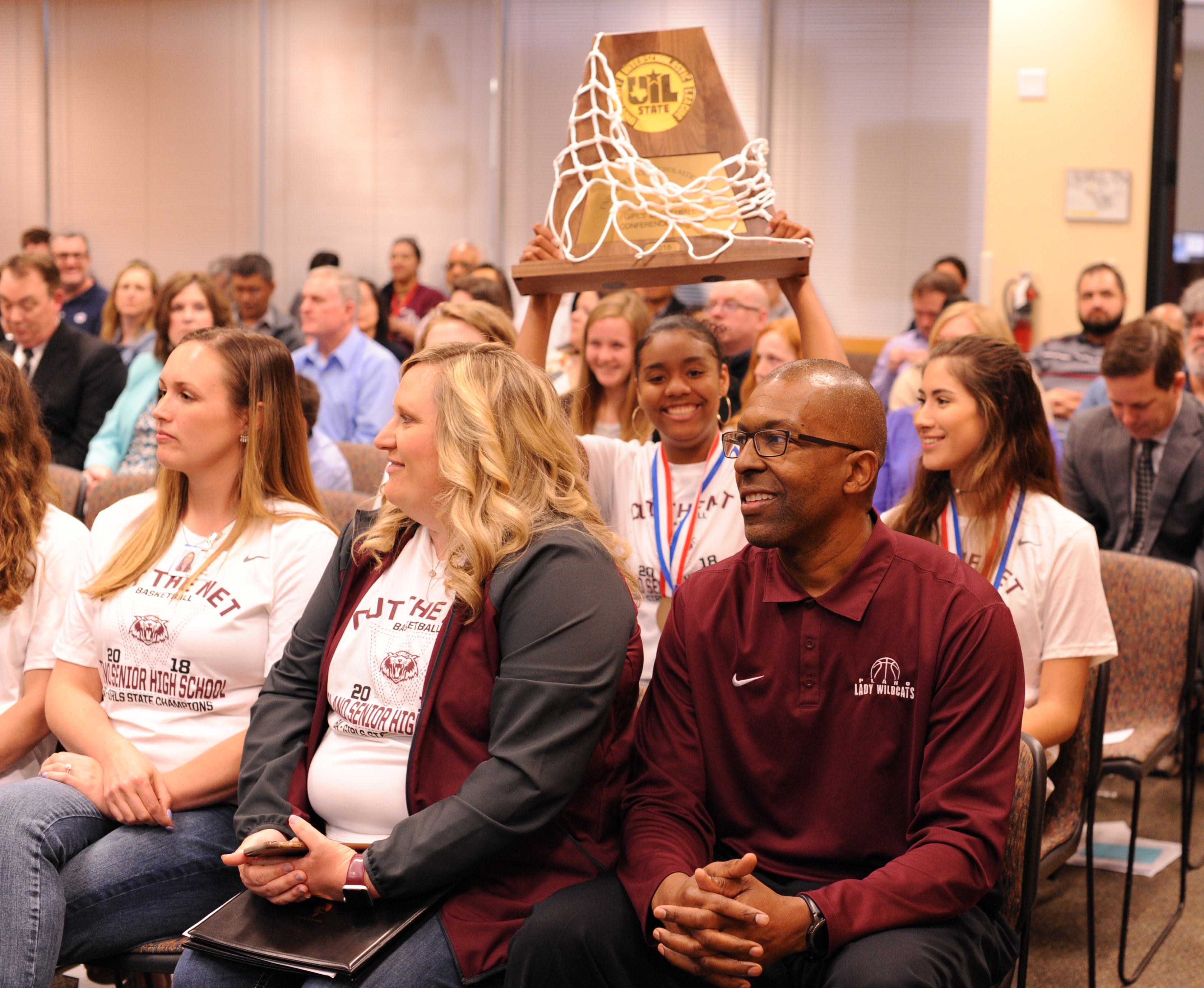 Pictured at the board meeting are Assistant Coaches Kelly Stallings and Courtney Warner with Head Girls Basketball Coach and "TABC Coach of the Year" Rodney Belcher. Holding up the UIL State Championship trophy is Lolo Davenport, Plano Senior High School senior and championship game MVP.
Coach Belcher is a former athlete himself who has spent the last 30 years coaching student athletes. He began his career in Plano ISD at Vines High School coaching boys football, baseball and basketball in 1990 and then at Plano Senior High in 1993-94. He left Plano ISD to coach in Dallas and McKinney ISDs and then in 2001, he began coaching at the college level at the University of New Mexico and Baylor University, coming back home to Plano ISD in 2006 as the Lady Wildcats' assistant girls basketball coach. Belcher was promoted to head girls basketball coach in 2014.
Beyond the state championship and the great team at Plano, Coach Belcher says that his job is doubly rewarding because for the past 12 years he also teaches PE at Shepard Elementary - something he really looks forward to and enjoys. Additionally, he has spent twenty years or more coaching outside the school environment at summer programs like Upward Bound and as a college student himself at the University of North Texas. So it's safe to say that coaching is his life's work.
Although he began his career coaching boy's sports, when he had the opportunity to coach girls basketball he never looked back. Belcher says he enjoys coaching girls because, "the girls have a team attitude. They want to get better to help their team, and they are out there playing as hard as they can."
It's been rewarding to coach girls basketball at Plano. "These are good kids, smart academically and are learning new stuff all the time that takes the team to a new skill level. Every year they get better and grow more confident."
What were some challenges you faced coaching Lady Wildcats basketball?
Creating the sense of "togetherness." Many of these girls have been playing basketball since elementary school sometimes on opposing teams, so at this level of play, team building activities have been important. We encourage them to be family, allow them to take risks and to know it's okay to make mistakes. If they make a good play, we let them know and compliment them in front of their teammates, and we encourage them to complement each other. "What I really like to see is, when we coaches give constructive advice, and we see the girls encouraging and standing up for each other. They are 'all in' for the team."
What made this year so successful?
Experience is important. These girls have been playing since third grade or even before that. They have formed a close-knit group; some of them were playing together as freshmen. They have talent, and they are the right mix of role players. They also had a strong schedule, playing against the top teams in the state and in the nation which has resulted in a team that keeps getting better every year. These girls play year-round and against some of the best players in the game. According to Kelly Stallings, assistant varsity coach, "The team has a trusting family relationship and they fight for each other. The team wanted this championship."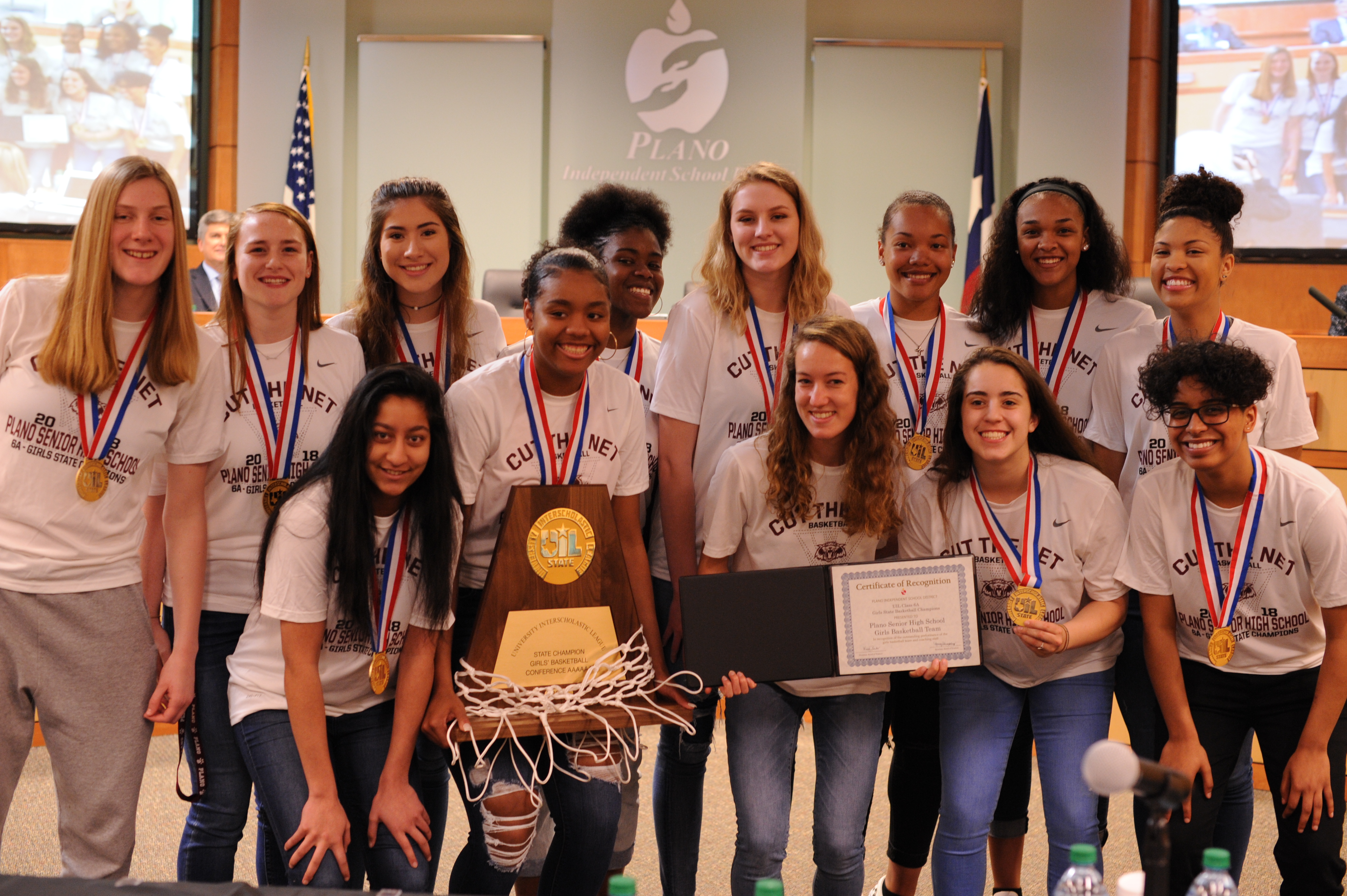 Lady Wildcats at the April 10 Board Meeting with their Board Certificate of Recognition and State Championship trophy.
What will be different next year?
"We always coach for the next year, to keep building skills," said Coach Belcher. Four out of five starters are graduating this year, but team talent is returning to the roster as well.
Coach Belcher was recognized with a certificate by the Plano ISD Board of Trustees for his Coach of the Year win, along with the Lady Wildcats recognition for their UIL 6A State Championship.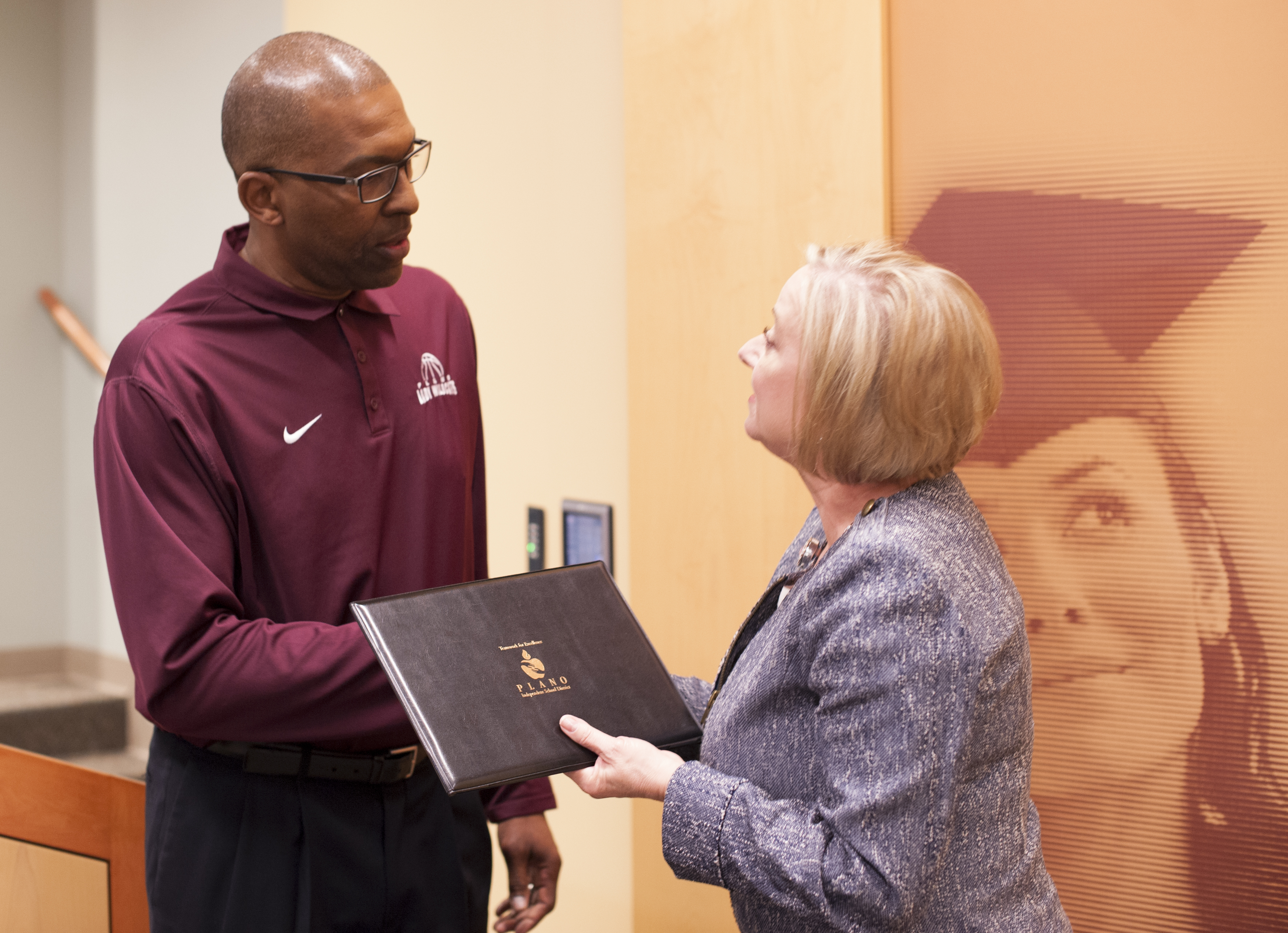 Plano Senior High School Girls Basketball Coach Rodney Belcher receives a Board Certificate of Recognition from Board Secretary Nancy Humphrey at the April 10 board meeting.