Return to Headlines
April 17, 2018 - "Best Communities for Music Education" Recognition from NAMM
Plano ISD is honored to be recognized as one of the 583 "Best Communities for Music Education" in 2018 by the National Association of Music Merchants (NAMM) Foundation for our district's commitment to music education. In 2018 the NAMM Foundation and the University of Kansas have recognized school districts in 41 states, along with individual schools in 35 states and the District of Columbia. List of all 583 Best Communities in Music Education for 2018.
For the past 19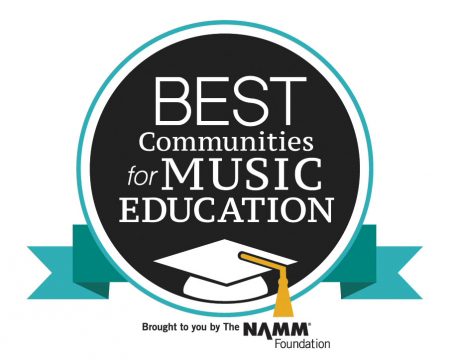 years the NAMM Foundation, a global non-profit organization that promotes opportunities for people of all ages to make music, in cooperation with researchers at The University of Kansas, has examined information on hundreds of schools and school districts across the nation to identify those, like Plano ISD, who are making investments in arts education. Plano ISD regularly receives this annual recognition from NAMM.
"We are proud of this recognition for our Plano ISD community. It is an affirmation of the strong support provided by our Board of Trustees, campus administration, the students and parents involved in our programs and the community at large. The resources dedicated to our fine arts programs, including music, allow our student to experience quality instruction and outstanding performance opportunities at every level. We thank the NAMM Foundation for recognizing the support our community provides to our students and their talented teachers," said Director of Fine Arts and Special Academic Programs Kathy Kuddes.
Leading research continues to demonstrate that music education builds skills which span a lifetime, enriching children beyond their school years. After two years of music education, researchers found that participants showed larger improvements in how the brain processes speech and reading than in their less-involved peers*, and that students who are involved in music are more likely to graduate high school and attend college**.
Later in life, individuals who took music lessons as children show stronger neural processing of sound: young adults and even older adults who have not played an instrument for up to 50 years show enhanced neural processing compared to their peers***. And social benefits include conflict resolution, teamwork skills, as well as giving and receiving constructive criticism.
* Nina Kraus, director of Northwestern's Auditory Neuroscience Laboratory, quoted in Melissa Locker, "This Is How Music Can Change Your Brain," Time, December 16, 2014.
**[Source: Krause N., Slater J., Thompson E.C., Hornickel J., Strait D.L., Nicol T. & White-Schwoch T., (2014), "Auditory learning through active engagement with sound: Biological impact of community music lessons in at-risk children." Frontiers in Auditory Cognitive Neuroscience.]
***(2017). Music, hearing, and education: from the lab to the classroom; quoted in Northwestern University, September/October, 2017.