Return to Headlines
Oct. 11, 2018 - Hedgcoxe Elementary Hosts TEPSA Sponsored Leadership Workshop
Hedgcoxe Elementary hosted a one-day "Leaders 'R' Us" workshop sponsored by the Texas Elementary Principals and Supervisors Association (TEPSA) and attended by students from 13 Plano ISD elementary schools. Hedgcoxe Elementary has hosted this program at their campus annually since 2012, and prior to 2012, Hedgcoxe student leaders attended at other host schools.
View photo gallery of students and sponsors.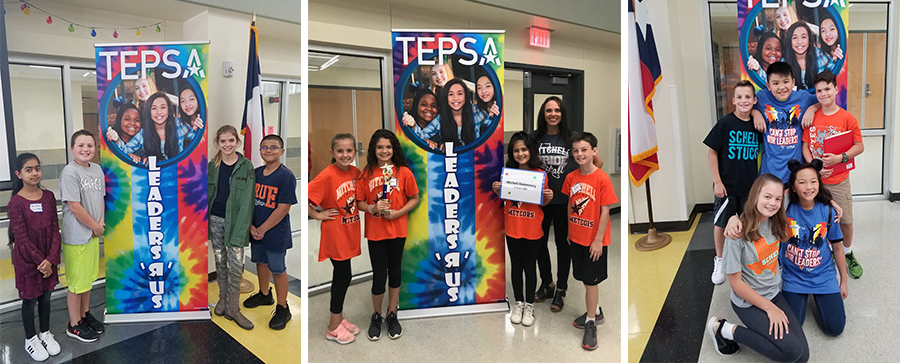 Student leaders from Dooley, Mitchell (with sponsor Shawn Netherland, third grade team leader) and Schell Elementary Schools.
TEPSA's Leaders 'R' Us workshops have trained more than 36,000 Texas students to be successful leaders on their campuses since 1999. A wealth of information is provide through workbooks and interactive presentations to help create a dynamic leadership team of students and staff. Registration fees are reduced for schools who host workshops.
Facilitating the workshop are two experienced presenters (former principals) provided by TEPSA's student leadership division. Student Council members attending the conference learn the tenets of positive leadership through presentations and fun interactive activities, such as skits. According to Courtney Craven Dooley Elementary physical education team leader, the workshop "is a fantastic opportunity for our fifth grade officers to learn about the true meaning of grit!" (Grit stands for: Guts, Resilience, Integrity and Tenacity needed for student success). During the workshop, students discover their own leadership style, learn leadership responsibilities, understand how to effectively communicate as a student leader, practice networking with other student leaders, identify leadership challenges and explore problem-solving techniques.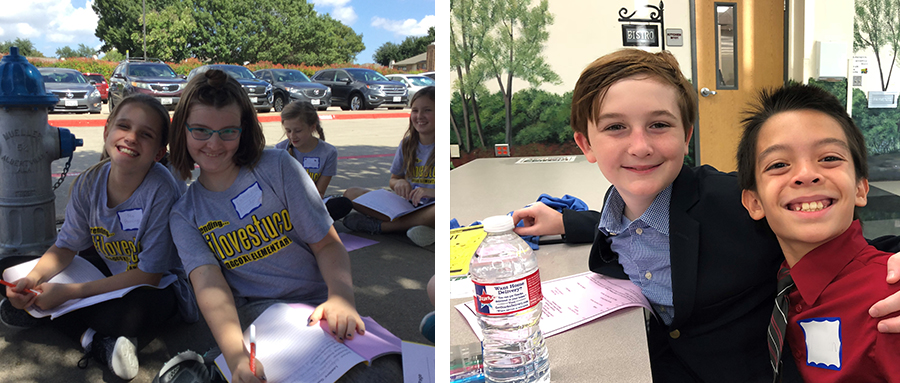 Hedgcoxe Elementary and Mathew Elementary School students at the workshop.
"I think the biggest take-away for students is the knowledge that leaders must put others first, take positive risks and be role models for those they are leading," said Karen Berry Hedgcoxe librarian.
The learning is not limited to students. Campus sponsors have the opportunity to share ideas for service projects, explore meaningful projects and fundraiser opportunities as well as network, making it a valuable experience for both students and staff.
Attending this year's conference at Hedgcoxe were students from Beverly, Davis, Dooley, Hedgcoxe, Hickey, Hughston, Mathews, Mitchell, Rasor, Schell, Skaggs, Thomas and Weatherford Elementary Schools (plus one Frisco elementary school) for a total of 102 attendees (80 students and 22 sponsors).
Shawn Netherland Mitchell Elementary third grade team leader said, "What an amazing day! Our students could not stop taking about everything they learned! Leaders participate, and leaders do the right thing! As a sponsor, I loved sharing the day with fellow Plano ISD leaders."