Return to Headlines
Nov. 29, 2018 - Aldridge Elementary Anniversary Celebration: "50 Years of Leaving Legacies"
On November 29, 2018, Aldridge Elementary Ocelots took a trip down memory lane to commemorate their school's 50th anniversary. Aldridge opened its doors on November 25, 1968. Fifty years ago, the school was built on open-prairie grasslands with few trees, and the building had a distinctive "Pizza Hut" roof. There were sunken classrooms, chalkboards, folding walls, heavy paper textbooks, and the only technology was a few telephones in the office. Over the past five decades, Aldridge has seen two renovations, including an updated roof, the addition of cutting-edge technology throughout the entire building and enhanced security.
What has not changed from the school's first day of instruction is a long line of administrators devoted to high educational standards, teaching staff committed to providing an excellent education, students engaged in learning and a community that values support and service. As former Aldridge Principal Marilyn Carruthers said in her remarks to the crowd, "it's the people who make this school special from 1968 to 2018 and on into the future." The Aldridge community is strong, and that is as true today as in 1968, evidenced by the large turn out for the anniversary celebration which included former students, as well as retired Aldridge teachers. View highlights video and see photo gallery.
Kicking off the event were the Vines High School drum line and the Vikettes drill team setting an upbeat mood for the event which included a ribbon cutting, a "Back Down Memory Lane" museum and school carnival. District administrators attended the event including Superintendent of Schools Sara Bonser, COO Dr. Theresa Williams and Executive Director for Elementary Campus Services Jill Stoker. Also in attendance to honor the school's legacy were School Board President Missy Bender, School Board Secretary Nancy Humphrey and Trustee Jeri Chambers. District administrators were joined by Plano Mayor Pro Tem Ron Kelley, who presented Aldridge Principal Antreshawn Buhl with a resolution from the City on this momentous occasion, as well as Richardson Mayor Paul Voelker and Collin College Trustee Fred Moses.
The A Cappella choir, directed by Darren Dodd, opened the celebration. Speaking at the celebration were Aldridge Principal Antreshawn Buhl, Assistant Principal Michelle Moses-Meeks and the school's "Legacy" essay first place winner, third grader Sahasra Chakravarthula. Read her essay.
A number of Aldridge alumni were part of the crowd checking out old year books and greeting old friends. A few former Ocelots hailed from the Aldridge inaugural class originally walking through the doors as kindergartners in 1968.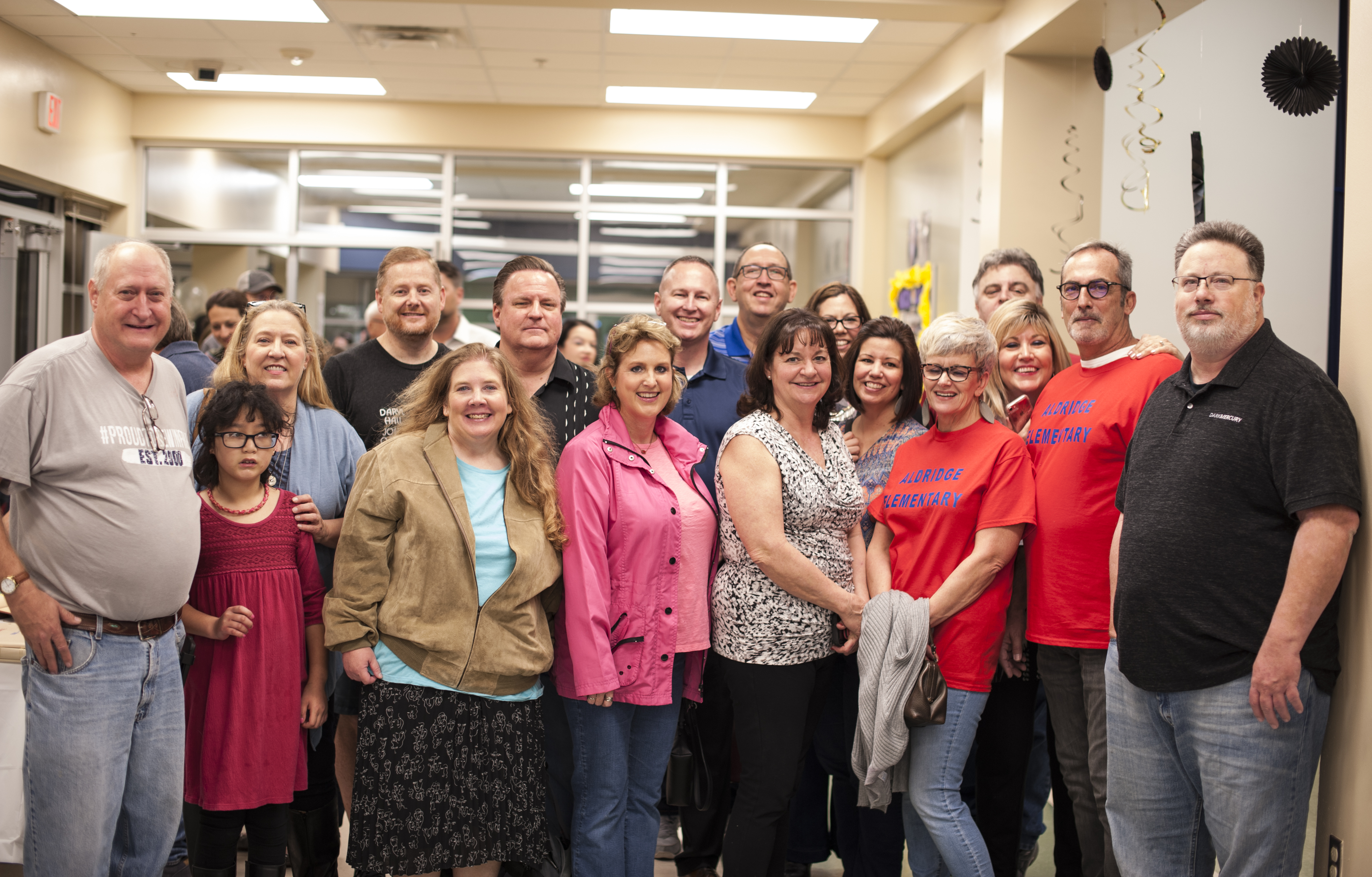 Group of former students from the 1980s through 1968.
The celebration included memorabilia and school year books from five decades, telling Aldridge's story of the many students who have walked the halls.
Former students exploring past memory books.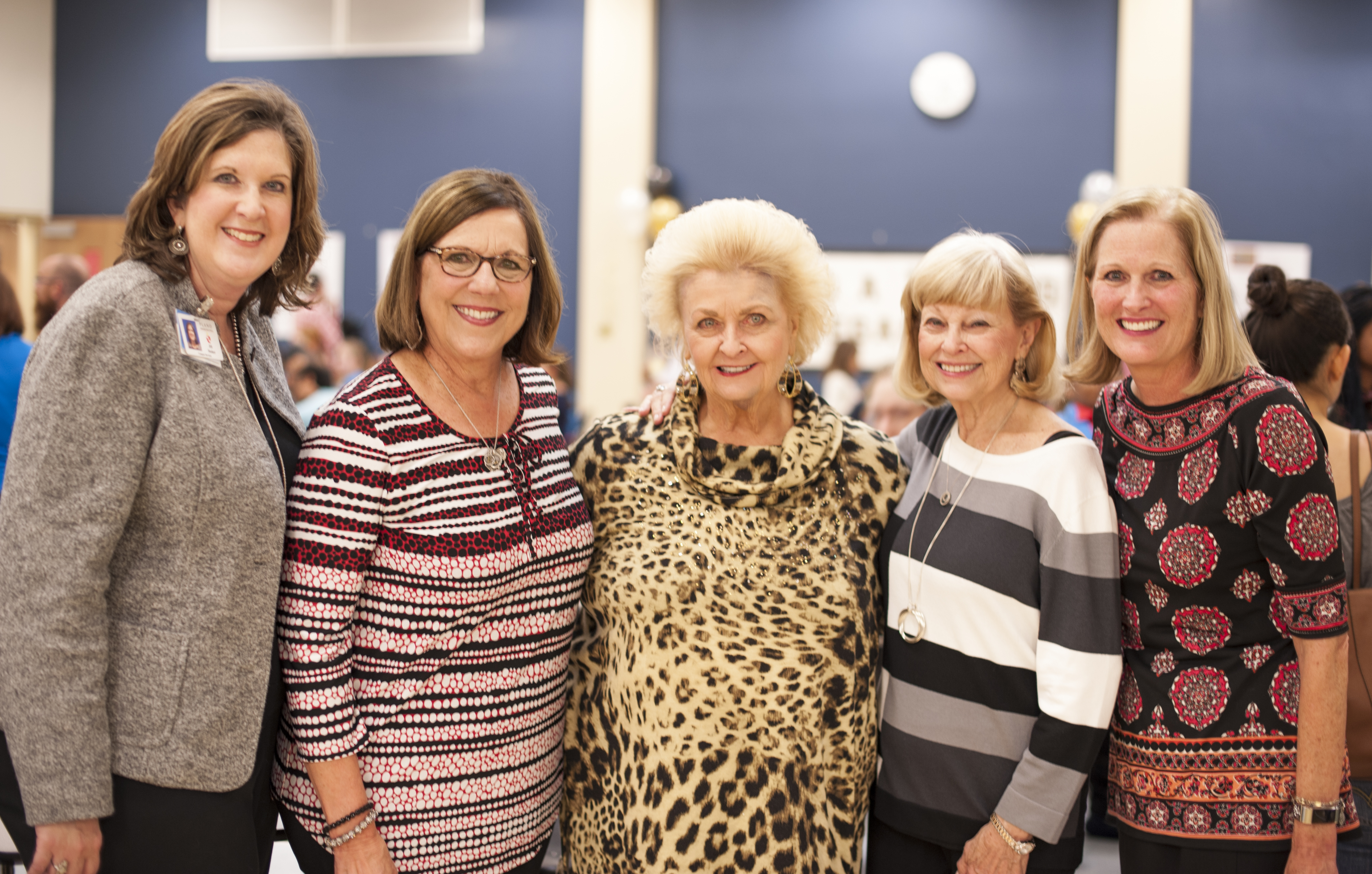 Executive Director for Elementary Campus Services Jill Stoker; Cathy Taylor (now retired - former Aldridge teacher and former principal of McCall Elementary); retired Aldridge teacher – Linda Medlen; retired Aldridge teacher – Bonnie Bachman; and former Aldridge Elementary principal Marilyn Carruthers.
The Aldridge community is proud of their legacy and their community of learners past, present and future. They look forward to the next 50 years of educating children in Plano ISD as the Aldridge legacy continues. See event photo gallery.