Return to Headlines
Nov. 27, 2018 - Robinson Middle School Recognized as a National PTA School of Excellence
Robinson Middle School and Robinson Middle School PTA have earned the National PTA 2018‐2020 School of Excellence designation for their commitment to building an inclusive and welcoming school community where all families contribute to enriching the educational experience and overall well‐being for all students. "Research shows that when families and schools work together, students do better in school and schools improve," said Jim Accomando, president of National PTA. "Robinson Middle School and Robinson Middle School PTA have worked hard to strengthen their family‐school partnership and create an environment where all families feel welcomed and empowered to support student success. We are pleased to recognize them as a National PTA School of Excellence."
Support your local school PTA by becoming a member.
The National PTA's School of Excellence program helps PTAs become partners in identifying and implementing school improvement initiatives based on PTA's national standards for family‐school partnerships. Schools that exhibit improvement at the end of the school year are honored as a National PTA School of Excellence, a distinction that spans two years. Robinson Middle School and Robinson Middle School PTA are one of only 278 PTAs and schools nationwide recognized as a 2018‐2020 School of Excellence. Plano ISD is pleased that nine school PTAs currently hold this distinction: Boggess Elementary, 2018-2020; Bettye Haun Elementary, 2018-2020; Gulledge Elementary, 2017-2019; Hickey Elementary, 2018-2020; Huffman Elementary, 2017-2019 and 2015-2017; Hughston Elementary, 2018-2020; Mitchell Elementary, 2018-2020; Pearson Early Childhood School, 2018-2020; and Robinson Middle School, 2018-2020.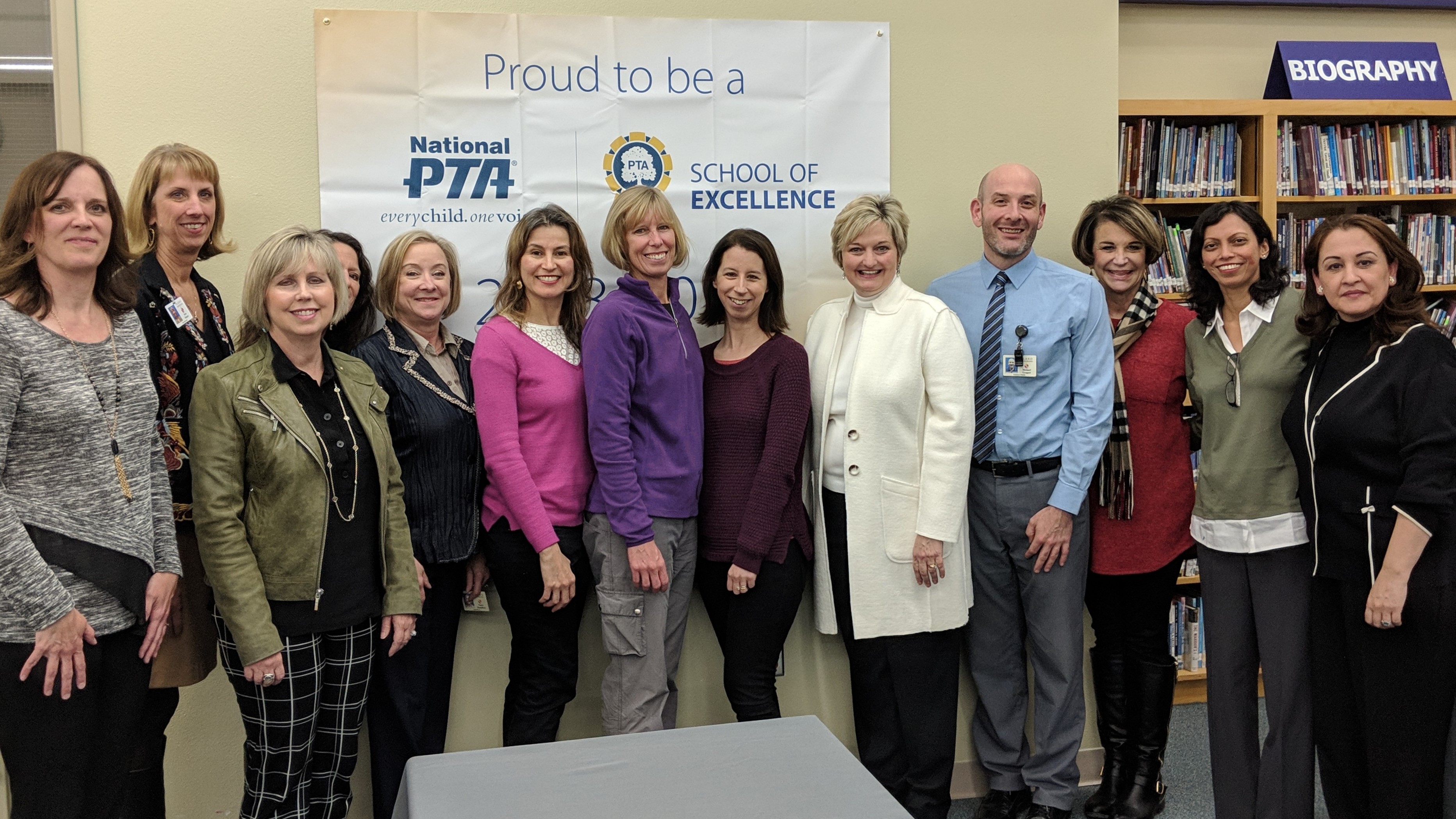 Committee and special guests at the celebration: Lavina Kayyal, Superintendent of Schools Sara Bonser, School Board President Missy Bender, (behind Missy Bender, Penny Chapman immediate past president and current Ways & Means VP of the Plano ISD Council of PTAs, School Board Secretary Nancy Humphrey,Maria Duque, Becky Schuerman Choi, Holly Slotkin, Robinson Principal Billie-Jean Lee, Robinson Assistant Principal Skip Gragert, Assistant Superintendent for Campus Services Susan Modisette, Swagata Chowdhury, and Nadia Ardah (not pictured Assistant Principal Libby Deleon). View photo gallery for more photos from the celebration event.
In 2017, the Robinson Middle School PTA applied for the National PTA School of Excellence, and the Robinson School of Excellence Committee selected health and safety as their area of focus. The committee worked with Principal Billie-Jean Lee, Plano ISD, the City of Plano and Robinson Middle School parents and students to achieve their objective of safer routes to school for all Robinson students. The committee used student/parent education, surveys and collaboration with the City of Plano to achieve their objective. Students received a Safer Routes to School flyer designed by the committee that included tips on carpool, pedestrian and bike and skateboard safety. This flyer was also shared with parents via various school and PTA communication channels and social media.
Welcoming all families was also an area of concentration of the committee. Robinson is a diverse community with 45 languages represented. The committee created a multilingual welcome sign and included on their volunteer interest form volunteer opportunities for translators. Additionally, the first annual "Hogfest" was held during Red Ribbon Week. Hogfest is a day of community building, drug prevention and social awareness.
For more information about the National PTA School of Excellence Program.
About National PTA
National PTA® comprises millions of families, students, teachers, administrators, and business and community leaders devoted to the educational success of children and the promotion of family engagement in schools. PTA is a registered 501(c)(3) nonprofit association that prides itself on being a powerful voice for all children, a relevant resource for families and communities, and a strong advocate for public education. Membership in PTA is open to anyone who wants to be involved and make a difference for the education, health, and welfare of children and youth. For more information, visit PTA.org.