Return to Headlines
Jan. 9, 2019 - Regeneron Science Talent Search Top 300 Scholars Announced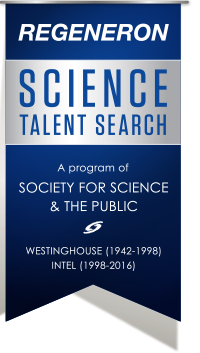 On January 9, the "Top 300" scholars were announced in the 78th Regeneron Science Talent Search (STS), a program of the Society for Science & the Public. Included in this group of 300 talented student scientists are four seniors from Plano West Senior High School. Each student will receive $2,000 and their school will also receive $2,000 per scholar to use toward STEM-related activities.
Congratulations to:
Vincent Huang, Plano West Senior High School, Modeling Refugee Migration: Mathematical and Algorithmic Models of Refugee Crises
Harshika Jha, Plano West Senior High School, Remediating the Issue of Dead Zones Through the Utilization of Vargula hilgendorfii Bioluminescence in Sync with Underwater Photovoltaic Cells to Induce Visible-Light Water Electrolysis
Paritosh Suri, Plano West Senior High School, Electroencephalogram (EEG) Sensor and Subsequent Analysis System Optimization for Point-of-Care Concussion Diagnostic Tool
Eric Zhang, Plano West Senior High School, Characterizing Inflatable and Quasirandom Permutations
Top 300 Scholars: Eric Zhang, Vincent Huang, Paritosh Suri, Harshika Jha
The Regeneron Science Talent Search is the nation's oldest and most prestigious science and mathematics competition for high school seniors. Science Talent Search alumni have made extraordinary contributions to science and hold more than 100 of the world's most coveted science and math honors, including the Nobel Prize and the National Medal of Science. This year 1,964 students entered the 2019 Regeneron STS, submitting original research in critically important scientific fields of study in competition for more than $3.1 million in awards. Top 300 scholars were selected from 184 high schools in 40 states and 2 American and international high schools overseas.
The "Top 40" finalists will be announced on Wednesday, January 23. Finalists receive $25,000 and an expense paid trip to Washington, D.C. for the final competition, March 7-13, during which they will undergo a rigorous judging process, interact with leading scientists, display their research for the public and meet national leaders while competing for $1.8 million in awards including the top prize of $250,000 for the most well-rounded emerging STEM leader in the United States.