Return to Headlines
Feb. 16, 2019 - Dallas Area Regional History Day Competition Results
The Dallas Area Regional History Day Competition was held at McMillen High School on Saturday, February 16. Students competed individually or in groups in one of five categories – documentary, website, historical paper, exhibit or performance. The theme of this year's competition is Triumph and Tragedy in History. Students who finished in first and second places advance to the Texas History Day Contest in Austin at the University of Texas, Bob Bullock Texas State History Museum on April 27.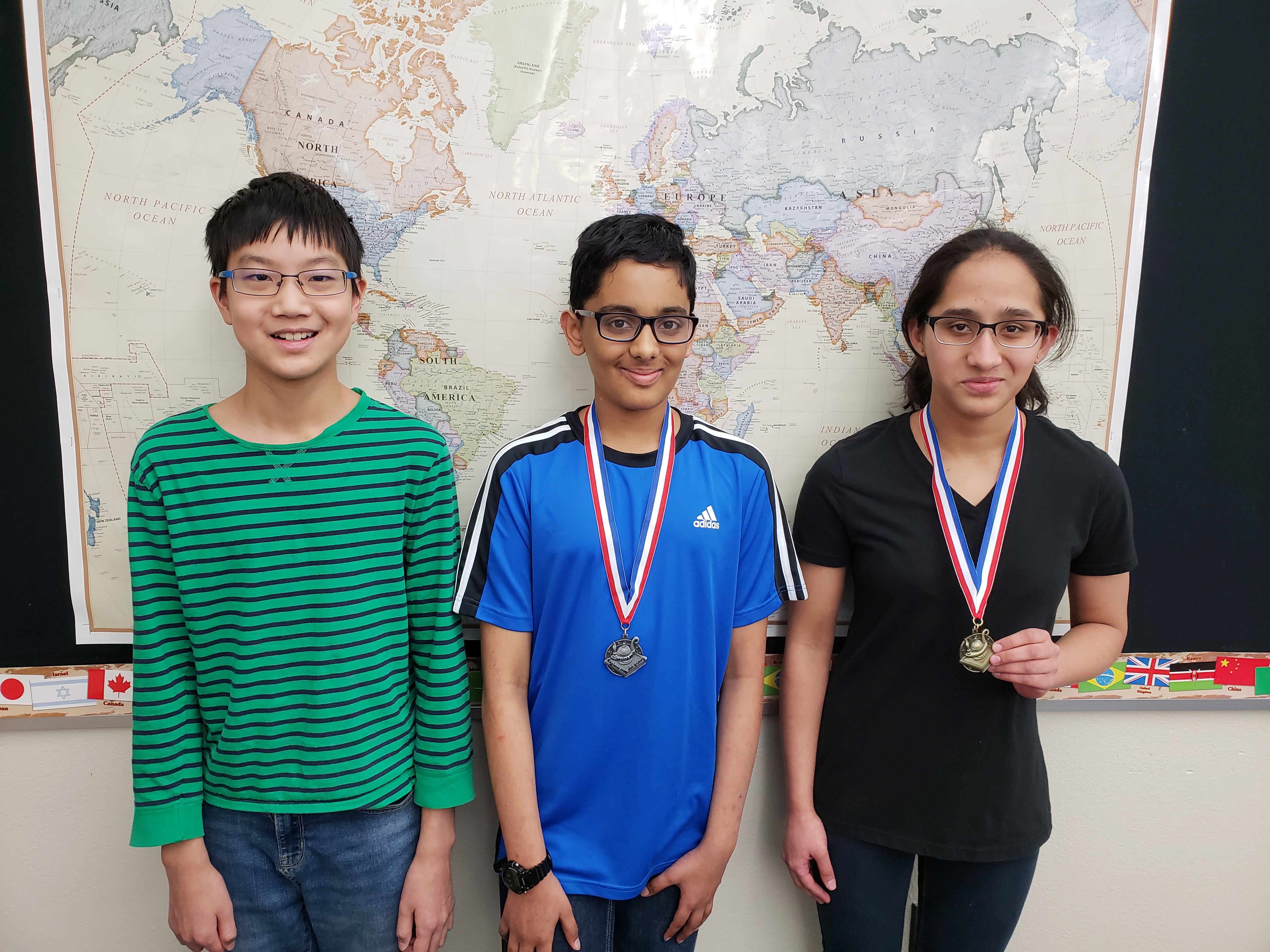 Pictured are Otto Middle School winners: Clint Wang (first place historical paper), Srijan Sundar (second place historical paper) and Shreya Bhat (first place individual documentary).
Plano ISD History Day sponsors are: Adam Dyer, Rice Middle School; Rob Keahey, Plano West Senior High School; Elizabeth Miller, Otto Middle School and Dr. Joseph Russell at Plano East Senior High School.
Senior Level
Individual Documentary
Emma Yu, Plano East Senior High School, Lev Aronson - first place
Anjali Gonuguntla, Plano East Senior High School, Operation Paperclip: A Soaring Triumph, or a Moral Tragedy? - second place
Group Documentary
First Place
Atulya Palacharla, Plano East Senior High School, Destroyer of Worlds: The Tragedy of Oppenheimer
Venu Poruri, Plano East Senior High School, Destroyer of Worlds: The Tragedy of Oppenheimer
Hari Srinivasan, Plano East Senior High School, Destroyer of Worlds: The Tragedy of Oppenheimer
Sridatta Teerdhala, Plano East Senior High School, Destroyer of Worlds: The Tragedy of Oppenheimer
Second Place
Praneeth Boddu, Plano East Senior High School, The Promised Land: European Multilateralism and the Founding of Israel
Saisrinivas Gudivada, Plano East Senior High School, The Promised Land: European Multilateralism and the Founding of Israel
Aryan Jain, Plano East Senior High School, The Promised Land: European Multilateralism and the Founding of Israel
Cedric Zhou, Plano East Senior High School, The Promised Land: European Multilateralism and the Founding of Israel
Third Place
Arun Eswara, Plano East Senior High School, The Prisoner's Dilemma: The Struggle for Rights in the Walpole Prison Uprisings
Kavin Sitsabeshon, Plano East Senior High School, The Prisoner's Dilemma: The Struggle for Rights in the Walpole Prison Uprisings
Smaran Velidi, Plano East Senior High School, The Prisoner's Dilemma: The Struggle for Rights in the Walpole Prison Uprisings
Aditya Vishnubhotla, Plano East Senior High School, The Prisoner's Dilemma: The Struggle for Rights in the Walpole Prison Uprisings
Individual Exhibit
Sophia Khan, Plano East Senior High School, Making the Prospect of the Future Untenable - first place
Group Exhibit
First Place
Alicia Daley, Plano East Senior High School, The Burning Issue of Sati
Neha Donthineni, Plano East Senior High School, The Burning Issue of Sati
Second Place
Vennela Challagondla, Plano East Senior High School, The Great Smog of London
Alex Lin, Plano East Senior High School, The Great Smog of London
Halle Miller, Plano East Senior High School, The Great Smog of London
Third Place
Manya Bondada, Plano East Senior High School, The Power of Penicillin
Saachi Gulati, Plano East Senior High School, The Power of Penicillin
Praniya Jakkamsetti, Plano East Senior High School, The Power of Penicillin
Historical Paper
Tanaz Muhammed, Plano East Senior High School, Victory at Vivisection - first place
Sindhu Bommineni, Plano East Senior High School, Haym Salomon - third place
Individual Performance
Natasha Raman, Plano East Senior High School, Radium Girls: Triumph in the Place of Tragedy - second place
Olivia McCoy, Plano East Senior High School, The View from Above: The Life and Death of Bessie Coleman - third place
Individual Website
Grace Xiao, Plano West Senior High School, The Stonewall Riots - second place
Anchita Raybarman, Plano East Senior High School, Finding Today in a Lost Generation - third place
Group Website
Katie Wang, Plano East Senior High School, The Shimabara Rebellion - third place
Varsha Narayanan, Plano East Senior High School, The Shimabara Rebellion - third place
Junior Level
Individual Documentary
Shriya Bhat, Otto Middle School, The Thalidomide Tragedy and its Triumph on America's Current Drug Regulations - first place
Suden Prashar, Rice Middle School, The French Revolution: The Fight for Equality - second place
Group Documentary
Vinod Venkataraman, Rice Middle School, The World Will Not Be the Same - first place
Vivek Venkataraman, Rice Middle School, The World Will Not Be the Same - first place
Individual Exhibit
Sai Mavankal, Rice Middle School, Hitler Youth: The Followers and Resistors - second place
Dhriti Mittal, Rice Middle School, Unsettling Peace - third place
Historical Paper
Clint Wang, Otto Middle School, 1945-The Tragic Triumph that Caused Seven Decades of Separation and Conflict between China and Taiwan - first place
Srijan Sundar, Otto Middle School, From Science to Pure Imagination: Jules Verne - second place
Individual Performance
Madhalasa Iyer, Rice Middle School, The Triumph of Freedom that Led to the Tragedy of Division and the Greatest Human Migration - first place
Group Website
Frank Xu, Rice Middle School, A Battle of Lexington and Concord: A Duel of Two Armies - first place
Abraham Zhang, Rice Middle School, A Battle of Lexington and Concord: A Duel of Two Armies - first place