Return to Headlines
Mar. 8, 2019 - Clark High School JROTC Cadet First Sergeant's Essay Advances to National Competition
Cadet First Sergeant Landry Lewis, a Clark High School student and a member of the Junior Reserve Officer Training Corps (JROTC) Wildcat Battalion, took the top awards for her JROTC National Essay Writing Contest entry. She won first place in the state-level competition, and at the eight-state Fifth Brigade level (Wyoming, Utah, Arizona, Colorado, New Mexico, Oklahoma, Arkansas and Texas), she earned third place.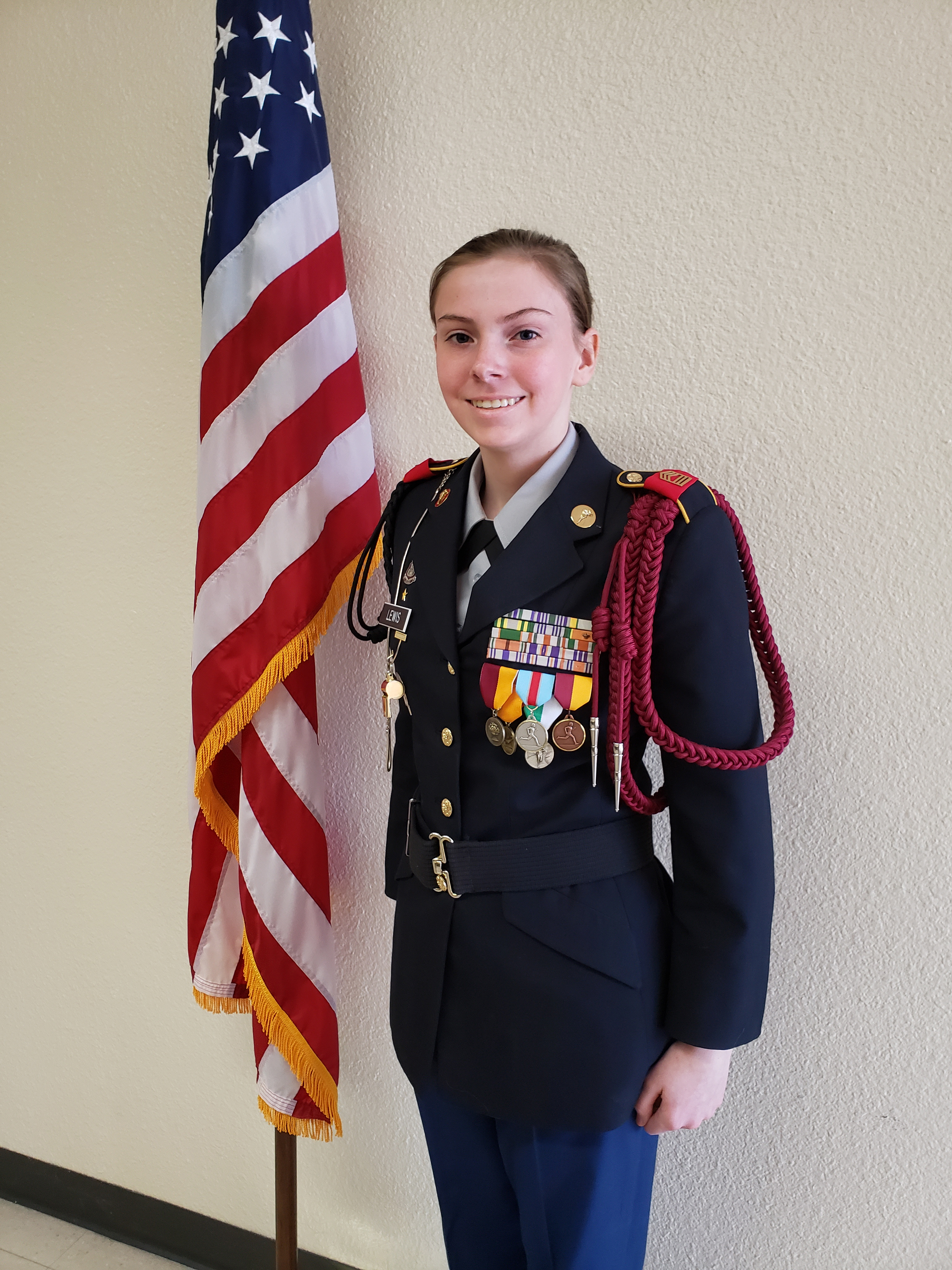 Cadet First Sergeant Landry Lewis, Clark High School
Her essay titled "This I Know" Duty, Honor, Country now advances to national competition and will be sent to Cadet Command at Fort Knox Kentucky to compete on March 19 against all first, second and third place winners from the six additional JROTC Brigades which comprise the national Cadet Command - 1,550 active JROTC units and 330,000 cadets.
Cadet First Sergeant Lewis Plano ISD JROTC instructors are First Sergeant Nicolas Hall and Sergeant First Class John Kell.
"This I Know" Duty, Honor, Country
Author: Cadet First Sargent Landry Lewis, Clark High School
Duty, honor and country are three of the most important words in an American's vocabulary. General Douglas MacArthur defined them as "what you ought to be, what you can be, and what you will be." You may not realize it, but your actions reflect duty, honor,and country every day. The sacrifices you make while executing these actions are what make you a better citizen.
Duty, honor, country: these three words are hard to define. To me, duty is the obligation you have which compels you to do what you can to improve the state of those around you, as well as that of yourself. It is what urges you to act for the betterment of your nation. Honor is the basis of your moral compass. It keeps you honest and compassionate. Honor is the respect you earn from peers, and it determines how superiors and subordinates act towards you. In my opinion, country represents a haven built upon loyalty, unity and respect. This haven is achieved by people working alongside one another, all striving towards common goals.
One of my greatest acts of duty, honor and country can be found through my participation in the environmental club at my school. Being in this club has helped me realize the importance of being more environmentally conscious of my actions and how those actions can impact the world on a greater scale. I'm dutiful by using the information I've learned to reduce my waste and use more recyclable products, so that nature has the ability to thrive. Since I know how litter can be harmful to the environment, I use honor to keep me from just throwing my trash on the ground and instead, throw it in a trash can or recycle bin. Environmental club is filled with other students who care just as much about the environment as I do, and together we worked to plant lavender trees in a field near our school. All of the club's members, along with me, work to raise awareness of environmental issues, such as the protection, conservation, preservation and restoration of the environment by educating and empowering other students.
All great achievements require sacrifice: you have to give something up to gain something. Life is all about choices, and you must decide what you're willing to give up in order to obtain what you cherish most. When you sacrifice things that are important to you for the greater good, it shows others that you have a strong sense of commitment. Through personal sacrifice, you can learn more about yourself and what it means to act in ways that benefit others more than they benefit you. All of these sacrifices make you a better citizen.
Duty, honor, and country mean so much more than what they seem on the surface. They are the basis of your character, and developing them can make you an overall better citizen.