Return to Headlines
Mar. 18, 2019 - Plano ISD Bus Drivers Earn First Place in National TSD Competition
Update: April 9, 2019
Plano ISD bus drivers and national first place winners at the 2019 Transporting Students with Disabilities and Special Needs (TSD) roadeo, Logan Heckathorn and Stuart Stutzman, were recognized with certificates by the board fof trustees for their teamwork and commitment to excellence.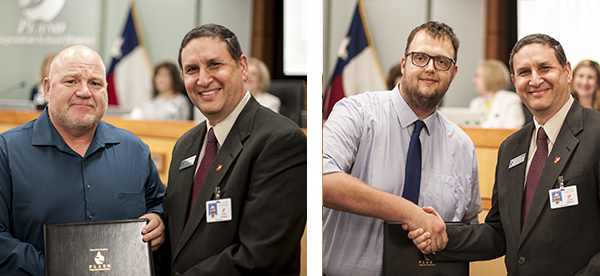 Logan Heckathorn (photo, left) and Stuart Stutzman (right) receive certificates of recognition from the Board of Trustees presented on the board's behalf by Board Vice President Dr. Yoram Solomon.
---
The national roadeo competition at the Transporting Students with Disabilities and Special Needs (TSD) conference was held on March 15-17 in Frisco, Texas. The Plano ISD team of Logan Heckathorn and Stuart Stutzman (who are both drivers for the district) were the top team at the competition receiving 881 out of 972 points to win first place. These Plano ISD drivers were the state of Texas winning team at the Texas Association for Pupil Transportation (TAPT) special education bus roadeo during summer 2018 and also won at the district and regional levels earning their place in this national competition.
"This national award was hard won. Judges' scores were based on the team's skill as they safely drove the bus through challenging courses while simultaneously handling real-life scenarios that may be encountered while driving special-needs students. They have demonstrated excellence at the district, regional, state and now national levels of competition. They are the best of the best. We are proud of their accomplishments and the important work they do to serve special needs children in Plano ISD," said Transportation Route Supervisor Beverly Shannon.
Logan Heckathorn (middle) and Stuart Stutzman (right) Plano ISD bus drivers and first place winners at the 2019 TSD roadeo national competition are pictured with Bud Fears, roadeo sponsor representative.
Roadeo competition includes skill events such as:
Pre-check inspection
Driving skills while maneuvering through a driving course
Loading, unloading and securing students in wheelchairs
Decision-making and reaction time in an emergency scenario
Behavioral control of students with disabilities on board the bus
A written test to be completed by teams prior to the event
This is a team competition. The attendant may assist the driver (observing, alerting, etc.) during the driving course events, and in fact, it is expected that teams work and communicate effectively together. For example, during one of the the competition events, bus drivers and attendants were judged as they zig-zagged their school bus around barrels and reversed between two ropes, with an overactive special needs child (played by an adult volunteer) on board. Driver and aides were required to properly evacuate special needs students through the back exit door as part of the competition.
According to Stuart, "The whole purpose of the roadeo is to teach teamwork. I think we work so well together as a team. And this makes us better." Both Stuart and Logan are looking forward to defending their championship in March, 2020.