Return to Headlines
Mar. 25, 2019 - Jasper Speech and Debate Team B Advances to Elite Eight Round of the International Public Policy Forum
The Brewer Foundation and New York University have announced the results of the international Public Policy Forum's (IPPF) "Sweet 16" round. Jasper High School Team B has advanced to the "Elite 8" round of competition earning an all-expense paid trip to the IPPF finals in New York City on April 27.
At this next level of competition, teams will continue to debate the topic, "Resolved: U.S. abdication of international leadership creates dangerous global instability." The winning team will take home the Brewer Cup and a $10,000 grand prize.
Congratulations to these advancing team members from Jasper High School Team B. Jasper High School speech and debate coaches are Tom McCaffrey and Clarissa Moreno.
Tejas Bansal
Shruti Kotha
Renee Li
Michelle Ma
Reeya Shah
Angela Wang
Lillian Ye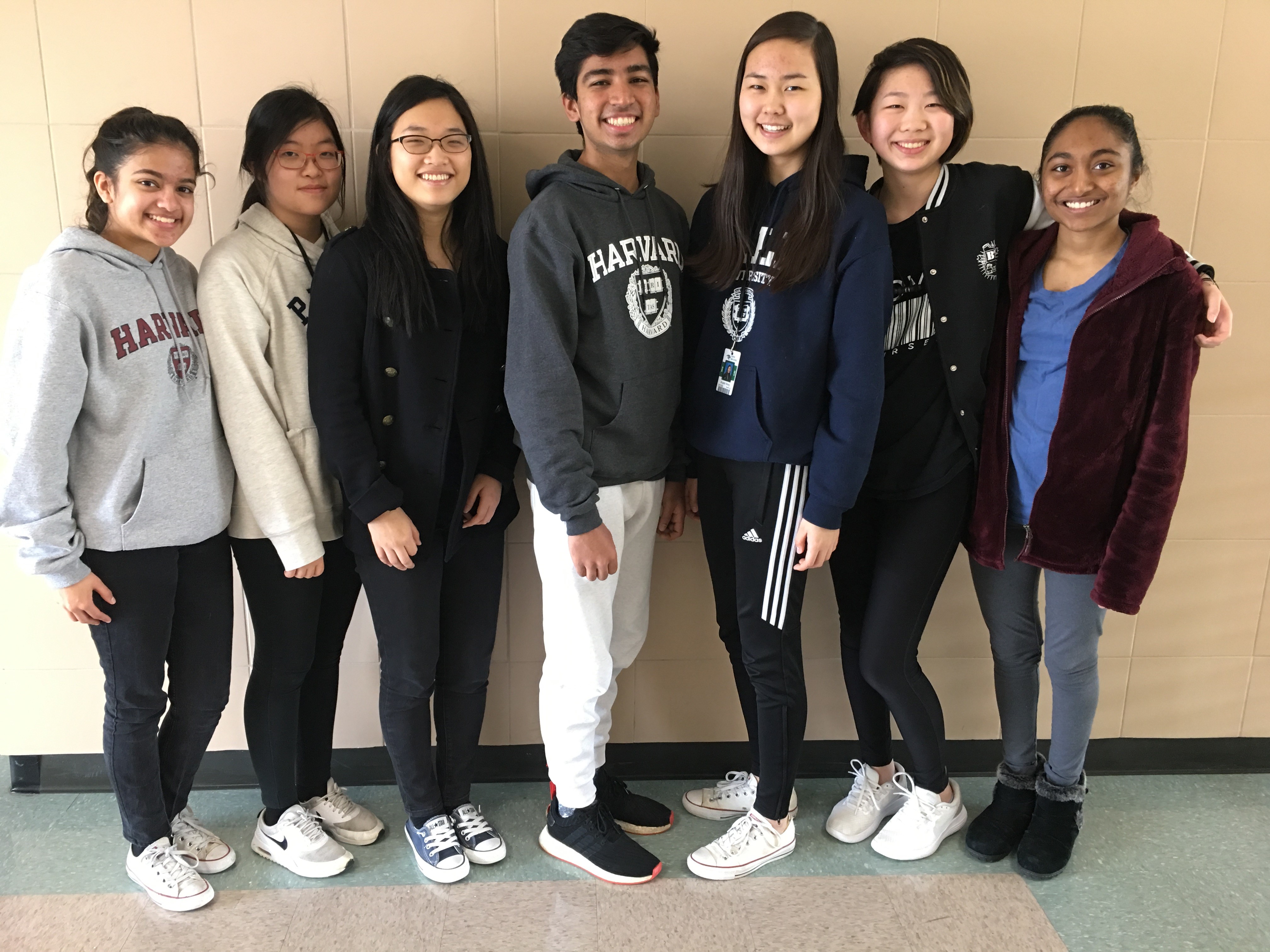 Pictured are IPPF finalists Jasper High School Team B: Reeya Shah, Michelle Ma, Lillian Ye, Tejas Bansal, Angela Wang, Renee Li and Shruti Kotha.
Beginning in November 2018, the top 64 teams in the IPPF began a single-elimination, written debate competition. Each team was assigned a position (affirmative or negative) and then volleyed papers back and forth with another team via email for the next six weeks. A panel of judges reviewed the essays in the order they were presented and selected the winning teams. Top 64 designation included four teams from Plano ISD: two teams from Jasper High School, a team from Plano Senior High and a team from Plano West Senior High.
In the "Round of 64," Jasper High School (Team A) advanced over Memorial High School from Houston. Jasper High School (Team B) advanced over C.E. Byrd High School from Shreveport, Louisiana.
In the "Top 32" round, Jasper High School (Team A) advanced over Valley High School from West Des Moines, Iowa. Jasper High School (Team B) advanced over Bridgewater-Raritan High School from Bridgewater, New Jersey.
In the "Sweet 16" round, Jasper High School (Team B) advanced over Hamilton High School from Chandler, Arizona.
The IPPF finals give students the opportunity to participate in oral debates in front of some of the world's foremost experts in debate, business, law and politics. Judges will include Brewer Attorneys & Counselors Partner William A. Brewer III, New York University President Emeritus John Sexton and Council on Foreign Relations President Richard N. Haass.
About the IPPF and the Brewer Foundation
The IPPF was founded in 2001 by the Brewer Foundation and is now jointly administered with New York University. The program is available to all high schools around the world – public and private – for free. The IPPF is endorsed by leading forensic agencies, such as the National Association for Urban Debate Leagues, the International Debate Education Association, the Impact Coalition, Associated Leaders of Urban Debate Leagues, and the National Debate Coaches Association.
The Brewer Foundation is a private, non-profit organization funded by companies, individuals and the national litigation firm of Brewer, Attorneys & Counselors. With offices in New York and Dallas, the foundation has achieved widespread recognition for its efforts to create, fund and manage a variety of educational outreach programs.