Return to Headlines
July 31, 2017 - Summer Student Internships and Teacher Externships
Plano ISD students were selected via a rigorous interview process to work with corporate partners and non-profits as part of the fourth Plano Mayor's Summer Internship Program. During this eight-week program, rising junior and senior student interns had the opportunity to get real work experience. 350 Plano ISD students applied for more than 100 internships. New this year, eleven Plano ISD teachers were selected as externs as part of the Plano Mayor's Summer Internship Program. Photo gallery.
Seven Students Completed their Internships in Plano ISD
Seven interns were selected to spend their summer working in Plano ISD, helping to prepare for the new school year and gaining experience assisting Plano ISD student learners master new skills.
Robinson Middle School Intern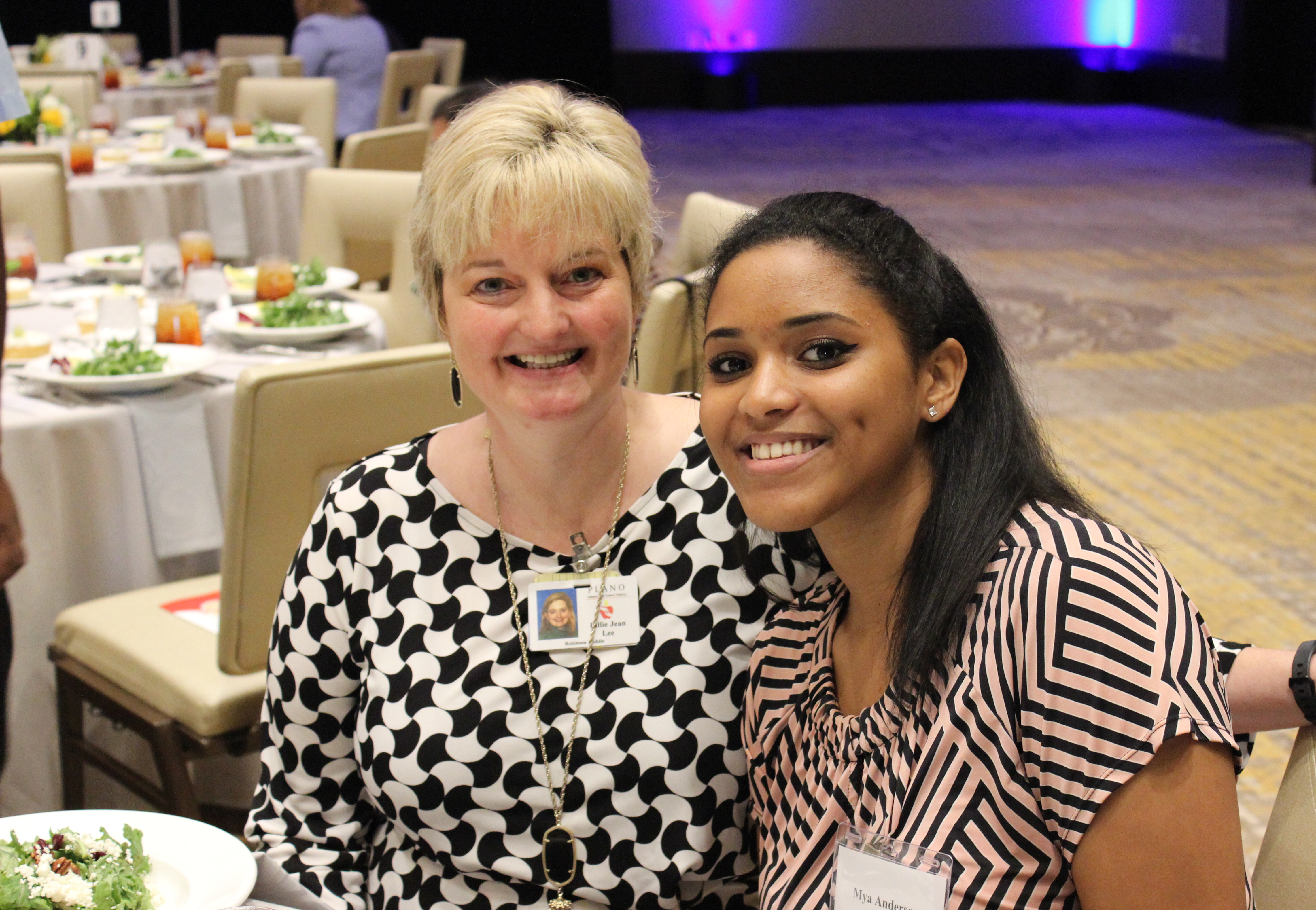 Robinson Middle School Principal Billie-Jean Lee and student intern Mya Anderson, Plano Senior High at the celebration luncheon.
Mya Anderson, from Plano Senior High, worked as an intern at Robinson Middle School during Robinson's Summer Institute for Gifted and Talented Students (SIGS) summer school. She says working with students and getting to know the staff were her favorite parts of the job. Mya said that, "every day is a good day, at Robinson Middle School." She said that she feels fortunate to be part of the internship program, and that it was a lot more fun that she expected. Principal Billie-Jean Lee agrees, "Mya, made the summer more fun and productive for students and staff. She impressed us with her ability to connect with students and with her dedication to the job of educating students. She has a bright future ahead of her."
Otto Middle School Intern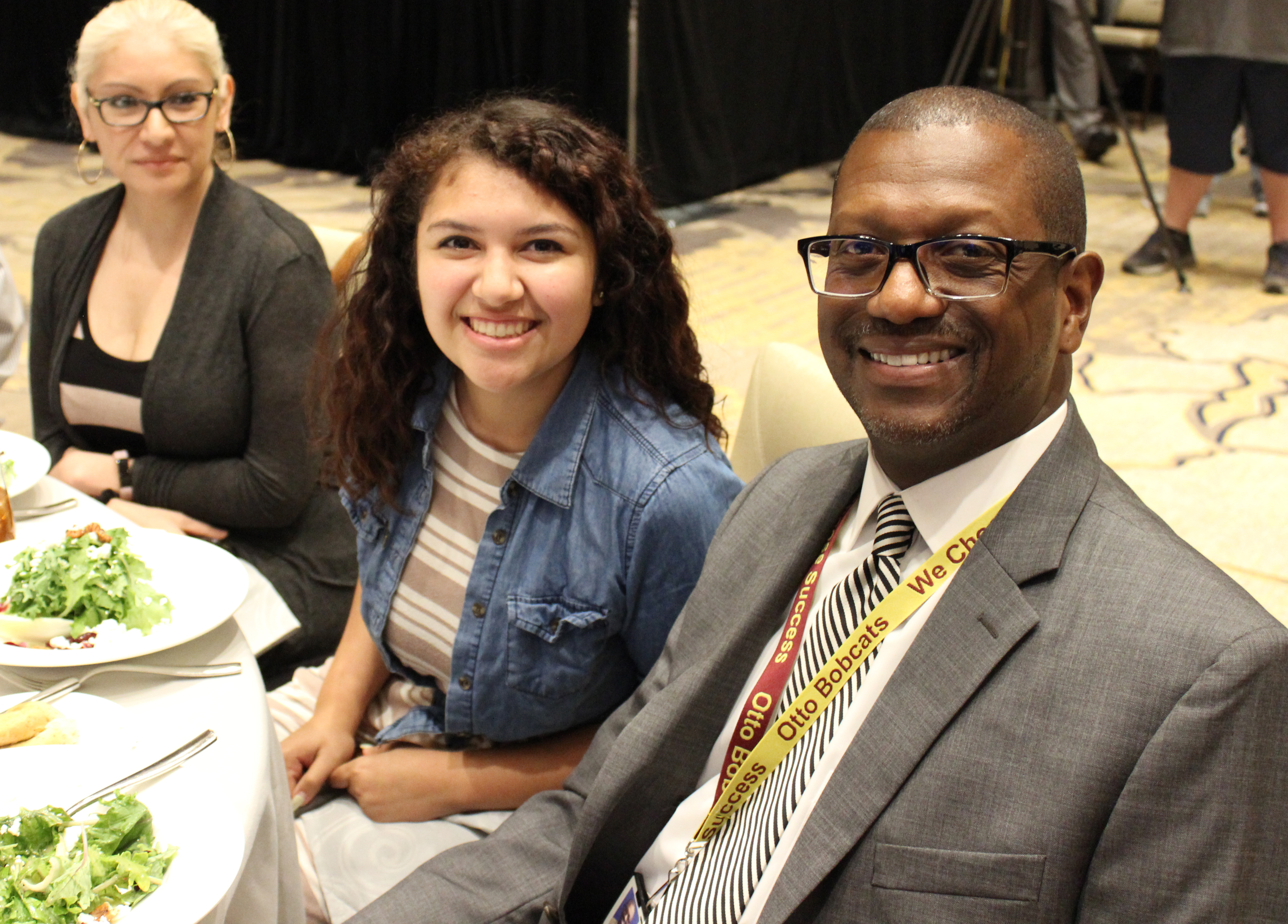 Student intern Serena Ovalles (center) with Otto Middle School Principal Antoine Spencer at the Celebration Luncheon.
Serena Ovalles, Plano East Senior High, spent her summer working at Otto Middle School SIGS summer school. According to Antoine Spencer, principal at Otto Middle School, "Serena impressed us with her energy and positive attitude. The students responded most to Serena as she demonstrated genuine interest in the well-being and enjoyment of all our students at Otto SIGS. It's great to see our Plano ISD students putting the lessons they've learned to work helping younger students achieve and grow."
Technology Operations Interns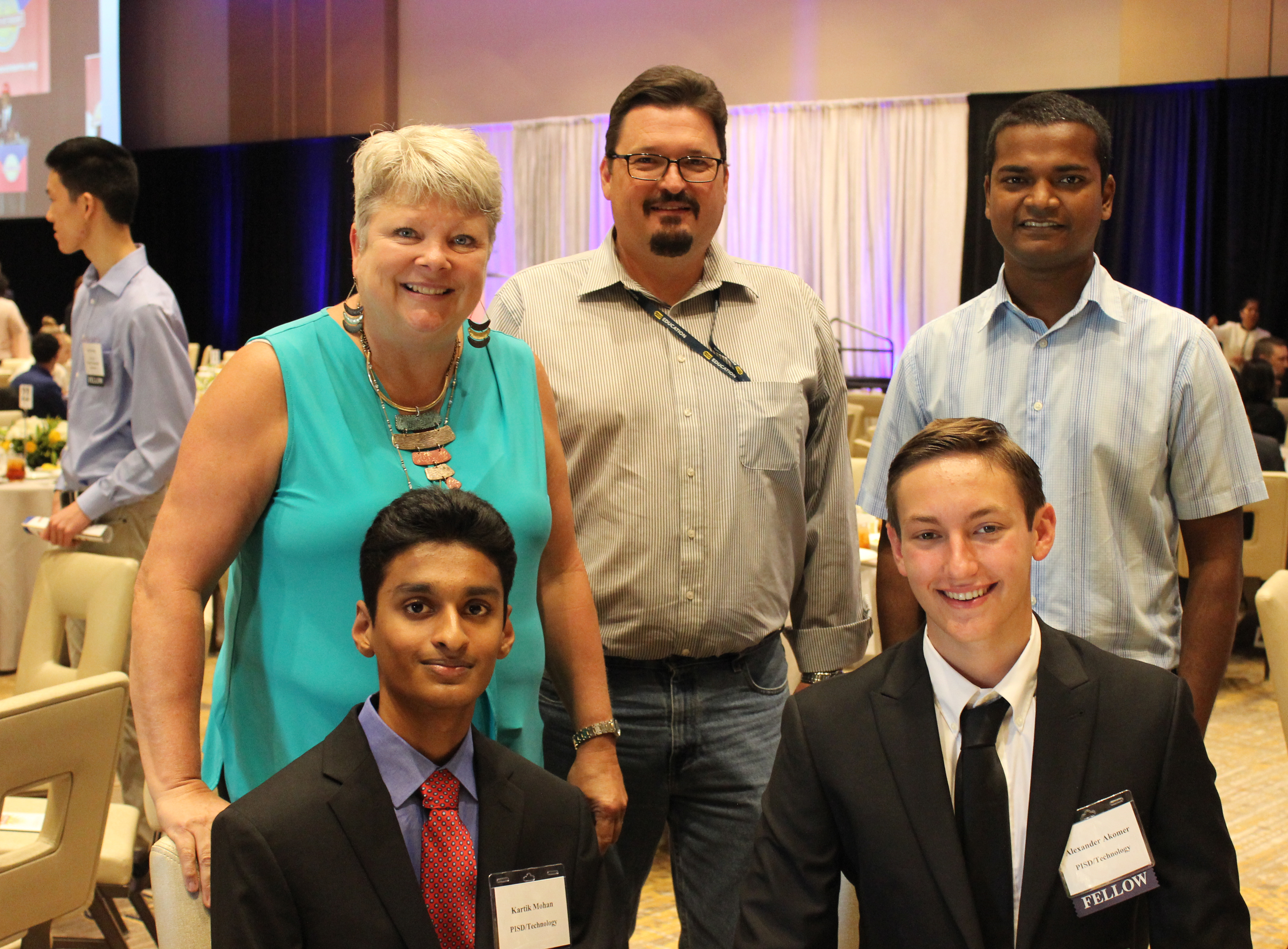 (front row) Student interns Kartik Mohan, Plano and Alex Akomer, Plano West are pictured with (back row) Randi Weaver, coordinator of help desk & technology security; Dan Savage, coordinator for technology operations; and Dev Shah, director of application support services & telecommunications at the celebration luncheon. (Not pictured is Vikas Barevadia, Plano East)
Three Plano ISD students worked as summer interns with the technology services staff helping to get school computers updated and ready for the new school year. A huge job when you consider that Plano ISD has almost 54,000 students and 7,000 employees who will be accessing computers in the new school year. Alex Akomer, from Plano West Senior High School, Vikas Barevadia, Plano East Senior High, and Kartik Mohan, Plano Senior High all gave up summer fun to spend their time traveling from school to school as part of the technology team. "They are always ready to take on new challenges," according to Dan Savage, coordinator for technology operations.
Communications Interns
Seated are Gloriane Fernandez, manager policies, elections and operations and Lesley Range-Stanton executive director for communications with Chloe Teaff, Plano West and Nikita Ramanujam, Academy High School summer interns with Plano ISD communications.
Nikita Ramanujam, Academy High School, and Chloe Teaff, Plano West Senior High School, working as interns in the communications department had the opportunity to experience district communications in the making by helping with video productions, taking photographs for news stories and helping with updates of the new district website. They also got a look into the history of Plano ISD venturing back in time (to the 1960's) via photo archives and digitally scanning them for future generations. They agreed that they "most enjoyed the projects that took them out in the community." Gloriane Fernandez manager policy, elections and operations, remarked that, "Chole and Nikita are genuinely interested in considerately helping others and are consistently positive and helpful. They are exceptionally responsible and reliable."
Teacher Externships
New this summer, Plano ISD took part in the pilot of the Teacher Externship Program. This program provided unique professional learning opportunities for K-12 teachers in collaboration with local partners in business and industry. Plano ISD teachers applied for and were selected as externs. Of thirteen teachers selected for the program eleven were from Plano ISD. These teachers completed a rigorous in-district application process and day of learning, then participated in group interviews, screenings and individual interviews before being chosen by corporate partners to serve as teacher externs.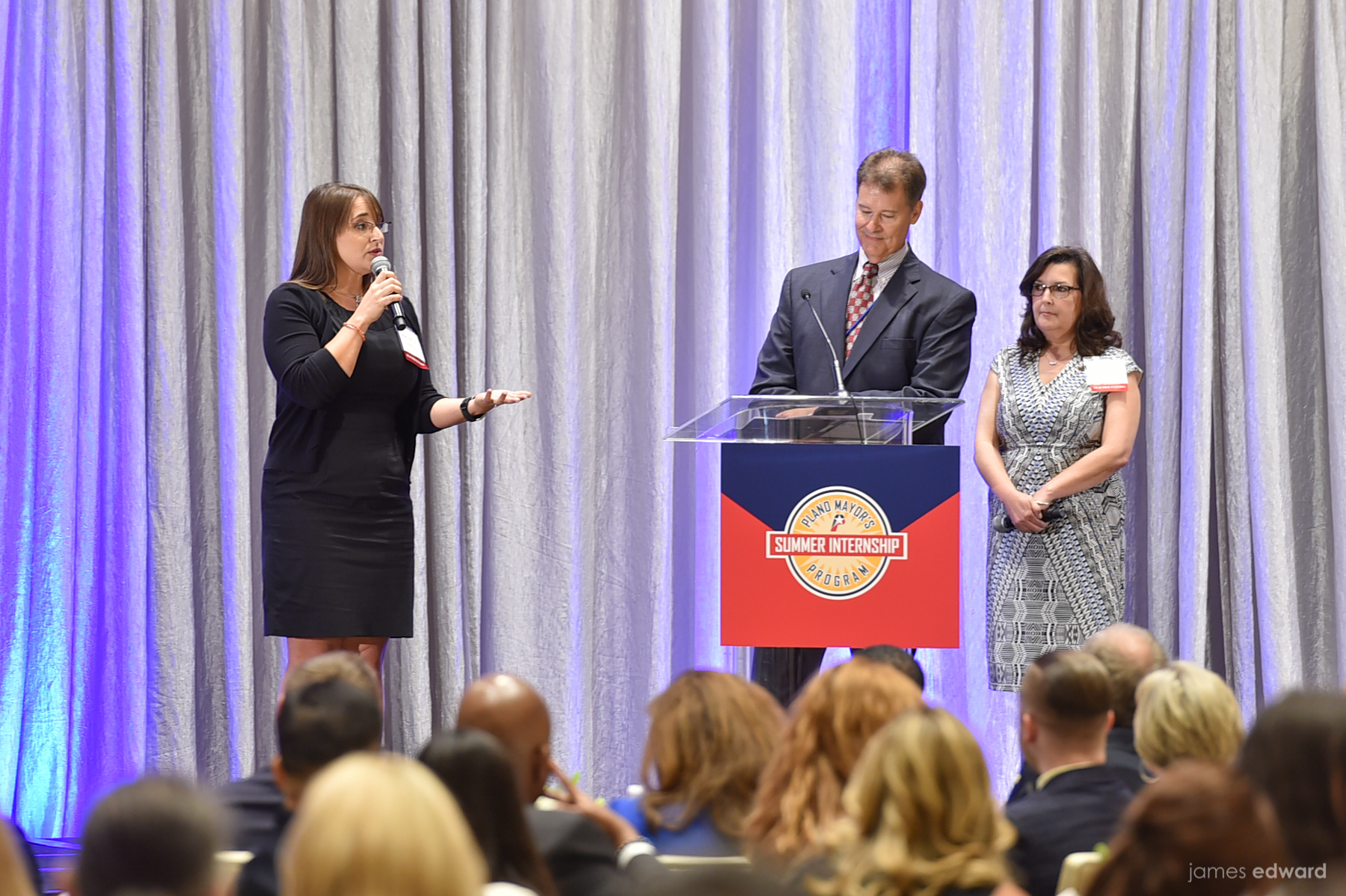 Teacher externs Megan Adams-Smyth, Plano West (extern at Alliance Data) and Melinda Kizer, Special Education (extern at CapitalOne) speaking at the celebration luncheon with Dr. Brian Binggeli Plano ISD superintendent of schools.
These externs had access to learning that reaches beyond traditional classroom or workshop settings to engage in experiences that will enrich the classroom-to-career connections teachers make for their students. Working side-by-side with knowledgeable and skilled industry employees to form a partnership of shared expertise, teacher externships build meaningful community relationships and provide valuable insights for classroom and workplace application.
Plano ISD teachers chosen to participate were:
Megan Adam-Smyth, Plano West Senior High School, AVID Coordinator, extern at Alliance Data
Michael Alves, Vines Highs School, Project Lead the Way Teacher, extern at Regal Research
Amy Decarlo, Brinker Elementary School, Special Education, extern at My Possibilities
Lori Lee Brooks, Haggard Middle School, AVID teacher, extern at McAfee
Alice Michael, Beverly Elementary School, fourth grade teacher, extern at the Plano Chamber of Commerce
William Freeman, Clark High School, Career and Technical Education teacher, extern at CapitalOne
Melinda Kizer, Transitions Specialist, extern at CapitalOne
Joanna Anderson, Plano East Senior High School, science teacher, extern at NTT Data
Kelsey Kelly, Jackson Elementary School, fourth grade teacher, extern at UTD Caller Center
Jigysas Sethi, Andrews Elementary School, fifth grade teacher, extern at McAfee
Gloria Andrade Norris, Plano Senior High School, Career and Technical Education teacher, extern at CapitalOne