Return to Headlines
Oct. 27, 1018 - Dr. Keishon Ireland Honored with Educator Award by Plano Community Forum
On October 27 at the Plano Community Forum's 37th Anniversary Awards Gala, Mitchell Elementary's Fifth Grade Team Leader Dr. Keishon Ireland was the honored 2018 Educator Award recipient.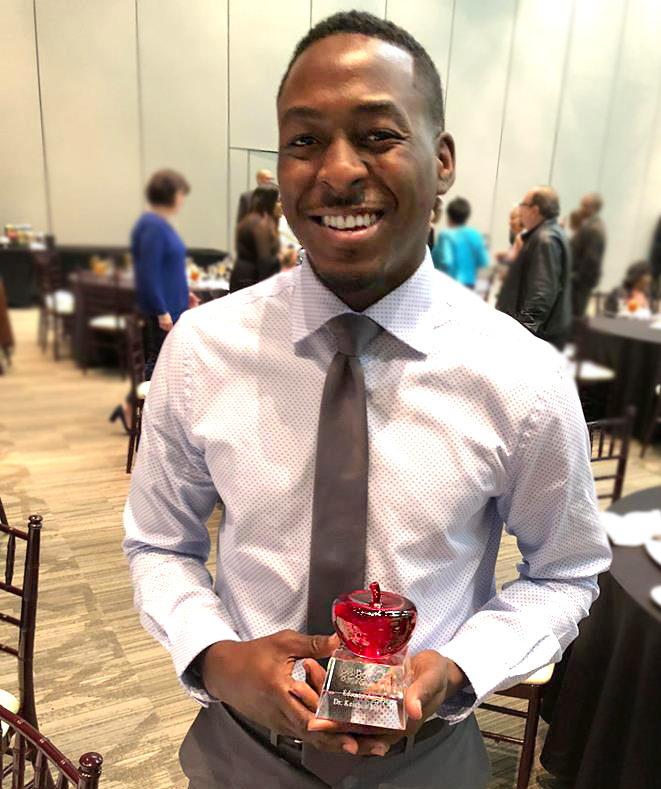 Dr. Keishon Ireland at the Plano Community Forum 37th Anniversary Awards Gala.
Beyond his teaching role at Mitchell, Keishon is known within Plano ISD as the Mitchell Elementary Teacher of the Year and the 2018 Plano ISD Elementary Teacher of the Year. From 121 district teachers of the year, he was a Top Three Finalist in the Region 10 Elementary Teacher of the Year competition. He has embraced leadership opportunities within his school and in the district, such as: fifth grade camp director, leadership hiring team, team leader academy and the aspiring administrator's forum. He has presented at the DFW Science Mini-Cast, Plano ISD's Flex Learning Saturday and started a step team, "The Stage Breakers," at Mitchell. He has been in the spotlight as Character of the Month for Plano Podcast and recognized in the Plano Star Courier in an article titled "The Great Motivator: Fifth Grade Teacher of the Year talks dreams and summer plans."
Keishon is a proud role model for youth working to inspire students to be their best. He says, "I feel as if I am fulfilling my purpose and doing exactly what I was intended to do here on Earth. There is nothing more precious and accomplishing than knowing that I could be the reason why a student hasn't given up, even when they felt all of the odds were against them. Often, our youth just need a spark of hope to ignite their fire within. I aim to be the spark for every student and child in Plano."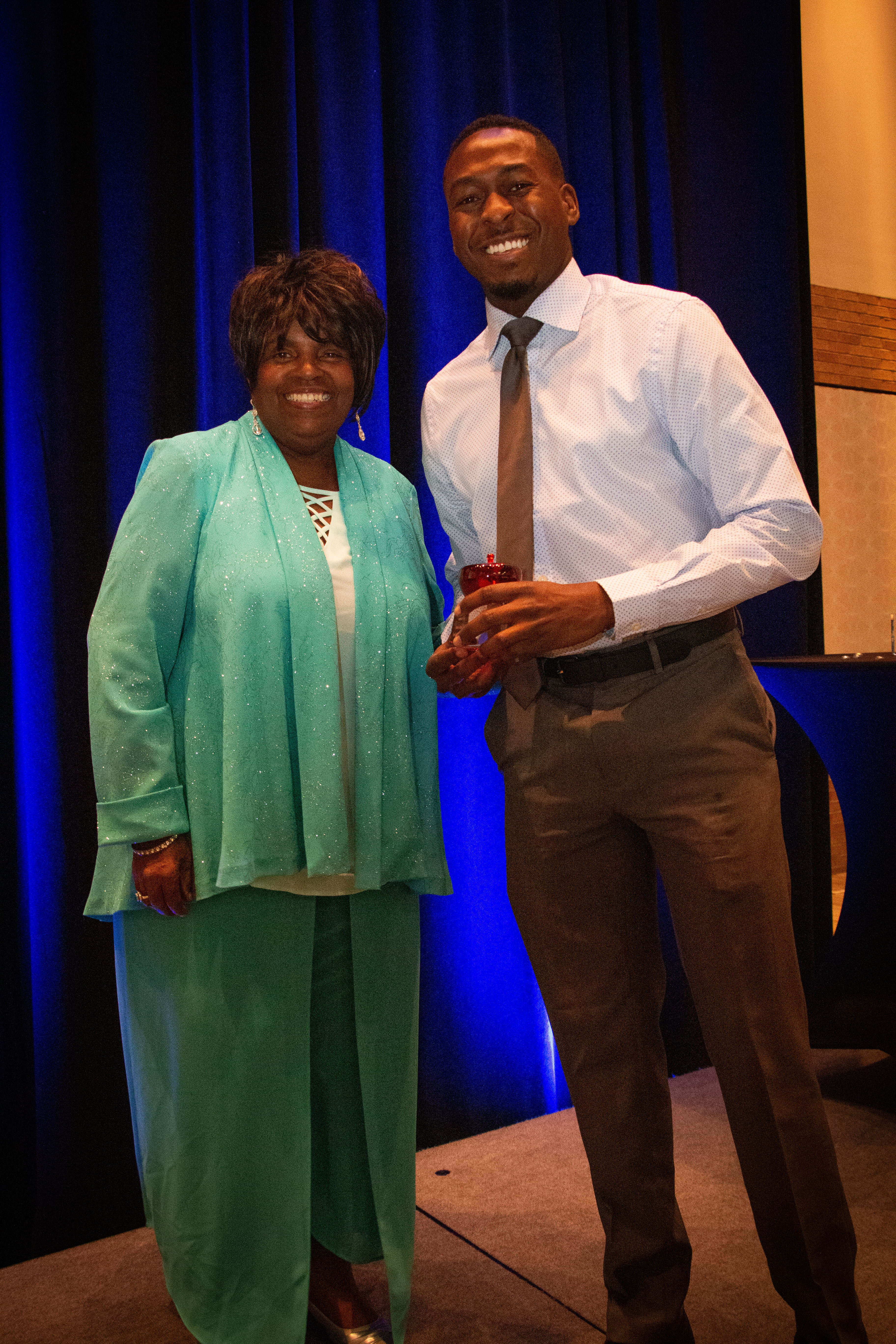 Plano Community Forum President Andrea Allston and Dr. Keishon Ireland. Photo courtesy of Charles Terry Jr. at Captured by Charles Photography.
Mitchell Elementary Principal Bob Farris says, "As a principal, I can always count on seeing students engaged in his classroom, whether they are working independently or at his teacher table in one of his many guided lessons in all subjects. I can also count on Dr. Ireland to engage students in meaningful conversations about non-academic topics that affect them. Dr. Ireland genuinely respects all of his students and meets them where they are socially, emotionally and academically. I know that I can place students on any level of success in his classroom and they will improve in each of those three areas and as human beings."
Congratulations to Dr. Keishon Ireland for adding another well deserved honor to his many accomplishments. Read more about Keishon and his philosophy of teaching.
eMail your congratulations to Keishon: Keishon.Ireland@pisd.edu
Scholarship Impact Voices at the Gala
Attending the gala were prior winners of Plano Community Forum Scholarships including Areail Thomas, now a teacher at Isaacs Early Childhood School. Ms. Thomas was a two-time scholarship awardee. A Plano East Senior High School graduate, she was the first recipient of a Plano Community Forum scholarship in 1983. She began her teaching career at Shepard Elementary teaching there for 18 years, and she has been a teacher at Isaacs ECS for the past 11 years.
Areail Thomas, Isaacs Early Childhood School teacher.