Return to Headlines
Oct. 24, 2018 - LULAC Educator of the Year 2018 - Soumeya Lehachi, Armstrong Middle School
At the Collin County LULAC (League of United Latin American Citizens) 24th Annual Avance con Educación Scholarship Banquet, Armstrong Middle School Spanish Teacher Soumeya Lehachi was honored as the 2018 Educator of the Year. Soumeya was nominated by Collin County LULAC President Emelia Ahmed and by Armstrong Middle School Principal Melissa Blank.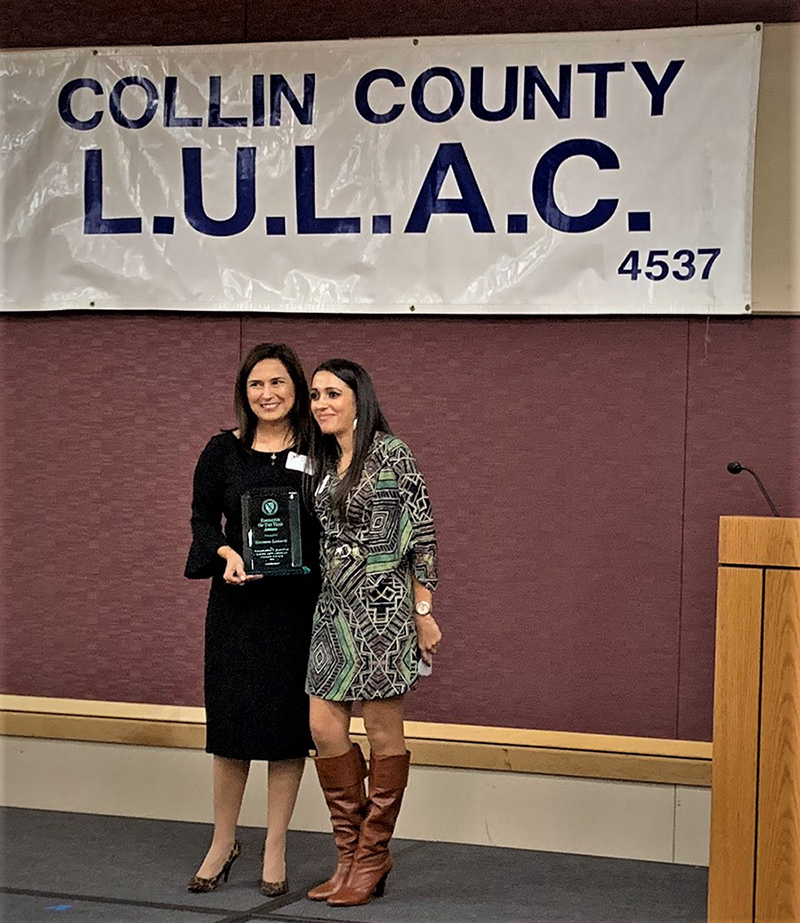 Collin County LULAC President Emelia Ahmed (left) presents the 2018 Educator of the Year award to Soumeya Lehachi at the Awards Banquet.
Soumeya Lehachi moved to the U.S. from Algeria when she was sixteen. She and her family came to the U.S. in search of social freedom and political stability. "My parents sacrificed so much to insure that their children would obtain a better education and opportunities to strive for success." It was not easy for her to begin a new life and to start over "at an age where I struggled so much with acceptance from my peers. I felt disabled and anxious all the time; learning a whole new language in addition to the three languages that I already knew was too much to juggle. In addition, having to adapt to the new western culture that differed tremendously from my own, was very challenging."
These experiences taught Soumeya to dig in, work hard and to become resilient. Her experiences as an immigrant has shaped her into the person she is today. "As an educator, I help to enlighten my students' minds and empower them with knowledge, to fight ignorance and to teach them to work hard to therefore obtain an honorable living. Education has always been the key to my success, and I want to provide my students with equity to succeed in their lives as well to overcome their obstacles and most importantly to be productive citizens in our society."
To Soumeya, happiness is the success of her students. "As an educator, I commit with fidelity to helping my students grow, have integrity, develop empathy and respect toward others, to embrace and love themselves and most importantly push themselves to reach their fullest potential. Teaching is the most honorable and rewarding career and I wouldn't change for the world...I am living my dream every single day!" And this is evident. Melissa Blank, Armstrong Middle School principal said "Soumeya was select for the Educator of the Year award because of her commitment to educating students at Armstrong and for her commitment to the advancement of cultural understanding inside of her classroom and outside the school community."
Emelia Ahmed, President of Collin County LULAC said that, "I met Soumeya Lehachi at Armstrong Middle School last Spring when I had the opportunity to accompany her students on a field trip. I saw first hand what an amazing educator she is. Witnessing her high expectations for all students and her commitment to quality education, I knew then that she I would nominate her for the Collin County LULAC educator of the year. Mrs. Lehachi exemplifies LULAC's commitment to education. She is a community member seeking the highest education levels for all students but especially for Hispanic students enrolled in her Spanish classes. In my observation, she values all cultures and instills a sense of pride in her students. She consistently has students achieve at the highest AP levels."
Read more about Soumeya Lehachi on her teacher page.
eMail your congratulations to Soumeya: soumeya.lehachi@pisd.edu