Return to Headlines
Nov. 3, 2018 - Plano Senior High's Ashlyn Hillyard Wins UIL State 6A Girls Cross Country Championship
Ashlyn Hillyard, a senior at Plano Senior High School coached by Amy Dehdari Plano Senior High Head Girls' Cross Country/Track & Field, ran her personal-best 16:38.30 for 5,000 meters (3.1 miles) at the UIL State Cross Country meet held at the Jesse Owens Memorial Complex in Dallas.
She finished ahead of Denton Guyer sophomore Brynn Brown (16:45.36) and Prosper freshman Aubrey O'Connell (16:52.84) to win the state 6A girls cross country state championship. Ashlyn was a third place state winner in the UIL Girls Cross Country in 2017.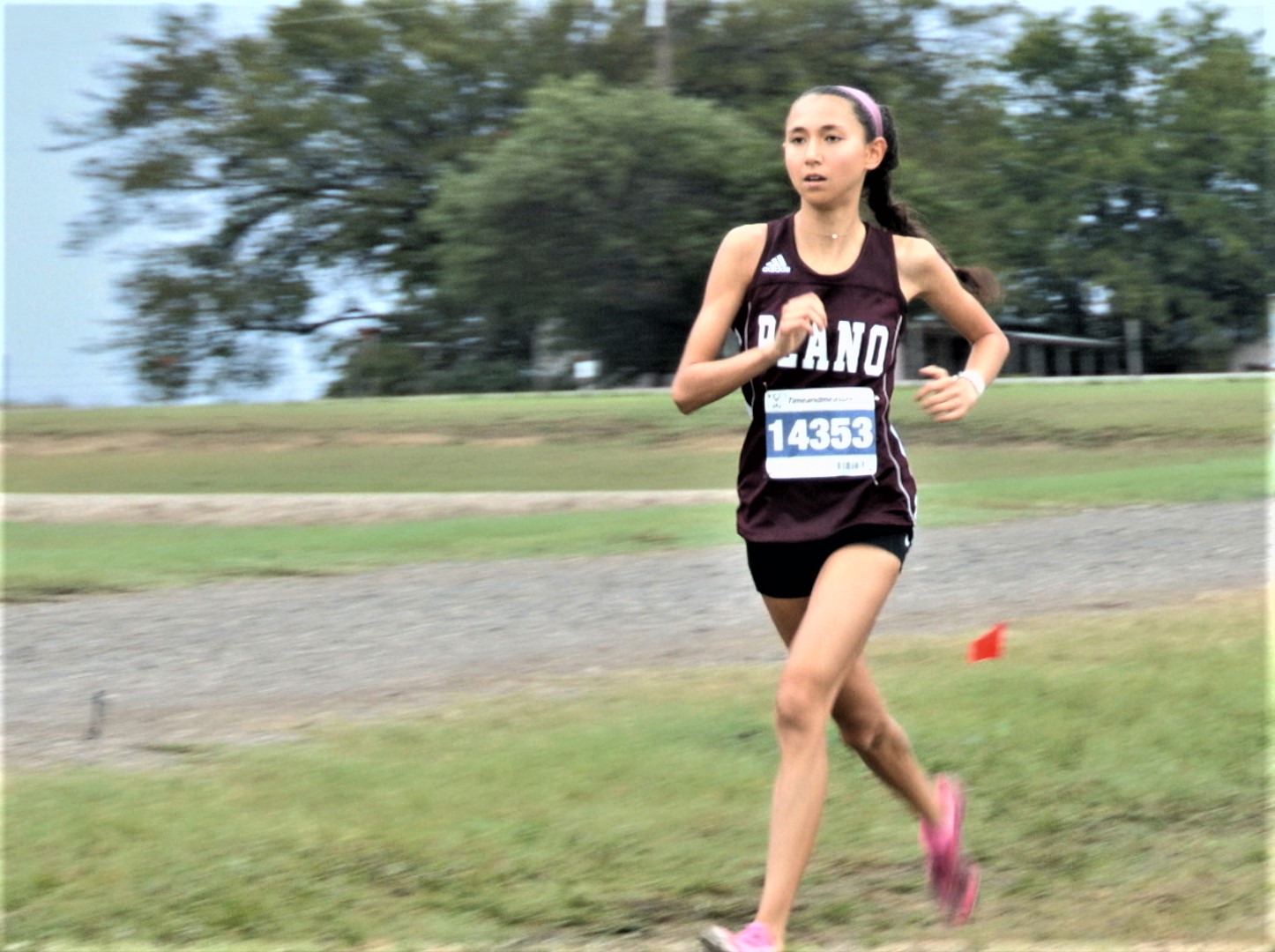 Ashlyn Hillyard, Plano Senior High School, wins the UIL 6A Girls Cross Country State Championship.
Ashlyn was honored for her championship by the Plano ISD Board of Trustees during the December 11 meeting. Board Vice President Dr. Yoram Solomon presented her with a certificate of recognition. Plano Senior High School Girls Cross Country/Track and Field Head Coach Amy Dehdari said during the presentation that Ashlyn is the fastest runner ever to compete for Plano Senior High. "She is one of the hardest worker I've ever had in my 15 years of coaching. She never settles for 'good enough.' She always pushes harder. She has put thousands of miles on her legs over the past few years."
Assistant Superintendent for District Services Dr. Kary Cooper remarked on Ashlyn's career in Plano,"She has been on varsity since her freshman year, was the District champion three times, the Regional Champion twice. She has gone to State three times improving each time. She finished in third place at the State meet in 2017. Ashlyn didn't come out of nowhere to win this championship. She worked hard."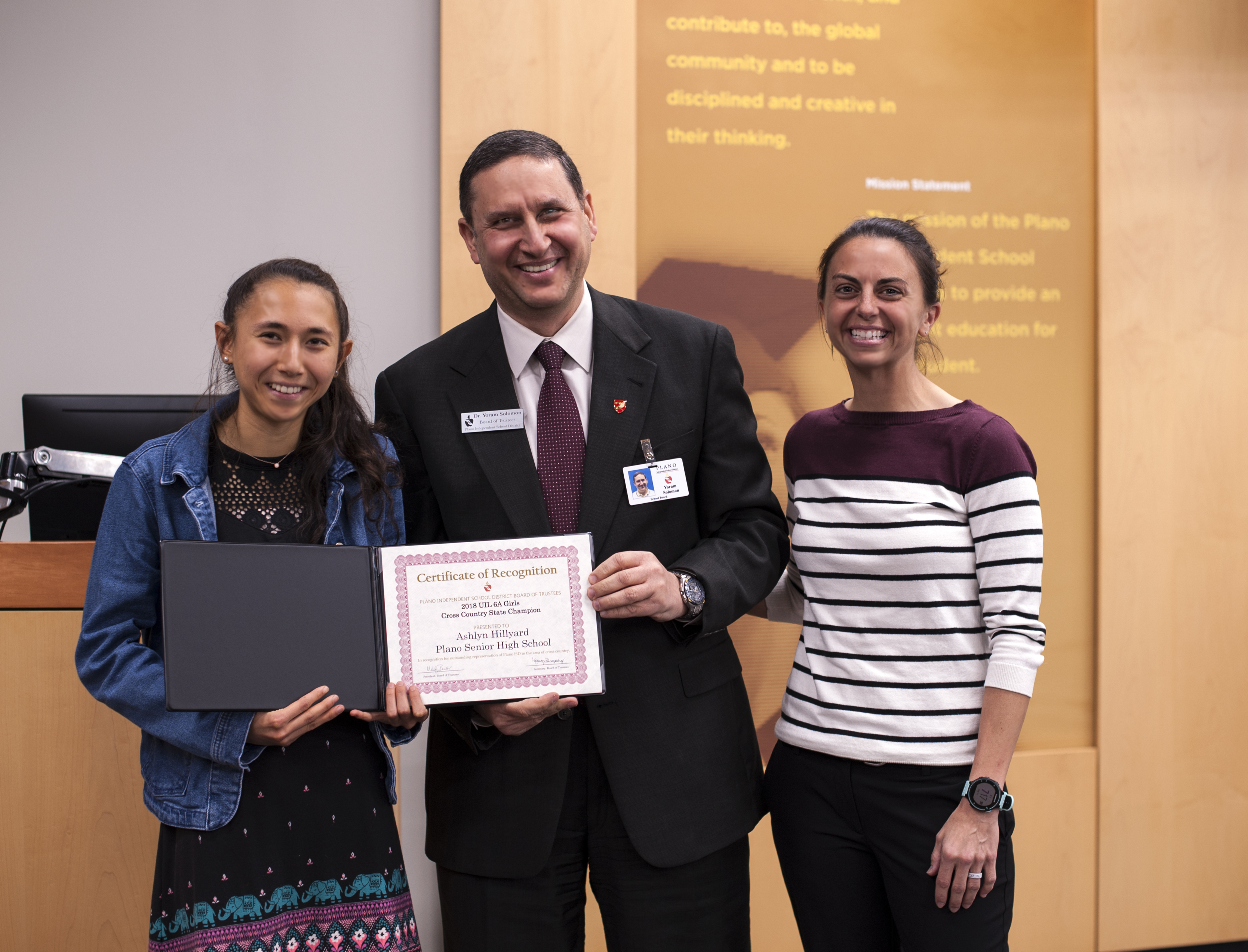 Plano Senior High School athlete Ashlyn Hillyard receives a board certificate of recognition presented on the board's behalf by Board Vice President Dr. Yoram Solomon. Also pictured is her coach Plano Senior High Girls Cross Country/Track & Field Head Coach Amy Dehdari (left).
Boys UIL 6A Cross Country Winners
Individual
Grant Wilcox, Plano East - fourth place individual
Team
Fourth Place Team, Plano West Senior High School
Preston Wilschetz
Pete Johnson
Cole Wilschetz
Hudson Heikkinen
Brian McKeown
Tomas Diaz
Carson Wright
Ninth Place Team, Plano East Senior High School
Grant Wilcox
Travis Jasper
Jeffrey Sillers
Hudson Yarborough
Ben Walker
Hunter Akridge
Timothy Averill
More information about UIL Cross Country.